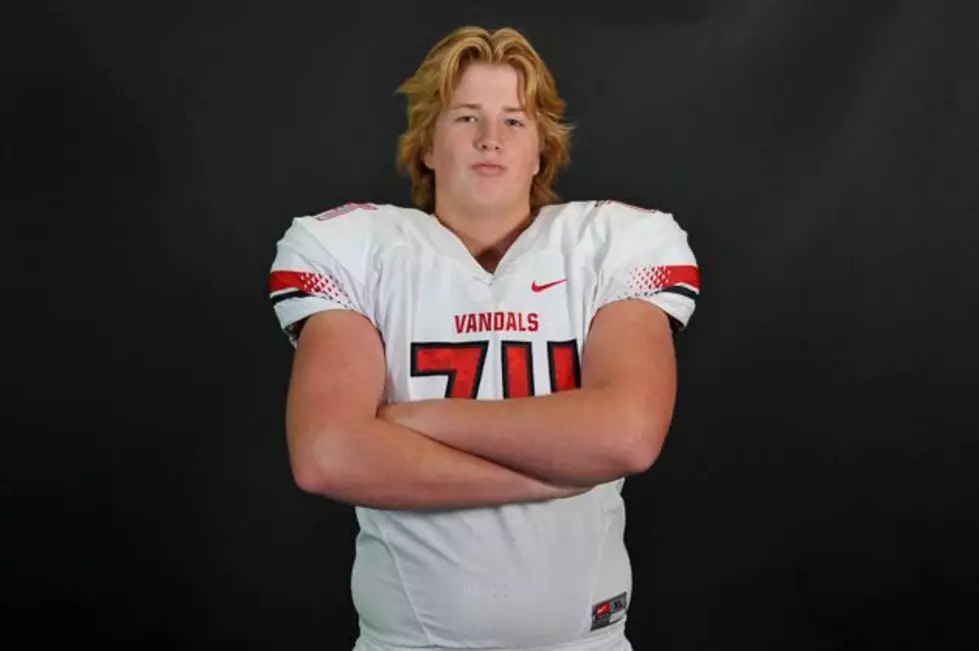 Colorado Enters Mix For Van's Kris Dike
Colorado offered Van offensive lineman Kris Dike on Thursday. (Rob Graham, ETSN.fm)
Kris Dike's surge in the recruiting sphere is showing no signs of slowing down.
The rising senior Van offensive tackle now has a Pac-12 offer to supplement two other scholarship opportunities from major conference programs thanks to a productive talk with the Colorado coaching staff Thursday. Dike (6-6, 283) announced his scholarship opportunity from the Buffaloes via Twitter.
Van had one of the area's most physical offensive lines last season, and the school needed its line to be near perfect for junior do-it-all quarterback Garrett Moseley. Behind Dike and the rest of the line, Moseley was able to run for 1,689 yards and 22 scores in addition to recording 2,778 aerial yards and another 39 touchdowns.
Dike, whose major conference options also include Oklahoma State and TCU, helped Van reach the Class 4A Division I, Region II championship game last year. The team posted an overall record of 12-2.
Colorado seemed to turn a corner last season after a decade of four-win teams or worse. The 2016 Buffaloes, under fourth-year coach Rick MacIntyre, recorded a 10-2 regular season and advanced to the Pac-12 championship game.
The Buffaloes dropped the league title match and then lost to Oklahoma State in the Alamo Bowl for a final record of 10-4. Still, it was the first 10-win season in Boulder, Colo., since 2001.
Colorado won the Associated Press' national championship in 1990. Georgia Tech won the Coaches' Poll title the same year by one point.
Fifteen Colorado players have been considered for the Heisman Trophy through the program's 126-year history. Running back Rashaan Salaam won the award in 1994.
Like all college football prospects currently in their junior year of high school, Dike will become eligible to sign with any school that offers him in February.
2018 East Texas Football Players With Division I FBS Offers
Tre Allison, John Tyler, OLB, 6-0, 200 — committed to SMU; additional offers from Arkansas State, Louisiana Tech, Mississippi State, ULL (5)
Chance Amie, Tyler Lee, QB, 6-3, 190 — offers from Arkansas State, Bowling Green, Central Florida, Colorado State, Georgia State, Houston, Iowa State, North Texas, Rutgers, Southern Miss, Syracuse, Tulane, ULL, Virginia (14)
Xavier Benson, Pleasant Grove, LB, 6-0, 200 — offers from Arkansas State, Army, North Texas, Southern Miss, Texas State, Texas Tech, Tulane, ULL, ULM (9)
Drake Centers, Tatum, OL, 6-4, 295 — offer from Texas State (1)
Kris Dike, Van, OL, 6-6, 283 — offers from Colorado, Houston, North Texas, Oklahoma State, SMU, TCU (6)
Dekalen Goodson, John Tyler, DE/OLB, 6-2, 215 — offers from Houston, Mississippi State, SMU, Texas State, ULL (5)
Trae Hall, Henderson, QB/ATH, 6-3, 185 — offer from ULL (1)
Conner Henson, Harmony, OL, 6-4, 250 — offers from ULL, ULM (2)
Chasen Hines, Marshall, OL, 6-3, 340 — committed to LSU; additional offers from Arizona, Baylor, Louisiana Tech, Minnesota, North Texas, Oklahoma, Oklahoma State, Oregon, Rice, Southern Miss, TCU, Texas, Texas A&M, Texas State, Texas Tech (16)
Tevailance Hunt, Texas High, WR, 6-2, 180 — committed to Kansas; additional offers from Arkansas State, Bowling Green, Iowa State, Louisiana Tech, Marshall University, Nevada, North Texas, Southern Miss, Tulsa (10)
Keaontay Ingram, Carthage, RB, 6-0, 198 — offers from Arkansas, Baylor, Colorado, Florida State, Houston, Iowa State, Kansas, LSU, Memphis, Michigan, Minnesota, Missouri, Nebraska, Notre Dame, Ohio State, Oklahoma, Oklahoma State, Ole Miss, Oregon, Oregon State, TCU, Texas, Texas A&M, Texas Tech, UCLA, USC, UTSA (27)
Malik Jackson, Lufkin, WR, 5-8, 165 — offer from Arkansas State (1)
DeMarvion Overshown, Arp, ATH, 6-4, 196 — offers from Alabama, Arizona State, Arkansas, Auburn, Baylor, Clemson, Colorado, Florida, Florida State, Georgia, Houston, Kansas, Kansas State, LSU, Missouri, Nebraska, Ohio State, Oklahoma, Oklahoma State, Ole Miss, SMU, South Carolina, Southern Miss, Stanford, TCU, Texas, Texas A&M, UCLA, USC, UTSA (30)
Jonathan Shepherd, Kilgore, WR, 6-3, 196 — offers from Colorado State, Florida Atlantic, Kansas State, ULM, New Mexico, Oregon State (6)
Tyree Wilson, West Rusk, LB, 6-5, 225 — committed to Washington State; additional offers from Kansas, Southern Miss, Texas State, ULL, ULM (6)
More From East Texas Sports Network