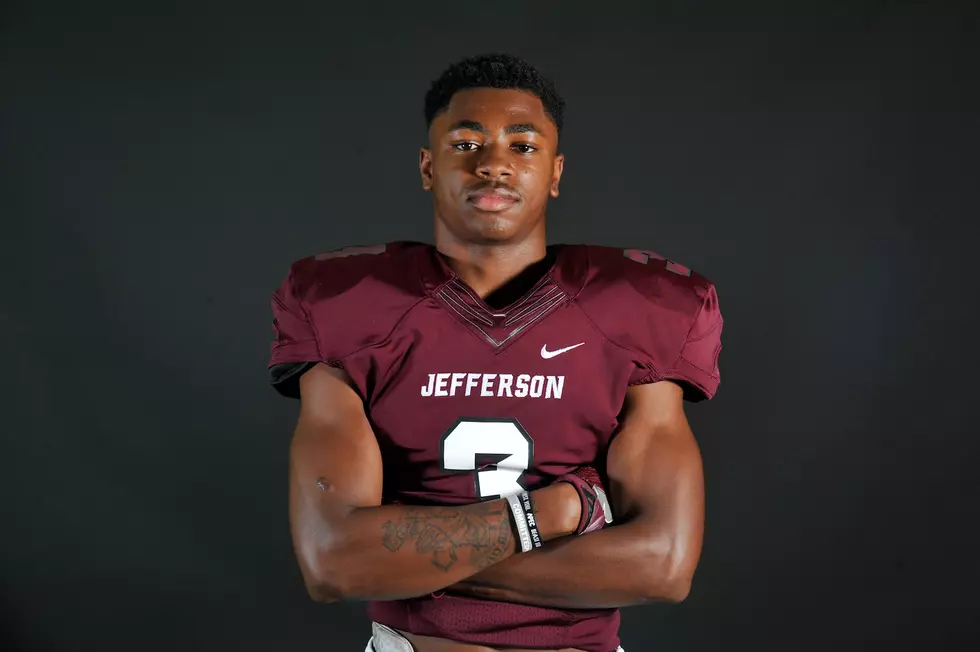 Jefferson's T.Q. Jackson Picks Up Texas Tech Offer
Jefferson WR T.Q. Jackson. (© Rob Graham, ETSN.fm)
Recruiting season is in full swing.
Members of the 2018 class are picking up a few late offers while the 2019 class is starting to gear up for its last chance to impress college coaches. Some coaches are impressed already, as is the case with Jefferson receiver T.Q. Jackson, who reported an offer from Texas Tech on Tuesday.
Jackson was one of the top receivers in East Texas this season, finishing with 938 yards and 11 touchdowns. This came after a 1,099-yard effort his sophomore year. He helped the Bulldogs to a 10-2 record.
Texas Tech finished 6-7 this season after a loss to South Florida in the Birmingham Bowl.
Jackson also has offers from Arkansas, Southern Miss and SMU. He, like all juniors, will first be eligible to sign with any team that offers him in December 2018.
2019 East Texas Football Players With Division I FBS Offers
Jade Ashalintubbi, Elysian Fields, OL, 6-6, 331 —offers from Tulsa, ULM (2)
Darwin Barlow, Newton, RB, 6-0, 200 -- offers from Arkansas State, Baylor, Louisiana Tech, Southern Miss, TCU (5)
Chance Billington, John Tyler, OL, 6-3, 301 — committed to SMU; additional offer from Texas State (2)
Tamauzia Brown, Newton, ATH, 6-1, 170 -- offers from Arkansas State, Baylor, Oklahoma State, Southern Miss (4)
Keontae Burns, Pittsburg, ATH, 6-3, 182 — offers from Arkansas, Iowa State, North Texas, SMU, Southern Miss, Texas State (6)
Cameron Cantrell, Whitehouse, WR, 6-1, 180 -- committed to Texas Tech (1)
Coltin Clack, Texas High, QB, 6-3, 202 — offers from Florida Atlantic, SMU, Southern Miss (3)
Josh Foster, Newton, ATH, 6-0, 165 -- offer from Arkansas State (1)
Christian Hood, Marshall, OL, 6-2, 290 — offer from Southern Miss (1)
T.Q. Jackson, Jefferson, WR, 6-2, 175 — offers from Arkansas, SMU, Southern Miss, Texas Tech (4)
Beaux Limmer, Tyler Lee, OL, 6-5, 250 -- offer from Texas State (1)
Darius Richardson, West Rusk, DL, 6-3, 288 -- offer from Texas State (1)
Keivie Rose, Henderson, DE, 6-4, 220 — offers from Arkansas State, Florida Atlantic, SMU, Southern Miss, Tulane (5)
Ke'Andre Street, John Tyler, WR, 6-4, 190 -- offers from Houston, Syracuse (2)
Carl Williams, Lufkin, DT, 6-3, 275 — offers from Arkansas, Houston, Oklahoma, SMU, TCU, Tulsa, UTSA (7)
Marcus Williams, Longview, OL, 6-6, 250 — offers from Baylor, Houston, SMU, Southern Miss, Texas State (5)
Keshon Williams, Pine Tree, ATH, 6-4, 230 — offer from Texas State (1)
More From East Texas Sports Network