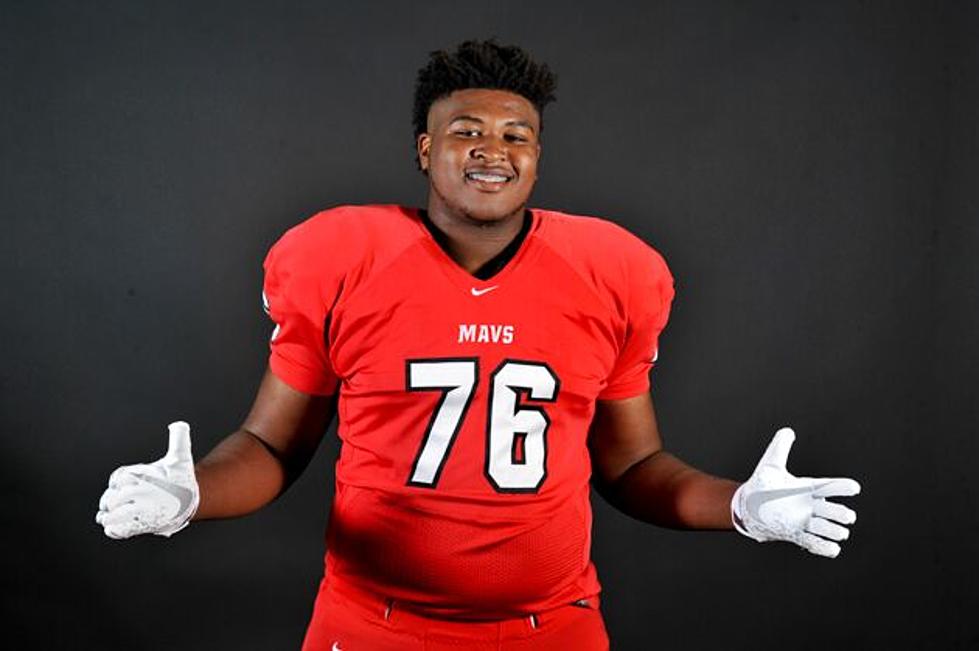 Marshall's Kameron King Commits to North Texas
Marshall offensive lineman Kameron King committed to North Texas on Saturday night. (© Rob Graham, ETSN.fm)
For the second time in three years, it appears a Marshall offensive lineman will be a member of the North Texas football program.
Mavericks senior guard Kameron King announced via Twitter on Saturday night his commitment to the Mean Green.
King (6-2, 275) followed in the footsteps of former Marshall O-lineman Chett Munden, who signed with North Texas in 2015.
With King's commitment, East Texas' 2018 recruiting class now has 21 pledges to Division I FBS programs. King is the first local player this cycle to commit to UNT.
East Texas offensive linemen make up six of the commitments. Fellow Marshall senior OL Chasen Hines committed to LSU back in the spring.
Last season, King helped Marshall's offense to 3,939 total yards in an 11-game campaign. As a sophomore, he was part of an offense that put up 5,401 total yards and went to the third round in the Class 5A Division I state playoffs.
Expectations for Marshall have jumped a bit since the end of 2016. Former SMU running backs coach Claude Mathis left his collegiate job for the head coach position in deep East Texas.
North Texas is coming off a 5-8 season under first-year coach Seth Littrell. Despite the losing record, the Mean Green reached a bowl game for the first time since 2014.
UNT fell to Army, 38-31, in the Heart of Texas Bowl in Dallas.
King, like all players entering their senior year of high school, is first eligible to sign with any Division I program that offers him in December.
2018 East Texas Football Players With Division I FBS Offers
Tre Allison, John Tyler, OLB, 6-2, 211 — committed to SMU; additional offers from Arkansas State, Louisiana Tech, Mississippi State, Texas State, Tulane, ULL (7)
Chance Amie, Tyler Lee, QB, 6-3, 190 — committed to Houston; additional offers from Arkansas State, Bowling Green, Central Florida, Cincinnati, Colorado State, Florida Atlantic, Georgia State, Iowa State, New Mexico, North Carolina, North Texas, Rutgers, Southern Miss, Syracuse, Tulane, ULL, Virginia (18)
Xavier Benson, Pleasant Grove, LB, 6-3, 200 — committed to Texas Tech; additional offers from Arkansas State, Army, Memphis, North Texas, Rice, SMU, Southern Miss, Texas State, Tulane, ULL, ULM, Wyoming (13)
Hunter Brabham, Hughes Springs, DE, 6-3, 235 — committed to Army (1)
Drake Centers, Tatum, OL, 6-3, 296 — committed to Texas State; additional offers from SMU, Southern Miss, ULM (4)
Kylar Cooks, Liberty-Eylau, OL, 6-5, 252 — committed to Texas State; additional offers from Arkansas State, North Texas, ULL (4)
Jeremiah Davis, Lufkin, CB, 5-10, 194 — committed to ULL (1)
Kris Dike, Van, OL, 6-6, 283 — committed to TCU; additional offers from Colorado, Houston, Memphis, North Texas, Oklahoma State, SMU, Tulane (8)
Dekalen Goodson, John Tyler, DE/OLB, 6-2, 209 — committed to Houston; additional offers from Mississippi State, SMU, Texas State, Tulane, ULL (6)
Trae Hall, Henderson, QB/ATH, 6-3, 185 — offers from Florida Atlantic, New Mexico State, Tulane, ULL, ULM (5)
Conner Henson, Harmony, OL, 6-3, 243 — committed to ULM; additional offer from ULL (2)
Chasen Hines, Marshall, OL, 6-3, 353 — committed to LSU; additional offers from Arizona, Baylor, Florida, Louisiana Tech, Minnesota, North Texas, Oklahoma, Oklahoma State, Oregon, Rice, Southern Miss, TCU, Texas, Texas A&M, Texas State, Texas Tech (17)
Tevailance Hunt, Texas High, WR, 6-2, 180 — committed to TCU; additional offers from Arkansas State, Bowling Green, Colorado State, Florida Atlantic, Houston, Indiana, Iowa State, Kansas, Louisiana Tech, Marshall, Memphis, Nevada, North Texas, Oklahoma State, Southern Miss, Tulsa (17)
Dewaylon Ingram, Carthage, WR, 6-0, 160 — offer from Arkansas State (1)
Keaontay Ingram, Carthage, RB, 6-0, 198 — committed to Texas; additional offers from Arkansas, Baylor, Colorado, Florida State, Houston, Iowa State, Kansas, LSU, Memphis, Michigan, Minnesota, Missouri, Nebraska, Notre Dame, Ohio State, Oklahoma, Oklahoma State, Ole Miss, Oregon, Oregon State, TCU, Texas A&M, Texas Tech, UCLA, USC, UTSA (27)
Malik Jackson, Lufkin, WR, 5-8, 163 — committed to Houston; additional offers from Arkansas State, Texas State (3)
Chris Kessler, Longview, K, 5-9, 150 — offer from Army (1)
Kameron King, Marshall, OL, 6-2, 275 — committed to North Texas; additional offers from Memphis, Tulane, ULM, Southern Miss (5)
Trevor Lawrence, Whitehouse, DE, 6-4, 245 — committed to Texas State; additional offer from ULM (2)
DeMarvion Overshown, Arp, S, 6-4, 196 — committed to Texas; additional offers from Alabama, Arizona State, Arkansas, Auburn, Baylor, Clemson, Colorado, Florida, Florida State, Georgia, Houston, Kansas, Kansas State, LSU, Missouri, Nebraska, Ohio State, Oklahoma, Oklahoma State, Ole Miss, SMU, South Carolina, Southern Miss, Stanford, TCU, Texas A&M, UCLA, USC, UTSA (30)
Leonard Parks, Texas High, DE, 6-5, 230 — committed to SMU; additional offer from ULM (2)
Michael Sanchez, Gladewater, TE/OL, 6-5, 327 — offer from Houston (1)
Jonathan Shepherd, Kilgore, WR, 6-3, 196 — committed to Oklahoma State; additional offers from Colorado State, Florida Atlantic, Houston, Kansas State, ULM, Missouri, New Mexico, Memphis, North Texas, Oregon State, Southern Miss, TCU, Texas State, Texas Tech (15)
Marje Smith, Marshall, DE, 6-6, 210 — committed to Baylor (1)
DaRyan Williams, Nacogdoches, S, 5-10,199 — offer from Texas State (1)
Tyree Wilson, West Rusk, LB, 6-5, 225 — committed to Texas A&M; additional offers from Houston, Kansas, Memphis, Mississippi State, New Mexico, Oklahoma State, SMU, Southern Miss, TCU, Texas State, Tulane, ULL, ULM, Washington State, Wyoming (16)
More From East Texas Sports Network