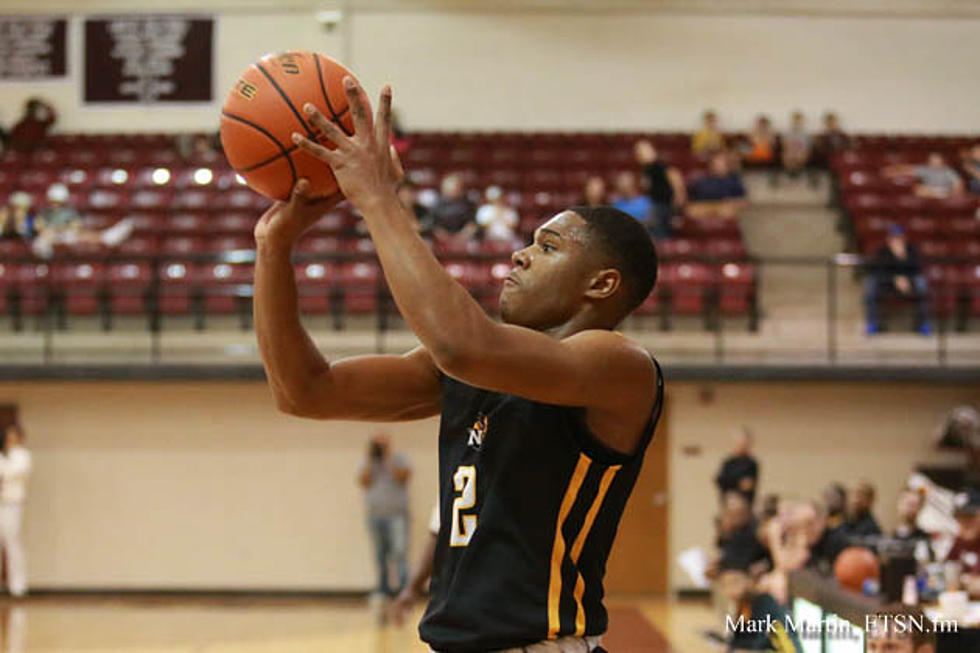 Nacogdoches Downs Whitehouse + Plays For Share Of First Place Friday
Dragons guard Blake Upshaw knocks down a first-quarter trey. He led Nacogdoches with 17 points in a 56-46 win Tuesday at Whitehouse.
WHITEHOUSE -- Virginia transplant Gary Hall seems to have the magic touch.
The longtime head coach at Herndon High School in Herndon, Va., inherited a Nacogdoches team that only managed one win last season and earned his 16th Texas win Tuesday, 56-46, at Whitehouse.
Therefore, Hall will lead a team Friday that has the opportunity to tie for the District 17-5A lead at the exact midway point of the league season.
"I'm really, really proud of them," Hall said of his new squad as it loaded up for its 64-mile trip home. "They've been through some tough times and they deserve this. There's still a lot of basketball yet to play, but coming into Whitehouse, being on their home court and stealing a win is big for our program."
Hall's move to the region, which allows him to live closer to his grown daughters, garnered coverage in The Washington Post. He left Herndon with a 393-172 record through 23 seasons, reached the state tournament three times and won eight district championships.
The Post called the new job an uphill battle. For whatever reason, it hasn't been that treacherous for Hall and a group of five seniors, four juniors, three freshmen and a sophomore.
Nacogdoches (16-12, 3-1 in the district) is 1,600 percent the team it was a season ago and still has six more regular season games to play.
The Dragons' victory Tuesday broke a standings tie between them and Whitehouse. Both teams were 2-1 in the district and only one game behind league-leading Corsicana.
Corsicana managed to fend off Ennis, 46-42, elsewhere Tuesday and moved to 4-0. Nacogdoches, at home, is Corsicana's next test.
Whitehouse (12-9, 2-2) simultaneously visits Jacksonville.
"My kids are excited about it, and that's what we said in the locker room, we want Corsicana," Hall said. "If they're going to get beat, we want to be the ones that get to do it. We wanted them to be undefeated. For us, just the opportunity to play a meaningful game halfway through the season, this is important. We didn't get that chance last year.
"I told the kids to enjoy this win now and we'll get back to work tomorrow. Regardless of the result Friday, we'll have played for first place. If we can win the game, we'll both be 4-1 and we'll have the head-to-head win."
Whitehouse opened the game shooting 1-for-9 and gave up a 13-2 run. It never got back within five points, and the Dragons were able to extend their lead to 14 points once and 13 points multiple times en route to a 22-for-40 performance from the field.
Guards Blake Upshaw and Jordan Upshaw stretched the Wildcats' defense to their outer limits toward 17 and 16 points, respectively. Small forward Tycolby Carraway won in the paint to the tune of 14 points.
But Whitehouse guard Javier Neal refused to let the Wildcats give up the ghost. He scored 16 of his game-best 19 points in the second half and made it a 43-37 game with 4:48 remaining off his own steal.
Jordan Upshaw's old-fashioned, three-point play nine seconds later ended a 6-2 Whitehouse run and spearheaded a 13-6 counter run to the game's final 30 seconds.
McKade Marquis capped a 15-for-46 Whitehouse night from the floor with a 3-pointer just before the buzzer.
Jackson Mahomes, along with Neal, was an exception to the Wildcats' shooting woes. He recorded a double-double with 11 points and 10 boards.
"I got a little nervous there," Hall said. "They cut the lead down with a couple of big shots. Earlier in the year, we probably would have folded our tents a little bit and been like, 'Uh oh, here they come.' Tonight, we didn't do that. We responded to their challenge. That was great to see."
Nacogdoches 56, Whitehouse 46
District 17-5A
At Wildcat Arena, Whitehouse
Nacogdoches              15       12      12     17     --   56
Whitehouse                   8       10      12      16     --  46
Nacogdoches (16-12, 3-1) -- Blake Upshaw 17, Jordan Upshaw 16, Tycolby Carraway 14, Nick Smith 4, Michael Little 3, Deston Sanyude 2.
Whitehouse (12-9, 2-2) -- Javier Neal 19, Jackson Mahomes 11, McKade Marquis 9, Colby Duhon 4, Zach Parker 3.
THREE-POINT GOALS -- Nacogdoches: Blake Upshaw (2), Little, Jordan Upshaw. Whitehouse: Neal (3), Marquis (2), Parker.
More From East Texas Sports Network