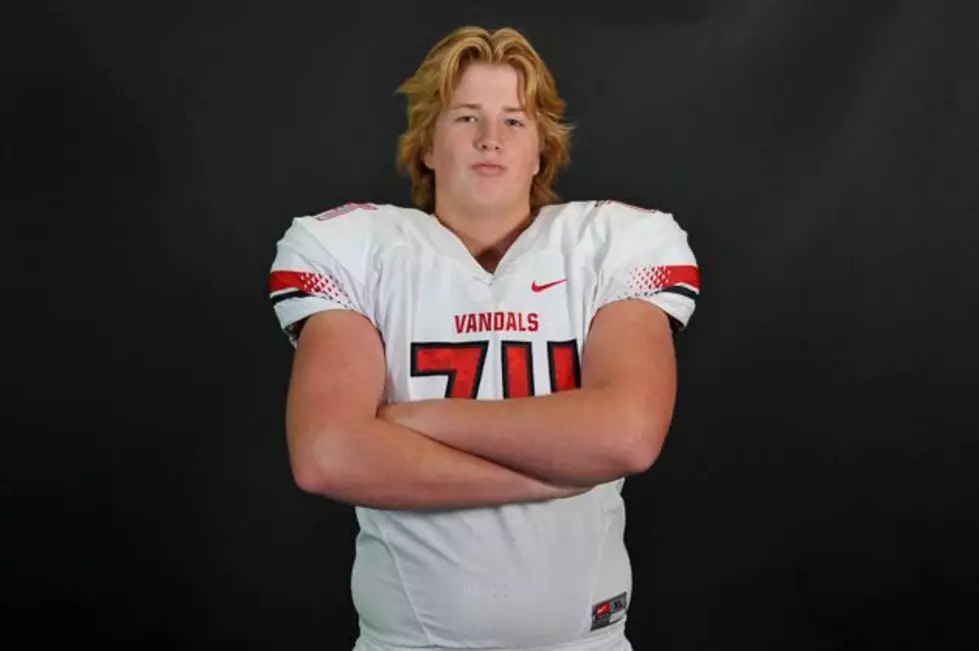 Oklahoma State Offers Van's Kris Dike
Oklahoma State offered Van offensive lineman Kris Dike on Wednesday. (Rob Graham, ETSN.fm)
The second Division I FBS scholarship offer has arrived for Van 2018 offensive tackle Kris Dike.
The Vandals' top lineman tweeted the news of an Oklahoma State offer on Wednesday evening.
Dike (6-6, 283) also holds an FBS invitation form Houston, which he received on Monday of this week.
Oklahoma State now has four offers out to East Texas recruits in the 2018 class. They belong to Dike, Marshall lineman and LSU commit Chasen Hines, Carthage running back Keaontay Ingram, and Arp safety DeMarvion Overshown.
Dike had a banner junior season in helping lead the Vandals to a 12-2 record and berth in the Class 4A Division I state quarterfinals. He was the anchor on a line that allowed Van's offense to average more than 42 points and 400 yards per game.
Oklahoma State, coached by Mike Gundy, is coming off a strong 2016 season. The Cowboys finished with an overall record of 10-3, which included a dominating 38-8 win over Pac-12 South Division champ Colorado in the Alamo Bowl.
Dike, like all college football prospects currently in their junior year of high school, will become eligible to sign with any school that offers him in February.
2018 East Texas Football Players With Division I FBS Offers
Tre Allison, John Tyler, OLB, 6-0, 200 — committed to SMU; additional offers from Arkansas State, Louisiana Tech, Mississippi State, ULL (5)
Chance Amie, Tyler Lee, QB, 6-3, 190 — offers from Arkansas State, Bowling Green, Central Florida, Colorado State, Houston, Iowa State, Rutgers, Southern Miss, Syracuse, Tulane, ULL, Virginia (12)
Xavier Benson, Pleasant Grove, LB, 6-0, 200 — offers from Army, North Texas, Southern Miss, Texas State, Tulane, ULL, ULM (7)
Drake Centers, Tatum, OL, 6-4, 295 — offer from Texas State (1)
Kris Dike, Van, OL, 6-6, 283 -- offers from Houston, Oklahoma State (2)
Dekalen Goodson, John Tyler, DE/OLB, 6-2, 215 — offers from Houston, Mississippi State, Texas State, ULL (4)
Trae Hall, Henderson, QB/ATH, 6-3, 185 — offer from ULL (1)
Conner Henson, Harmony, OL, 6-4, 250 — offer from ULL (1)
Chasen Hines, Marshall, OL, 6-3, 340 — committed to LSU; additional offers from Arizona, Baylor, Louisiana Tech, Minnesota, North Texas, Oklahoma, Oklahoma State, Oregon, Rice, Southern Miss, TCU, Texas, Texas A&M, Texas State, Texas Tech (16)
Tevailance Hunt, Texas High, WR, 6-2, 180 — committed to Kansas; additional offers from Arkansas State, Bowling Green, Iowa State, Louisiana Tech, Marshall University, Nevada, North Texas, Southern Miss, Tulsa (10)
Keaontay Ingram, Carthage, RB, 6-0, 198 — offers from Arkansas, Baylor, Colorado, Florida State, Houston, Iowa State, Kansas, LSU, Memphis, Michigan, Minnesota, Missouri, Nebraska, Notre Dame, Ohio State, Oklahoma, Oklahoma State, Ole Miss, Oregon, Oregon State, TCU, Texas, Texas A&M, Texas Tech, UCLA, USC, UTSA (27)
Malik Jackson, Lufkin, WR, 5-8, 165 — offer from Arkansas State (1)
DeMarvion Overshown, Arp, ATH, 6-4, 196 — offers from Alabama, Arkansas, Auburn, Baylor, Clemson, Colorado, Florida, Florida State, Georgia, Houston, Kansas, Kansas State, LSU, Missouri, Nebraska, Ohio State, Oklahoma, Oklahoma State, Ole Miss, SMU, South Carolina, Southern Miss, Stanford, TCU, Texas, Texas A&M, UCLA, USC, UTSA (29)
Jonathan Shepherd, Kilgore, WR, 6-3, 196 — offers from Colorado State, ULM (2)
Tyree Wilson, West Rusk, LB, 6-5, 225 — committed to Washington State; additional offers from Texas State, ULL, ULM (4)
More From East Texas Sports Network