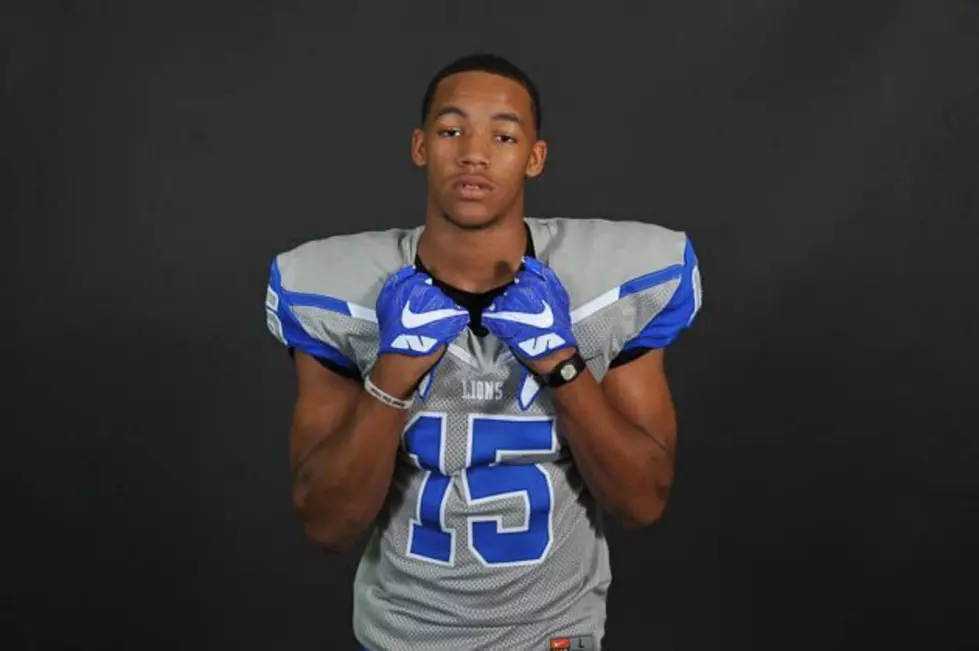 SMU Offers John Tyler Defender Dekalen Goodson
John Tyler DE/OLB Dekalen Goodson picked up an offer from SMU on Monday. (Rob Graham, ETSN.fm)
Dekalen Goodson has his fifth NCAA Division I FBS scholarship opportunity, and he has all the bases covered if he wants to stay close to Tyler after graduation.
SMU threw its name into the ring late Monday evening, the junior John Tyler defensive end and linebacker prospect announced through his Twitter account.
Paired with Stephen F. Austin, an FCS program which offered last month, both Division I schools within 100 miles of home are in the picture for Goodson (6-2, 215).
The Mustangs have a handful of selling points to compete against other FBS offers from Houston, Louisiana-Lafayette, Mississippi State and Texas State.
One, head coach Chad Morris stated in Longview earlier this year that he thinks his 2017 team can compete for the American Athletic Conference championship. Two, six East Texans were on SMU's roster last season as underclassmen and two more signed with the program in February. Three, former Gilmer head coach Jeff Traylor is now part of the coaching staff.
Traylor, who spent the past two seasons at Texas, successfully recruited John Tyler receiver Damion Miller to the Longhorns program in the last cycle. He lured an additional three East Texans from other area high schools.
Ultimately signing with the Mustangs also would allow Goodson to extend his playing career with fellow John Tyler junior defender Tre Allison. Allison verbally committed to SMU in January.
SMU posted a 5-7 record last season and squandered the opportunity to secure bowl eligibility by winning one of its final two games. Still, the campaign was a three-win improvement compared to Morris' first team in 2015 and a four-win improvement versus the 2014 squad led by June Jones and interim coach Tom Mason.
Goodson helped John Tyler become the region's most successful of four Class 6A teams last season, as far as playoff advancement.
The defender recorded 70 tackles, 11 sacks, a forced fumble and two fumble recoveries as John Tyler worked its way to a co-district championship, an appearance at the regional semifinal level of postseason competition and a final record of 11-2.
Goodson, like all college football prospects currently in their junior year of high school, will become eligible to sign with any school that offers him in February of 2018.
2018 East Texas Football Players With Division I FBS Offers
Tre Allison, John Tyler, OLB, 6-0, 200 — committed to SMU; additional offers from Arkansas State, Louisiana Tech, Mississippi State, ULL (5)
Chance Amie, Tyler Lee, QB, 6-3, 190 — offers from Arkansas State, Bowling Green, Central Florida, Colorado State, Georgia State, Houston, Iowa State, North Texas, Rutgers, Southern Miss, Syracuse, Tulane, ULL, Virginia (14)
Xavier Benson, Pleasant Grove, LB, 6-0, 200 — offers from Arkansas State, Army, North Texas, Southern Miss, Texas State, Tulane, ULL, ULM (8)
Drake Centers, Tatum, OL, 6-4, 295 — offer from Texas State (1)
Kris Dike, Van, OL, 6-6, 283 — offers from Houston, North Texas, Oklahoma State, SMU (4)
Dekalen Goodson, John Tyler, DE/OLB, 6-2, 215 — offers from Houston, Mississippi State, SMU, Texas State, ULL (5)
Trae Hall, Henderson, QB/ATH, 6-3, 185 — offer from ULL (1)
Conner Henson, Harmony, OL, 6-4, 250 — offers from ULL, ULM (2)
Chasen Hines, Marshall, OL, 6-3, 340 — committed to LSU; additional offers from Arizona, Baylor, Louisiana Tech, Minnesota, North Texas, Oklahoma, Oklahoma State, Oregon, Rice, Southern Miss, TCU, Texas, Texas A&M, Texas State, Texas Tech (16)
Tevailance Hunt, Texas High, WR, 6-2, 180 — committed to Kansas; additional offers from Arkansas State, Bowling Green, Iowa State, Louisiana Tech, Marshall University, Nevada, North Texas, Southern Miss, Tulsa (10)
Keaontay Ingram, Carthage, RB, 6-0, 198 — offers from Arkansas, Baylor, Colorado, Florida State, Houston, Iowa State, Kansas, LSU, Memphis, Michigan, Minnesota, Missouri, Nebraska, Notre Dame, Ohio State, Oklahoma, Oklahoma State, Ole Miss, Oregon, Oregon State, TCU, Texas, Texas A&M, Texas Tech, UCLA, USC, UTSA (27)
Malik Jackson, Lufkin, WR, 5-8, 165 — offer from Arkansas State (1)
DeMarvion Overshown, Arp, ATH, 6-4, 196 — offers from Alabama, Arizona State, Arkansas, Auburn, Baylor, Clemson, Colorado, Florida, Florida State, Georgia, Houston, Kansas, Kansas State, LSU, Missouri, Nebraska, Ohio State, Oklahoma, Oklahoma State, Ole Miss, SMU, South Carolina, Southern Miss, Stanford, TCU, Texas, Texas A&M, UCLA, USC, UTSA (30)
Jonathan Shepherd, Kilgore, WR, 6-3, 196 — offers from Colorado State, Florida Atlantic, Kansas State, ULM (4)
Tyree Wilson, West Rusk, LB, 6-5, 225 — committed to Washington State; additional offers from Kansas, Southern Miss, Texas State, ULL, ULM (6)
More From East Texas Sports Network