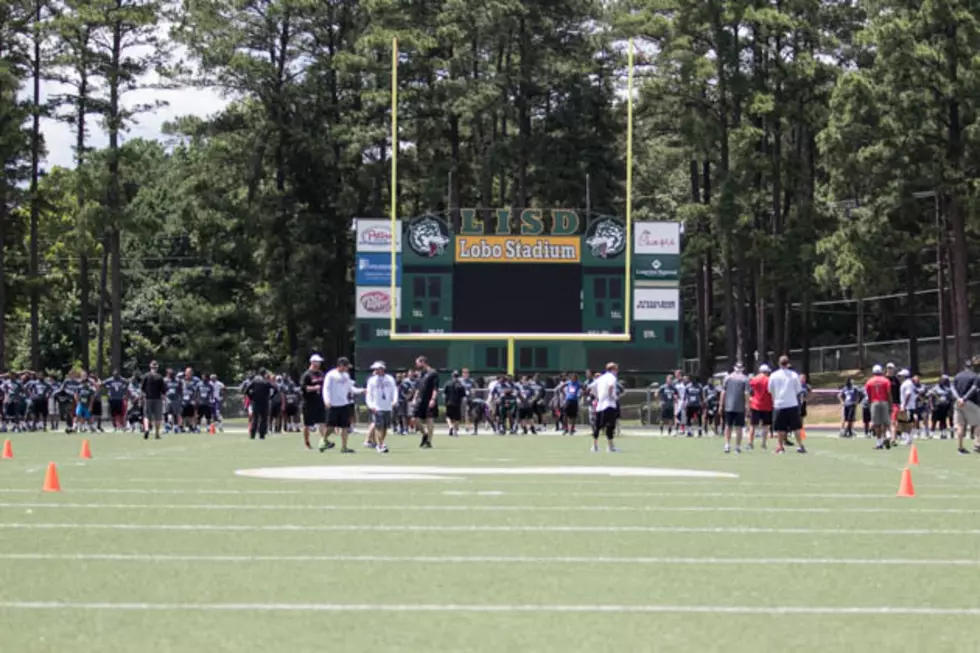 SMU Offers Longview's Marcus Williams
(Mark Martin, ETSN.fm)
Longview offensive lineman Marcus Williams is quickly becoming one of East Texas' most-sought after prospects in the 2019 recruiting class.
Williams (6-6, 250) also holds offers from Baylor, Houston, Southern Miss, and Texas State. All five opportunities have come since last Monday.
SMU has now targeted seven area prospects in the 2019 class. In addition to Williams, the Mustangs have also offered John Tyler OL Chance Billington, Pittsburg WR Keontae Burns, Texas High QB Coltin Clack, Jefferson WR T.Q. Jackson, Henderson, DE Keivie Rose, and Lufkin DT Carl Williams.
Williams was a role player on Longview's 2016 team and is expected to be the starting left tackle this season. The Lobos posted an 8-3 record last year and won a share of the District 11-6A title ahead of a one-point loss to Beaumont West Brook in the first round of the Class 6A Division II state playoffs.
SMU will begin its third season with head coach Chad Morris this fall.
The Mustangs went 5-7 last season and simply needed to win one of their final two games to achieve bowl eligibility. While they didn't accomplish a bowl appearance, the season was a three-win improvement compared to Morris' first year and a four-win improvement versus the 2014 season.
While visiting Longview for a coaching clinic in January, Morris told ETSN.fm that he thinks his 2017 team will be the first of his tenure to compete for the American Athletic Conference championship.
Morris hired former Gilmer head coach and University of Texas assistant Jeff Traylor as SMU's associated head coach and running backs coach earlier this year.
Williams will first become eligible to sign with any program that offers him in December of 2018.
2019 East Texas Football Players With Division I FBS Offers
Jade Ashalintubbi, Elysian Fields, OL, 6-6, 331 —offers from Tulsa, ULM (2)
Chance Billington, John Tyler, OL, 6-3, 201 — offer from SMU (1)
Keontae Burns, Pittsburg, WR, 6-3, 182 — offers from Iowa State, North Texas, SMU, Southern Miss (4)
Coltin Clack, Texas High, QB, 6-3, 202 — offers from Florida Atlantic, SMU, Southern Miss (3)
Christian Hood, Marshall, OL, 6-2, 290 — offer from Southern Miss (1)
T.Q. Jackson, Jefferson, WR, 6-2, 175 — offers from SMU, Southern Miss (2)
Keivie Rose, Henderson, DE, 6-4, 220 — offers from Arkansas State, Florida Atlantic, SMU, Southern Miss, Tulane (5)
Carl Williams, Lufkin, DT, 6-3, 275 — offers from Oklahoma, SMU, TCU, Tulsa (4)
Marcus Williams, Longview, OL, 6-6, 250 — offers from Baylor, Houston, SMU, Southern Miss, Texas State (5)
More From East Texas Sports Network