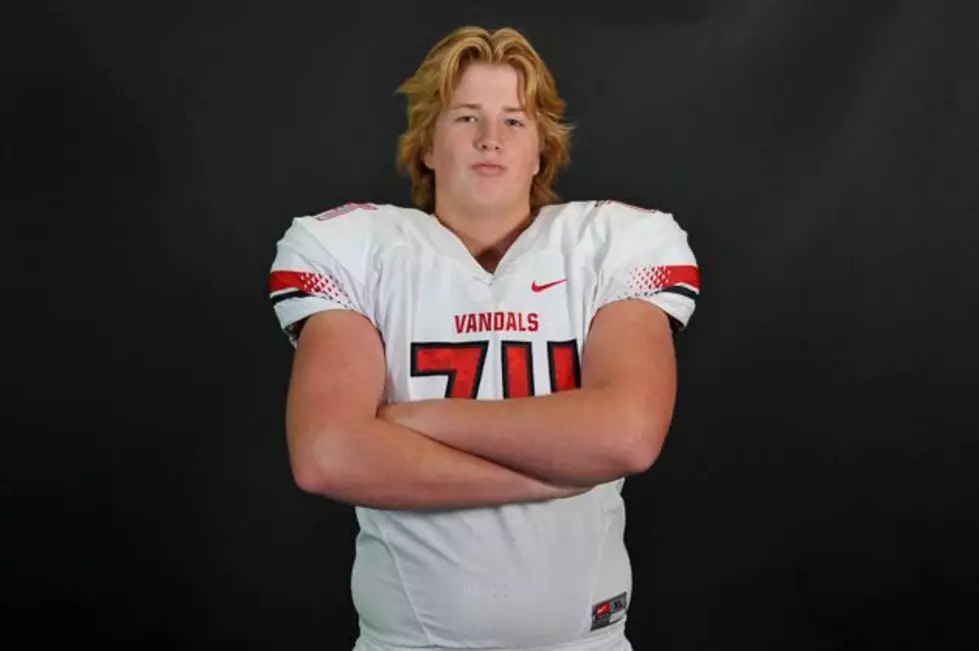 TCU Offers Van Offensive Tackle Kris Dike
TCU offered Van offensive lineman Kris Dike on Tuesday. (Rob Graham, ETSN.fm)
Kris Dike's big week and some change continued Tuesday evening.
TCU became the second Big 12 Conference school and the fifth NCAA Division I FBS school overall since last week to target the junior Van offensive tackle. Dike (6-6, 283) reported his scholarship opportunity from the Horned Frogs through his personal Twitter account.
Van had one of the area's most physical offensive lines last season, and the school needed its line to be near perfect for junior do-it-all quarterback Garrett Moseley. Behind Dike and the rest of the line, Moseley was able to run for 1,689 yards and 22 scores in addition to recording 2,778 aerial yards and another 39 touchdowns.
Dike helped Van reach the Class 4A Division I, Region II championship game last year. The team posted an overall record of 12-2.
The Horned Frogs dropped to a 6-6 regular season record last season from an 11-2 record in 2015, but their finish was good enough for a Liberty Bowl appearance, albeit a loss to Georgia. TCU has an active bowl streak of three seasons and has reached a bowl game 15 times in head coach Gary Patterson's 17 years.
Patterson owns a coaching record of 149-52 with the Horned Frogs.
TCU has served as home to 17 consensus All-Americans in its 120-year history as well as 1938 Heisman Trophy winner Davey O'Brien.
Like all college football prospects currently in their junior year of high school, Dike will become eligible to sign with any school that offers him in February.
2018 East Texas Football Players With Division I FBS Offers
Tre Allison, John Tyler, OLB, 6-0, 200 — committed to SMU; additional offers from Arkansas State, Louisiana Tech, Mississippi State, ULL (5)
Chance Amie, Tyler Lee, QB, 6-3, 190 — offers from Arkansas State, Bowling Green, Central Florida, Colorado State, Georgia State, Houston, Iowa State, North Texas, Rutgers, Southern Miss, Syracuse, Tulane, ULL, Virginia (14)
Xavier Benson, Pleasant Grove, LB, 6-0, 200 — offers from Arkansas State, Army, North Texas, Southern Miss, Texas State, Tulane, ULL, ULM (8)
Drake Centers, Tatum, OL, 6-4, 295 — offer from Texas State (1)
Kris Dike, Van, OL, 6-6, 283 — offers from Houston, North Texas, Oklahoma State, SMU, TCU (5)
Dekalen Goodson, John Tyler, DE/OLB, 6-2, 215 — offers from Houston, Mississippi State, SMU, Texas State, ULL (5)
Trae Hall, Henderson, QB/ATH, 6-3, 185 — offer from ULL (1)
Conner Henson, Harmony, OL, 6-4, 250 — offers from ULL, ULM (2)
Chasen Hines, Marshall, OL, 6-3, 340 — committed to LSU; additional offers from Arizona, Baylor, Louisiana Tech, Minnesota, North Texas, Oklahoma, Oklahoma State, Oregon, Rice, Southern Miss, TCU, Texas, Texas A&M, Texas State, Texas Tech (16)
Tevailance Hunt, Texas High, WR, 6-2, 180 — committed to Kansas; additional offers from Arkansas State, Bowling Green, Iowa State, Louisiana Tech, Marshall University, Nevada, North Texas, Southern Miss, Tulsa (10)
Keaontay Ingram, Carthage, RB, 6-0, 198 — offers from Arkansas, Baylor, Colorado, Florida State, Houston, Iowa State, Kansas, LSU, Memphis, Michigan, Minnesota, Missouri, Nebraska, Notre Dame, Ohio State, Oklahoma, Oklahoma State, Ole Miss, Oregon, Oregon State, TCU, Texas, Texas A&M, Texas Tech, UCLA, USC, UTSA (27)
Malik Jackson, Lufkin, WR, 5-8, 165 — offer from Arkansas State (1)
DeMarvion Overshown, Arp, ATH, 6-4, 196 — offers from Alabama, Arizona State, Arkansas, Auburn, Baylor, Clemson, Colorado, Florida, Florida State, Georgia, Houston, Kansas, Kansas State, LSU, Missouri, Nebraska, Ohio State, Oklahoma, Oklahoma State, Ole Miss, SMU, South Carolina, Southern Miss, Stanford, TCU, Texas, Texas A&M, UCLA, USC, UTSA (30)
Jonathan Shepherd, Kilgore, WR, 6-3, 196 — offers from Colorado State, Florida Atlantic, Kansas State, ULM (4)
Tyree Wilson, West Rusk, LB, 6-5, 225 — committed to Washington State; additional offers from Kansas, Southern Miss, Texas State, ULL, ULM (6)
More From East Texas Sports Network