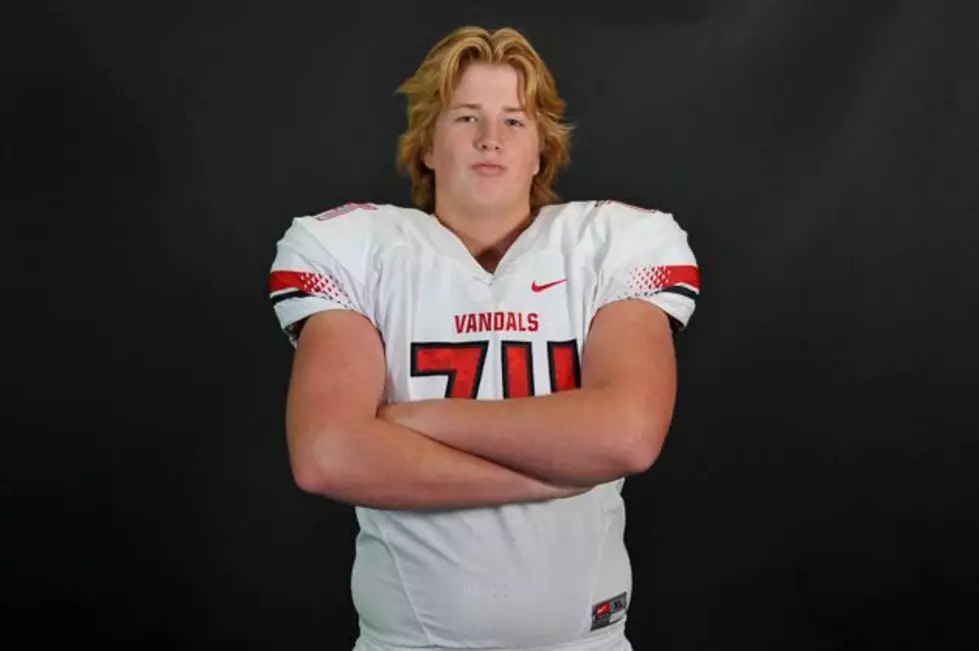 Tulane Offers Van Offensive Tackle Kris Dike
Tulane offered Van offensive lineman Kris Dike on Friday. (Rob Graham, ETSN.fm)
Tulane was back at it again Friday after offering four East Texas football players the day beforehand.
Van tackle Kris Dike, a rising senior who reported his latest offer through Twitter, is the ninth player from the region among Class of 2018 and 2019 prospects to hear from the Green Wave. Tulane's invitation gives him seven opportunities at the NCAA Division I FBS level.
Dike (6-6, 283) had a banner junior season in helping lead the Vandals to a 12-2 record and berth in the Class 4A Division I state quarterfinals. He was the anchor on a line that allowed Van's offense to average more than 42 points and 400 yards per game.
Van's offense is heavily dependent on rising senior quarterback Garrett Moseley in all phases. Dike is tasked with protecting Moseley's left flank.
Tulane managed a 4-8 record under first-year head coach Willie Fritz last season. Fritz has some first-hand Texas experience from his days as head coach in Blinn College between 1993 and 1996 and Sam Houston State from 2010 through 2013.
A charter member of the Southeastern Conference, Tulane departed the league in 1966 and now competes in the American Athletic Conference.
The Green Wave program owns nine conference championship banners and has produced five consensus All-Americans.
Dike, like all college football prospects currently in their junior year of high school, will become eligible to sign with any program that offers him in December.
2018 East Texas Football Players With Division I FBS Offers
Tre Allison, John Tyler, OLB, 6-0, 200 — committed to SMU; additional offers from Arkansas State, Louisiana Tech, Mississippi State, Texas State, Tulane, ULL (7)
Chance Amie, Tyler Lee, QB, 6-3, 190 — offers from Arkansas State, Bowling Green, Central Florida, Cincinnati, Colorado State, Florida Atlantic, Georgia State, Houston, Iowa State, New Mexico, North Texas, Rutgers, Southern Miss, Syracuse, Tulane, ULL, Virginia (17)
Xavier Benson, Pleasant Grove, LB, 6-0, 200 — offers from Arkansas State, Army, North Texas, SMU, Southern Miss, Texas State, Texas Tech, Tulane, ULL, ULM (10)
Drake Centers, Tatum, OL, 6-4, 295 — offers from SMU, Texas State (2)
Kris Dike, Van, OL, 6-6, 283 — offers from Colorado, Houston, North Texas, Oklahoma State, SMU, TCU, Tulane (7)
Dekalen Goodson, John Tyler, DE/OLB, 6-2, 215 — offers from Houston, Mississippi State, SMU, Texas State, Tulane, ULL (6)
Trae Hall, Henderson, QB/ATH, 6-3, 185 — offers from Florida Atlantic, Tulane, ULL (3)
Conner Henson, Harmony, OL, 6-4, 250 — offers from ULL, ULM (2)
Chasen Hines, Marshall, OL, 6-3, 340 — committed to LSU; additional offers from Arizona, Baylor, Louisiana Tech, Minnesota, North Texas, Oklahoma, Oklahoma State, Oregon, Rice, Southern Miss, TCU, Texas, Texas A&M, Texas State, Texas Tech (16)
Tevailance Hunt, Texas High, WR, 6-2, 180 — committed to Kansas; additional offers from Arkansas State, Bowling Green, Houston, Iowa State, Louisiana Tech, Marshall University, Nevada, North Texas, Oklahoma State, Southern Miss, Tulsa (12)
Keaontay Ingram, Carthage, RB, 6-0, 198 — offers from Arkansas, Baylor, Colorado, Florida State, Houston, Iowa State, Kansas, LSU, Memphis, Michigan, Minnesota, Missouri, Nebraska, Notre Dame, Ohio State, Oklahoma, Oklahoma State, Ole Miss, Oregon, Oregon State, TCU, Texas, Texas A&M, Texas Tech, UCLA, USC, UTSA (27)
Malik Jackson, Lufkin, WR, 5-8, 165 — offer from Arkansas State (1)
Kameron King, Marshall, OL, 6-3, 270 — offer from Tulane (1)
DeMarvion Overshown, Arp, S, 6-4, 196 — offers from Alabama, Arizona State, Arkansas, Auburn, Baylor, Clemson, Colorado, Florida, Florida State, Georgia, Houston, Kansas, Kansas State, LSU, Missouri, Nebraska, Ohio State, Oklahoma, Oklahoma State, Ole Miss, SMU, South Carolina, Southern Miss, Stanford, TCU, Texas, Texas A&M, UCLA, USC, UTSA (30)
Jonathan Shepherd, Kilgore, WR, 6-3, 196 — offers from Colorado State, Florida Atlantic, Houston, Kansas State, ULM, New Mexico, Oregon State, TCU, Texas State, Texas Tech (10)
Tyree Wilson, West Rusk, LB, 6-5, 225 — committed to Washington State; additional offers from Kansas, SMU, Southern Miss, Texas State, Tulane, ULL, ULM, Wyoming (9)
More From East Texas Sports Network