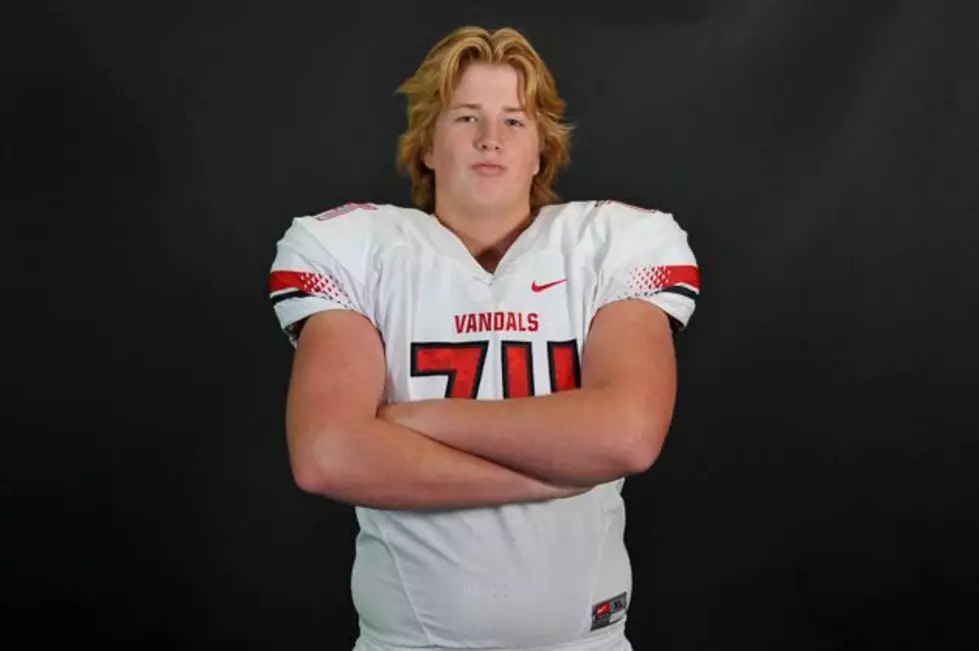 Van's Kris Dike Commits To TCU
Van offensive lineman Kris Dike committed to TCU on Saturday. (Rob Graham, ETSN.fm)
It's looking like an above average year in sheer amount of NCAA Division I FBS caliber offensive lineman within East Texas, and the players are committing to above average schools.
Van tackle Kris Dike verbally committed to TCU late Saturday evening and became the second of seven local lineman to make a college decision. Marshall's Chasen Hines pledged to LSU in March.
Dike (6-6, 283) chose the Horned Frogs program in favor of seven other FBS scholarship opportunities from Colorado, Houston, Memphis, North Texas, Oklahoma State, SMU and Tulane. He's TCU's 13th commitment as it builds its 2018 recruiting class.
The class also features Bossier City (La.) Parkway quarterback Justin Rogers, a consensus top 100 prospect.
Dike currently protects another strong high school signal-caller in dual-threat Garrett Moseley. The pair helped Van to the regional championship round of the Class 4A Division I state playoffs last season and a final record of 12-2.
Van averaged 42.9 points per game and more than 400 yards per contest in 2016.
TCU went 6-7 last season in its first campaign without Heisman Trophy candidate Trevone Boykin at quarterback. The season ended with a loss to Georgia in the Liberty Bowl.
Boykin's final TCU team, in 2015, finished second in the Big 12 Conference and closed the year ranked seventh in the final Associated Press poll.
Horned Frogs head coach Gary Patterson has seen ups and downs before, particularly since joining the Big 12 in 2012. The last time TCU finished with a sub-.500 record under Patterson, back in 2013, the next team recorded a 12-1 season and tied for the Big 12 championship.
Patterson owns a 149-54 record as the Horned Frogs' leader through 16 full seasons. Six of his teams closed campaigns ranked 10th or better in at least one of the two major polls.
TCU has an all-time record of 626-531-15 and claims national championships from 1935 and 1938. Quarterback Davey O'Brien gave the Horned Frogs program is sole Heisman Trophy to date in 1938 and later became the namesake of the Davey O'Brien Award, which honors the best collegiate quarterback as judged by the Davey O'Brien Foundation in Fort Worth.
Dike will become eligible to sign with TCU or any other Division I school that offers him in December.
2018 East Texas Football Players With Division I FBS Offers
Tre Allison, John Tyler, OLB, 6-2, 211 — committed to SMU; additional offers from Arkansas State, Louisiana Tech, Mississippi State, Texas State, Tulane, ULL (7)
Chance Amie, Tyler Lee, QB, 6-3, 190 — offers from Arkansas State, Bowling Green, Central Florida, Cincinnati, Colorado State, Florida Atlantic, Georgia State, Houston, Iowa State, New Mexico, North Carolina, North Texas, Rutgers, Southern Miss, Syracuse, Tulane, ULL, Virginia (18)
Xavier Benson, Pleasant Grove, LB, 6-0, 200 — offers from Arkansas State, Army, Memphis, North Texas, Rice, SMU, Southern Miss, Texas State, Texas Tech, Tulane, ULL, ULM, Wyoming (13)
Drake Centers, Tatum, OL, 6-3, 296 — offers from SMU, Southern Miss, Texas State, ULM (4)
Kylar Cooks, Liberty-Eylau, OL, 6-5, 252 — offers from Arkansas State, North Texas, Texas State, ULL (4)
Jeremiah Davis, Lufkin, CB, 5-10, 194 — committed to ULL (1)
Kris Dike, Van, OL, 6-6, 283 — committed to TCU; additional offers from Colorado, Houston, Memphis, North Texas, Oklahoma State, SMU, Tulane (8)
Dekalen Goodson, John Tyler, DE/OLB, 6-2, 209 — committed to Houston; additional offers from Mississippi State, SMU, Texas State, Tulane, ULL (6)
Trae Hall, Henderson, QB/ATH, 6-3, 185 — offers from Florida Atlantic, New Mexico State, Tulane, ULL, ULM (5)
Conner Henson, Harmony, OL, 6-3, 243 — offers from ULL, ULM (2)
Chasen Hines, Marshall, OL, 6-3, 353 — committed to LSU; additional offers from Arizona, Baylor, Louisiana Tech, Minnesota, North Texas, Oklahoma, Oklahoma State, Oregon, Rice, Southern Miss, TCU, Texas, Texas A&M, Texas State, Texas Tech (16)
Tevailance Hunt, Texas High, WR, 6-2, 180 — committed to Kansas; additional offers from Arkansas State, Bowling Green, Florida Atlantic, Houston, Iowa State, Louisiana Tech, Marshall, Memphis, Nevada, North Texas, Oklahoma State, Southern Miss, Tulsa (14)
Dewaylon Ingram, Carthage, WR, 6-0, 160 — offer from Arkansas State (1)
Keaontay Ingram, Carthage, RB, 6-0, 198 — committed to Texas; additional offers from Arkansas, Baylor, Colorado, Florida State, Houston, Iowa State, Kansas, LSU, Memphis, Michigan, Minnesota, Missouri, Nebraska, Notre Dame, Ohio State, Oklahoma, Oklahoma State, Ole Miss, Oregon, Oregon State, TCU, Texas A&M, Texas Tech, UCLA, USC, UTSA (27)
Malik Jackson, Lufkin, WR, 5-8, 163 — offers from Arkansas State, Houston, Texas State (3)
Kameron King, Marshall, OL, 6-2, 275 — offers from Memphis, North Texas, Tulane, ULM, Southern Miss (5)
Trevor Lawrence, Whitehouse, DE, 6-4, 245 — offers from Texas State, ULM (2)
DeMarvion Overshown, Arp, S, 6-4, 196 — committed to Texas; additional offers from Alabama, Arizona State, Arkansas, Auburn, Baylor, Clemson, Colorado, Florida, Florida State, Georgia, Houston, Kansas, Kansas State, LSU, Missouri, Nebraska, Ohio State, Oklahoma, Oklahoma State, Ole Miss, SMU, South Carolina, Southern Miss, Stanford, TCU, Texas A&M, UCLA, USC, UTSA (30)
Leonard Parks, Texas High, DE, 6-5, 230 — offer from ULM (1)
Michael Sanchez, Gladewater, TE/OL, 6-5, 327 — offer from Houston (1)
Jonathan Shepherd, Kilgore, WR, 6-3, 196 — committed to Oklahoma State; additional offers from Colorado State, Florida Atlantic, Houston, Kansas State, ULM, Missouri, New Mexico, Memphis, North Texas, Oregon State, Southern Miss, TCU, Texas State, Texas Tech (15)
Marje Smith, Marshall, DE, 6-6, 210 -- committed to Baylor (1)
DaRyan Williams, Nacogdoches, 5-10,199 — offer from Texas State (1)
Tyree Wilson, West Rusk, LB, 6-5, 225 — offers from Houston, Kansas, Memphis, Mississippi State, New Mexico, Oklahoma State, SMU, Southern Miss, TCU, Texas State, Tulane, ULL, ULM, Washington State, Wyoming (15)
More From East Texas Sports Network