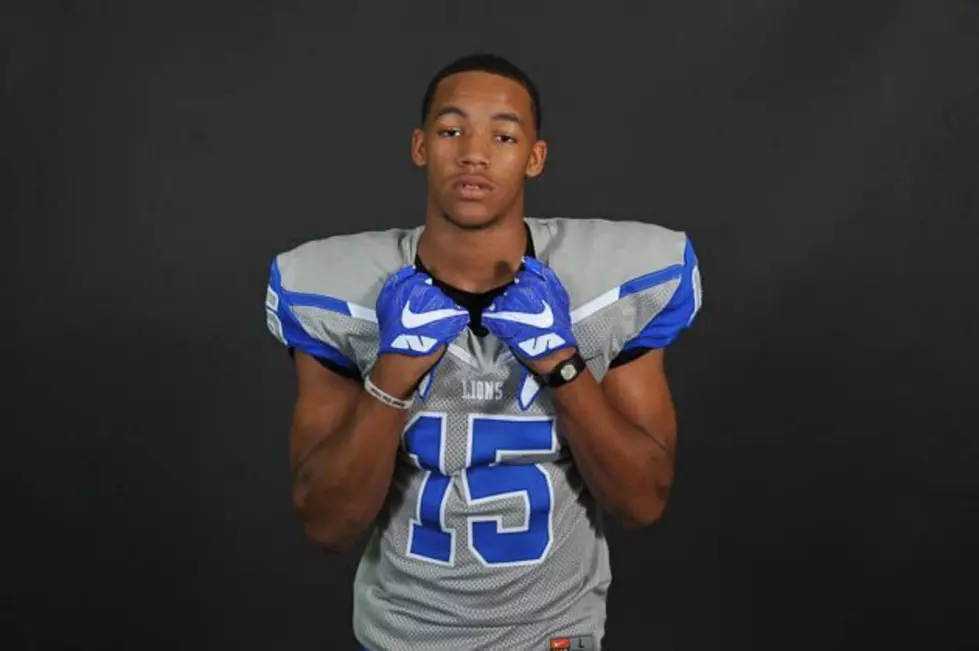 Houston Offers John Tyler's Dekalen Goodson
John Tyler DE/OLB Dekalen Goodson picked up an offer from Houston on Saturday. (Rob Graham, ETSN.fm)
John Tyler junior DE/OLB Dekalen Goodson, one of the area's most productive defensive players, earned his fourth Division I FBS scholarship offer on Saturday.
Goodson (6-2, 215) was offered by Houston, according to John Tyler head football coach Ricklan Holmes.
In addition to Houston, Goodson holds offers from Louisiana-Lafayette, Mississippi State, and Texas State.
Goodson is the first East Texan in the 2018 recruiting cycle to be offered by Houston.
John Tyler and Houston have become quite synonymous with one another of late. The Cougars have signed four JT products since 2013 -- Greg Ward Jr., Tyus Bowser, Braylon Jones, and Bryson Smith.
Houston will be under the direction of first-year coach Major Applewhite, the offensive coordinator for two years under Tom Herman, who left for the Texas job during the offseason.
Under Herman's leadership, Houston became a player on the national scene. In his first season in charge, Houston went 13-1 and defeated Florida State in the Chick-fil-A Peach Bowl.
Last season, the Cougars earned upset wins over Oklahoma and Louisville, both of which were ranked in the top 10 nationally at the time.
Goodson was one of the top defensive players in the region in 2016. He finished his junior year with 70 tackles (20 for loss), 11 sacks, a forced fumble and two recoveries.
The JT playmaker helped his team go 11-2, and reach the Class 6A Division II regional semifinals.
Goodson, like all college football prospects currently in their junior year of high school, will become eligible to sign with any school that offers him in February of 2018.
2018 East Texas Football Players With Division I FBS Offers
Tre Allison, John Tyler, OLB, 6-0, 200 — committed to SMU; additional offer from ULL, Mississippi State (3)
Chance Amie, Tyler Lee, QB, 6-3, 190 — offers from Arkansas State, Bowling Green, Central Florida, Colorado State, Iowa State, Rutgers, Southern Miss, Syracuse, Tulane, ULL, Virginia (11)
Xavier Benson, Pleasant Grove, LB, 6-0, 200 — offers from Tulane, ULL (2)
Dekalen Goodson, John Tyler, DE/OLB, 6-2, 215 — offers from Houston, Mississippi State, Texas State, ULL (4)
Trae Hall, Henderson, QB/ATH, 6-3, 185 — offer from ULL (1)
Conner Henson, Harmony, OL, 6-4, 250 — offer from ULL (1)
Chasen Hines, Marshall, OL, 6-3, 340 — committed to LSU; additional offers from Arizona, Baylor, Louisiana Tech, Minnesota, North Texas, Oklahoma, Oklahoma State, Oregon, Southern Miss, TCU, Texas, Texas A&M, Texas State, Texas Tech (15)
Tevailance Hunt, Texas High, WR, 6-2, 180 — offers from Arkansas State, Bowling Green, Iowa State, Kansas, Louisiana Tech, Nevada, North Texas, Southern Miss, Tulsa (9)
Keaontay Ingram, Carthage, RB, 6-0, 198 — offers from Arkansas, Baylor, Colorado, Iowa State, Kansas, LSU, Memphis, Michigan, Minnesota, Missouri, Nebraska, Notre Dame, Ohio State, Oklahoma, Oklahoma State, Ole Miss, Oregon, TCU, Texas, Texas A&M, Texas Tech, UCLA, UTSA (23)
Malik Jackson, Lufkin, WR, 5-8, 165 — offer from Arkansas State (1)
DeMarvion Overshown, Arp, ATH, 6-4, 196 — offers from Alabama, Arkansas, Auburn, Baylor, Clemson, Colorado, Florida State, Georgia, Kansas, LSU, Missouri, Nebraska, Ohio State, Oklahoma, Oklahoma State, Ole Miss, SMU, South Carolina, Southern Miss, Stanford, TCU, Texas, Texas A&M, UCLA, USC, UTSA (26)
Tyree Wilson, West Rusk, LB, 6-5, 225 — offer from ULL, Washington State (2)
More From East Texas Sports Network