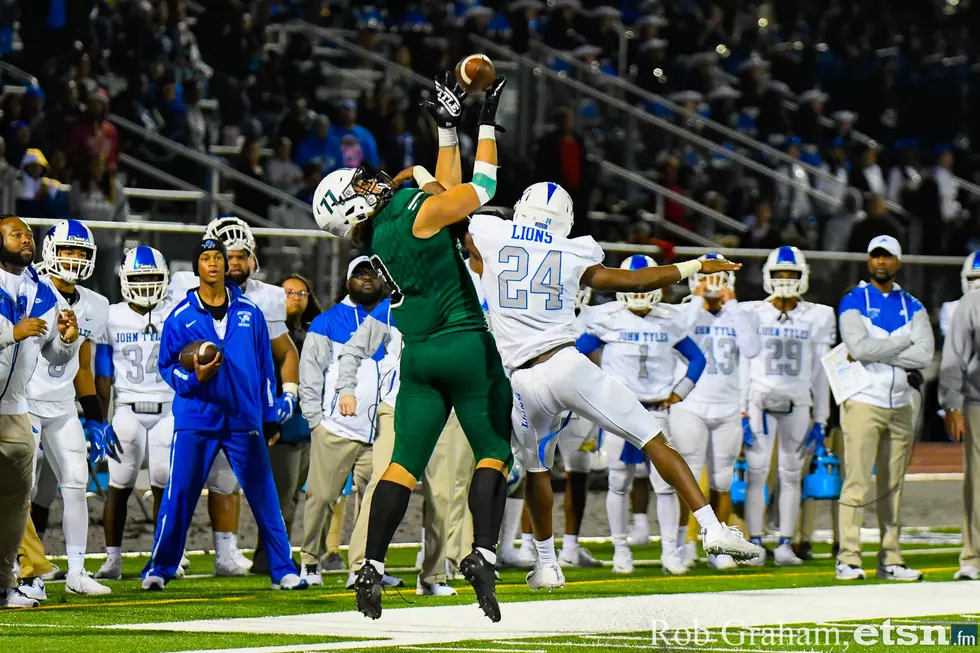 Louisiana-Monroe Offers John Tyler's Kitan Crawford
(© ETSN.fm)
Kitan Crawford received his first FBS offer Wednesday.
Crawford, a 2020 running back and safety at John Tyler, already held an offer from Stephen F. Austin. He tweeted Wednesday morning that the Warhawks joined the Lumberjacks on that list.
Crawford finished 2018 with 21 carries for 269 yards and two touchdowns. He also added three receptions for 78 yards and a touchdown. He could be in for a bigger role in 2019 with the graduation of lead backs Cameron Grant and Roderick Hawkins.
Crawford also finished with 30 tackles, two interceptions and 12 pass break ups this past season.
Lousiana-Monroe competes in the Sun Belt Conference and finished 6-6, missing bowl competition in 2018.
Crawford, like all juniors, is first eligible to sign with any school that offers him beginning in December.
2020 East Texas Football Players With Division I FBS Offers
Chris Carpenter, Jacksonville, ATH, 6-0, 170 – offer from North Texas (1)
Kitan Crawford, John Tyler, RB/DB, 5-11, 170 – offer from Louisiana-Monroe (1)
Ty'kieast Crawford, Carthage, OL, 6-6, 310 – committed to Baylor; additional offers from Arkansas, Missouri, Oklahoma State, SMU (5)
Kelvontay Dixon, Carthage, ATH, 6-0, 173 – offers from Arkansas, Baylor, Colorado, Oklahoma State, SMU, TCU, Texas (7)
Sawyer Goram-Welch, Longview, DL, 6-4, 265 – offer from Louisiana Tech (1)
JJ Green, Marshall, QB, 6-3, 175 – offers from Nebraska, Ole Miss, Texas State (3)
Tyrese Grant, Daingerfield, ATH, 6-0, 160 – offers from Colorado State, Hawaii, Texas State, Toledo, Utah (5)
Khalan Griffin, Bullard Brook Hill, ATH, 5-10, 190 – offers from Air Force, Texas State (2)
Herbert Gums, Diboll, LB, 6-1, 243 – offers from Arkansas, Houston, Missouri (3)
Garrett Hayes, Athens, OL, 6-5, 275 – offers from Arkansas, Baylor, Houston, Oklahoma, TCU, Tennessee (6)
Allen Horace, Crockett, TE/DE, 6-5, 230 – offers from Arkansas, Baylor, Houston, Nebraska, Oklahoma State, Texas Tech (6)
Tren Jones, Arp, ATH, 6-0, 170 – offer from Baylor (1)
Devon King, Gilmer, OL, 6-3, 338 – offer from Texas State (1)
Haynes King, Longview, QB, 6-3, 180 – offers from Arkansas, Auburn, Baylor, Houston, Kansas, Louisiana Tech, Louisiana-Monroe, Memphis, Minnesota, Missouri, North Texas, Southern Miss, TCU, Tennessee, Texas State, Tulsa (16)
Jamal Ligon, Tyler Lee, DE, 6-2, 240 – offer from Texas State (1)
Ja'Lynn Polk, Lufkin, WR, 6-2, 175 – offers from Arkansas, Illinois, Southern Miss (3)
JJ Sparkman, Pine Tree, WR, 6-4, 190 – offers from Arkansas, Arkansas State, Iowa State, Missouri, North Texas, Southern Miss, Texas State, UTSA (8)
James Sylvester, Newton, DE, 6-4, 225 – offers from Alabama, Arkansas, Baylor, Georgia, Minnesota, Missouri, Oklahoma, Oklahoma State, SMU, TCU, Texas A&M, Virginia (12)
Jerrin Thompson, Lufkin, DB, 6-0, 172 – offers from Arkansas, Baylor, Missouri, Oklahoma, Penn State, SMU, South Florida, TCU, Vanderbilt, Virginia Tech (10)
Savion Williams, Marshall, WR, 6-4, 195 – offers from Arkansas, Bowling Green, Indiana, Kansas, Missouri, North Texas, SMU, Southern Miss, Texas State, Texas Tech (10)
More From East Texas Sports Network