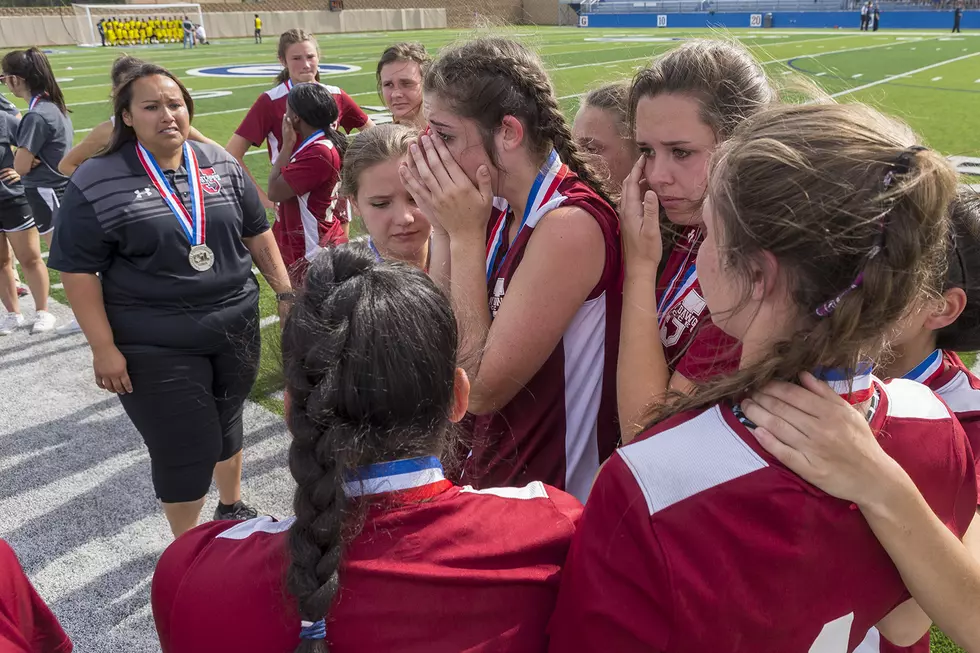 Jasper Falls Short of State Championship in Overtime, 2-1
Jasper head coach Gabriela Carter speaks to her team after falling to Midlothian Heritage 2-1 during the Class 4A girls soccer state championship in Georgetown, Thursday, April 19, 2018. (Stephen Spillman)
GEORGETOWN – Tears are normal at trophy presentations.
Usually they are happy ones. But as Jasper accepted its second place trophy on Thursday afternoon, the faces of its players were wet with sorrow.
Rachel Allen's goal with less than a minute in overtime gave the Midlothian Heritage a 2-1 victory in the 4A state championship game. It was the fourth time in as many seasons the Lady Bulldogs (18-2) advanced to the state tournament only to lose.
In the face of defeat, coach Gabriela Carter tried to remain upbeat.
"Every year we've left here, it was this gut feeling like someone just knocked the wind out of me," she said. "Today was different. Today was greater than this."
Despite leading for most of the game, Jasper allowed a goal off a corner kick with nine minutes left. Kylar Kenter got credit for the equalizer after a scramble near the goal.
After both teams failed to notch a go-ahead goal in regulation, overtime began. Nineteen more scoreless minutes went by and the game appeared headed for penalty kicks before Adams scored the simultaneously joy-inducing and heartbreaking goal.
Although it attacked plenty in the first half, Jasper lacked aggression after. Heritage (29-3-1) outshot Jasper 16-1 in the second half and overtime. Goalkeeper Britney Richard did her best to keep up, recording eight saves.
"We were hanging in there trying to build that counter," Carter said. I said, 'Hey, we can go to PKs if that's what you want.' It didn't work out in the end. That's soccer for you."
Jasper's lone goal came six minutes into the game. Kylee Dominy, who scored an olimpico goal in the semifinals to advance the Lady Bulldogs, lined up for a corner kick. Raylee White connected on a header from six yards out to give Jasper the lead.
Jasper's seniors will graduate having made four trips to the state tournament. Although they couldn't take away a championship, the trips weren't empty, Carter said.
"They need to apply those experiences in real life," she said. "(They will) learn from this and grow. They stepped up as leaders on this team. My team is composed of leaders. When one is shaky, someone steps up. On the field and off the field. In the end, the lessons they learned here to overcome is gonna take them a lot further."
More From East Texas Sports Network