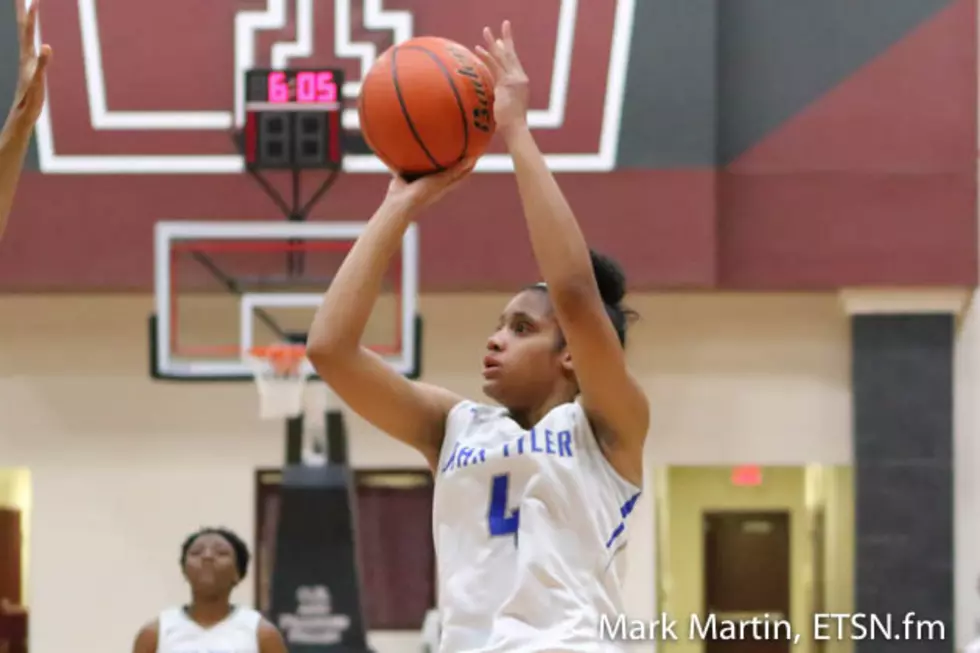 John Tyler Girls Get Over The Hump In Time To Eliminate Lakeview Centennial
Alyssa Mayfield scored a team-best 29 points in John Tyler's 63-56 win against Garland Lakeview Centennial in the area round of the 6A playoffs Friday in Kaufman.
KAUFMAN -- John Tyler huffed, puffed and eventually did blow the house down in the area round of the Class 6A state playoffs.
Garland Lakeview Centennial led at the end of the first, second and third quarters, but an electric start in the fourth period pushed the fourth-seeded Lady Lions to a 63-56 victory Friday at Kaufman High School.
"I knew we could do it, but Lakeview is a tough team," John Tyler head coach Carlesa Dixon said. "We were going to have to fight and claw our way out of that hole, and we did that tonight."
The Lady Lions (21-12) got within two points or less of Centennial (13-16) on four different occasions before claiming their first lead since a 9-8 advantage fell at the 3:51 mark of the first half. But even after taking a 42-41 edge late in the third quarter, the lead changed hands twice more and Centennial was out in front, 47-45, at the final intermission.
An 8-0 run to start the fourth quarter gave John Tyler just enough breathing room to ultimately win. Centennial got within one possession twice, including one look to tie the game inside five minutes, yet the Lady Lions did enough between rebounding and converting on the offensive end to hang on.
Alyssa Mayfield, a Stephen F. Austin guard signee, scored four points in the key 8-0 run and added two more down the stretch as part of a 29-point night. The next closest player on the scoresheet --  Centennial's Bre'Asiajah Matthews -- managed 20 points.
Shay Johnson scored a second-best 12 points off the bench for the Lady Lions. Starting guard Destini Whitehead recorded nine points.
While the Lady Lions played most of the game under the gun, the halftime thought was it was their game to win. Centennial had only forced three of 12 first-half turnovers and led by a score of 33-26.
John Tyler gave away 10 possessions in the second half, but it won nine possessions back on steals as Centennial worked to 25 total turnovers in the 32-minute contest. Kaleon Grant earned five of those steals and Daz'Monique Johnson walked away with three.
"Defense," Mayfield said when asked what the biggest difference was between the first and second halves. "We picked it up. We went for everything. Just like they came for us, we went for them."
Centennial marked a down note for John Tyler through a mostly successful non-district schedule that culminated with a championship game win in the Dallas ISD Holiday Invitational. The Lady Lions fell to Centennial in Garland, 70-62, in their very first game of the season.
Up next for John Tyler is a third rematch with the team it beat in Dallas for the Holiday Invitational crown. Mesquite Horn.
Horn, the champion of the Lady Lions' District 11-6A, got more than even in league play with wins in Tyler and Mesquite.
Garland Naaman Forest fell to Horn, 61-43, a few minutes after the Lady Lions wrapped up their playoff game. Horn beat The Woodlands by 40 points in the bi-district round of the postseason.
A venue and specific time have not been worked out between John Tyler and Horn, but both teams seem keen on playing Tuesday.
"We've played three times this year and every time has been different," Dixon said. "They're different and we're different. It's going to be a great game."
John Tyler 63, Garland Lakeview Centennial 56
Class 6A Area Round Playoff Game
At Kaufman High School
Centennial                19       14      14         9   --     56
John Tyler                15        11      19       18    --   63
Centennial (13-16) -- Bre'Asiajah Matthews 20, Candice Parramore 17, Porsha Matthews 11, Cameron Wilson 6, Stephanie Villarreal 2.
John Tyler (21-12) -- Alyssa Mayfield 29, Shay Johnson 12, Destini Whitehead 9, Kaleon Grant 7, Daz'Monique Johnson 6,
THREE-POINT GOALS -- Centennial: Porsha Matthews (3), Bre'Asiajah Matthews. John Tyler: Shay Johnson.
More From East Texas Sports Network