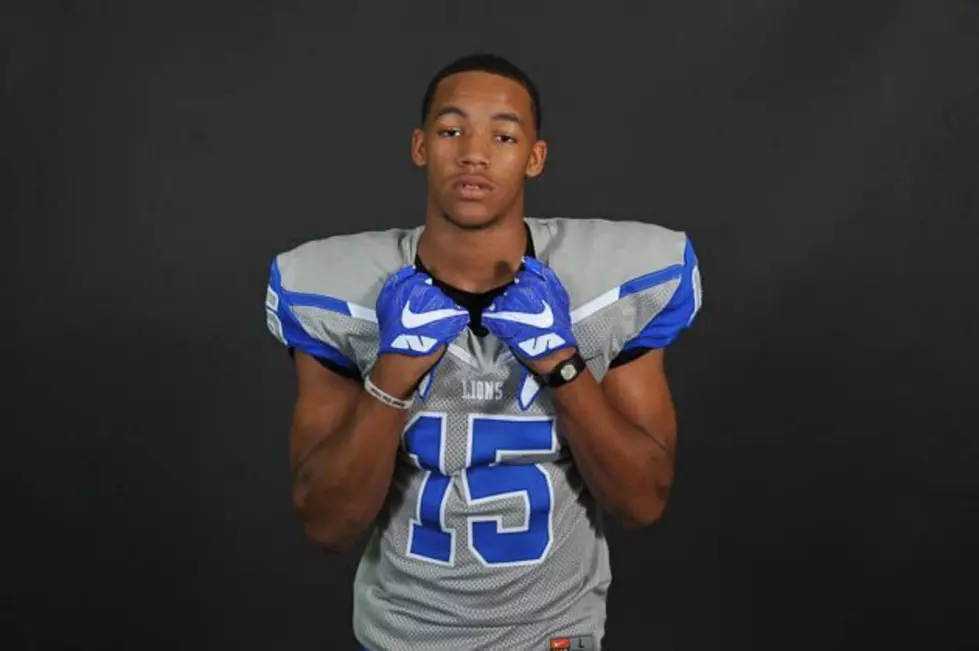 John Tyler's Dekalen Goodson Offered By Texas State
John Tyler DE/OLB Dekalen Goodson picked up an offer from Texas State on Saturday. (Rob Graham, ETSN.fm)
He had to wait a while, but John Tyler junior DE/OLB Dekalen Goodson has picked up his second Division I FBS scholarship opportunity.
Texas State officially offered Goodson, which was announced by the John Tyler football program's official Twitter account on Saturday.
Goodson (6-2, 215) was previously offered by Mississippi State way back on May 18.
The Bobcats made the JT defender their first recruit from East Texas' 2018 class. Goodson was on a Junior Day visit in San Marcos when he received the offer.
Goodson was one of the top defensive players in the region in 2016. He finished his junior year with 70 tackles (20 for loss), 11 sacks, a forced fumble and two recoveries in helping John Tyler finish 11-2 and reach the regional semifinal round of the Class 6A Division II playoffs.
He, along with linebacker and SMU commit Tre Allison, will be two of the top returning defenders in East Texas next season.
Texas State was 2-10 last season in the first year under head coach Everett Withers. The Bobcats, who compete in the WAC, have been down of late, going 22-38 since 2011.
Like all college football prospects currently in their junior year of high school, Goodson will become eligible to sign with any school that offers him in February of 2018.
2018 East Texas Football Players With Division I FBS Offers
Tre Allison, John Tyler, OLB, 6-0, 200 — committed to SMU; additional offer from Mississippi State (2)
Chance Amie, Tyler Lee, QB, 6-3, 190 — offers from Bowling Green, Iowa State, Syracuse, ULL, Virginia (5)
Xavier Benson, Pleasant Grove, LB, 6-0, 200 — offer from ULL (1)
Dekalen Goodson, John Tyler, DE/OLB, 6-2, 215 — offers from Mississippi State, Texas State (2)
Trae Hall, Henderson, QB/ATH, 6-3, 185 — offer from ULL (1)
Chasen Hines, Marshall, C, 6-3, 340 — offers from Baylor, Louisiana Tech, LSU, Minnesota, North Texas, Oklahoma, Oklahoma State, TCU, Texas, Texas A&M, Texas Tech (11)
Tevailance Hunt, Texas High, WR, 6-2, 180 — offers from Arkansas State, Bowling Green, Louisiana Tech, North Texas (4)
Keaontay Ingram, Carthage, RB, 6-0, 198 — offers from Arkansas, Baylor, Colorado, Iowa State, Kansas, Michigan, Minnesota, Missouri, Nebraska, Notre Dame, Ohio State, Oklahoma, Oklahoma State, Ole Miss, Oregon, TCU, Texas, Texas A&M, Texas Tech, UCLA, UTSA (21)
Malik Jackson, Lufkin, WR, 5-8, 165 — offer from Arkansas State (1)
DeMarvion Overshown, Arp, ATH, 6-4, 196 — offers from Alabama, Arkansas, Auburn, Baylor, Clemson, Colorado, Florida State, Georgia, Kansas, LSU, Missouri, Nebraska, Ohio State, Oklahoma, Oklahoma State, Ole Miss, SMU, South Carolina, Southern Miss, TCU, Texas, Texas A&M, UCLA, USC, UTSA (25)
Tyree Wilson, West Rusk, LB, 6-5, 225 — offer from ULL (1)
More From East Texas Sports Network