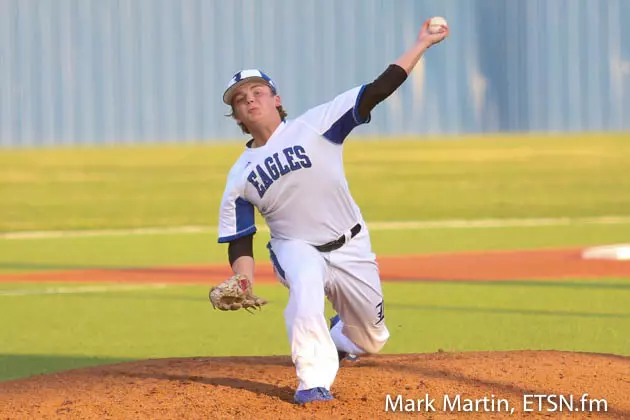 Lindale Gets Shot At District Title Thanks To Nick Norton's Dominant Outing Versus Jacksonville
Lindale starting pitcher struck out 14 and produced a no-hit bid that lasted 6 and 2/3 innings Friday in a 5-0 win over Jacksonville.
LINDALE -- You've got to do it yourself if you want it done right.
Lindale kept pace for the lead in the late District 17-5A standings Friday with a 5-0 win against Jacksonville, but Corsicana did it no favors and Whitehouse stayed right with the Eagles elsewhere in league action.
The two games' outcomes make a previously scheduled two-game series between Lindale and Whitehouse the de facto district championship series. A sweep one way or the other will clinch the title and a split would make the two programs co-champions.
"We control our own destiny, so it's just one game at a time," Lindale skipper Rich Sanguinetti said. "Next game is Tuesday against Whitehouse. It'll be here. It'll be a high intensity game because it always is between us and Whitehouse. You have two teams at the top of the standings, so it'll be a good game.
"I can promise you one thing. That game is going to be close and it's going to come down to late innings and executing."
Starting pitcher Nick Norton, a lefty, certainly executed against the Indians (4-17-1, 0-7). He had a no-hitter through 6 and 2/3 innings only to lose it with an 0-2 count on a ground ball that skirted a diving second baseman and shortstop.
Still, it was nearly perfect and more than enough to get into championship position.
Norton allowed just two batters on base via walks prior to having the no-no broken up by Richie Gutierrez. He pitched perfect first, fourth, fifth and sixth innings toward a 14-strikeout performance.
With Norton sizzling, Lindale (18-3-2, 7-1) effectively had the game won when lead off hitter Brad Burckel drew a first-inning walk and stole second base the very next pitch. Collin Cooper and Jeremy Richie batted him home on fielder's choices.
RBIs by Kollin McCartney and Gage Walters added insurance in the fourth inning.
Jacksonville broke down in the sixth. It committed three errors for two runs, including an error that converted a McCartney double into an inside-the-park home run.
Norton began the seventh inning with just 77 of his 110 pitches used and struck out the first two batters faced on 11 throws.
"I was just taking it inning by inning like each one was the first," Norton said. "Just staying ahead of hitters. Just trying to get innings over with, with the least amount of pitches possible to go longer in the game. The no-hitter wasn't really going through my mind until the last inning, with the run support, is really when it hit me."
Both Lindale and Whitehouse have pitchers that have flirted with no-hitters in a three-day span.
Whitehouse's Bryce Cundieff went 6 and 1/3 innings Tuesday against Corsicana before surrendering a hit. He'll probably get the first start against the Eagles.
Sanguinetti said Norton will start next Friday at Whitehouse with the opportunity to clinch the district championship or stop the Wildcats from winning it outright. Left-handed pitcher Colton Ramsey will face Whitehouse at home.
"Ramsey, he's been lights out this year," Norton said. "He's been the most consistent pitcher we've had, so we're excited about the first game."
Lindale 5, Jacksonville 0
District 17-5A
At Lindale I.S.D. Baseball Complex
Jacksonville         000    000    0    --    0     1     4
Lindale                 100    202    X    --    5     6     0
Pitchers and catchers
Jacksonville: Brady Robinson, Dylan Walker (6) and Landon Williams
Lindale: Nick Norton and Travis Brown
WP -- Norton
LP -- Robinson
Doubles
Lindale: Collin Cooper, Kollin McCartney
Home Runs
Lindale: McCartney (inside-the-park)
More From East Texas Sports Network