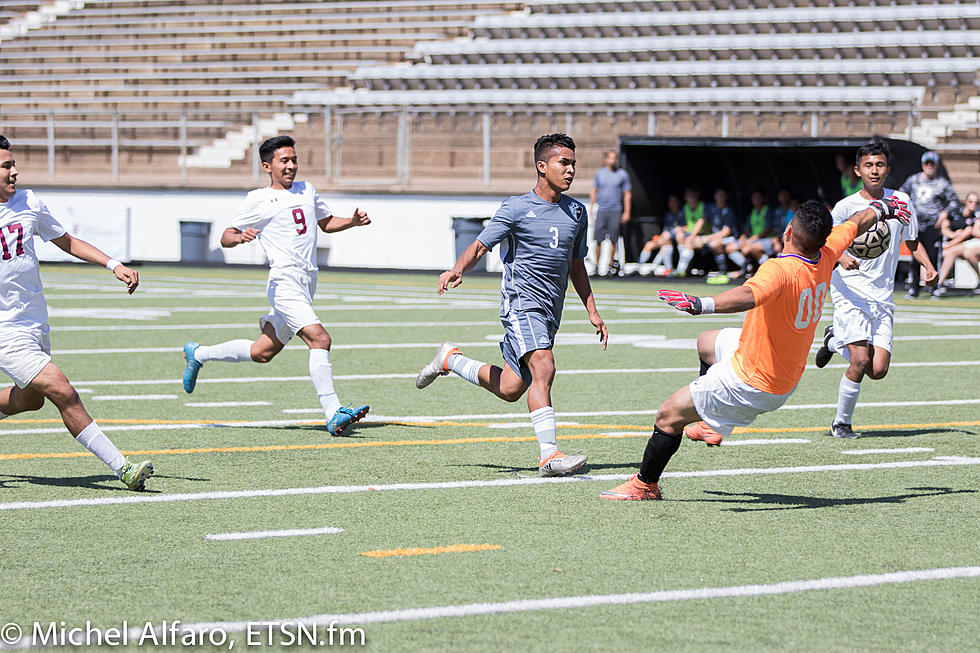 Palestine Begins Title Defense With 7-0 Win Over Waskom
Waskom's Victor Tapia gets a hand on Javier Leonor's initial shot, but Leonor was able to recover and walked the ball in for a 3-0 Palestine lead in the first half.
TYLER -- Credit Waskom for not immediately chalking its season up as a loss when it realized it would face the defending Class 4A state champions in the bi-district round of the state playoffs. It had a game plan for Saturday's all-Wildcats showdown at CHRISTUS Trinity Mother Frances Rose Stadium.
But Palestine lays it on thick. With perhaps the state's best collective group of ball handlers, once it was able to choke Waskom's attack, the game spiraled out of control.
Palestine won 7-0, extended a postseason streak of shutouts dating back to last year a third game and remained unbeaten since Jan. 15, 2016.
"We're pretty young with three sophomores and three freshmen starting for us," Palestine coach John Absalom said. "I think we had some jitters. You're playing a team where we're the favorite and they have nothing to lose. They came out real hard and gave us some pressure. I thought, once we got that first goal, it just kind of -- you know."
Waskom (6-7) drove through the Palestine (20-0-3) squad twice for decent looks that lacked a good finishing touch before the hammer dropped.
Forward Chris Giron scored his 39th goal of the season in the game's 10th minute on a strike from 25 yards. Exactly 60 seconds later, Riley Chipman netted a 15-yard goal.
Chipman scored once again later in the half, and center midfielder Javier Leonor added two goals in the first half's final 14 minutes to put Waskom down 5-0 at the break.
Giron notched his 40th goal of the season in the second half, the final of three Palestine players to score twice.
Brian Armenta hit the net with 6:21 to play.
Once Palestine established control at midfield and closer toward the Waskom net, very rarely was Waskom able to counterattack. Palestine got away 30 shots -- seven of which resulted in goals and eight of which were saved by Victor Tapia -- whereas Waskom took three shots that did not need saves.
Tomas Garcia nearly got Waskom on the board, but his shot hit the cross bar and deflected away to a Palestine defender. It was a 2-0 game at the time.
Palestine's attention now turns to Mount Pleasant Chapel Hill in the area round of the state playoffs. The two teams will meet Friday at Rose Stadium for a 7 p.m. kick.
"All year, we've had a target on our back," Absalom said. "Everyone you play wants to knock you off. We talk about focussing on one game at a time. You might play Kilgore down the road or make the regional tournament, but what matters is the day's match."
More From East Texas Sports Network