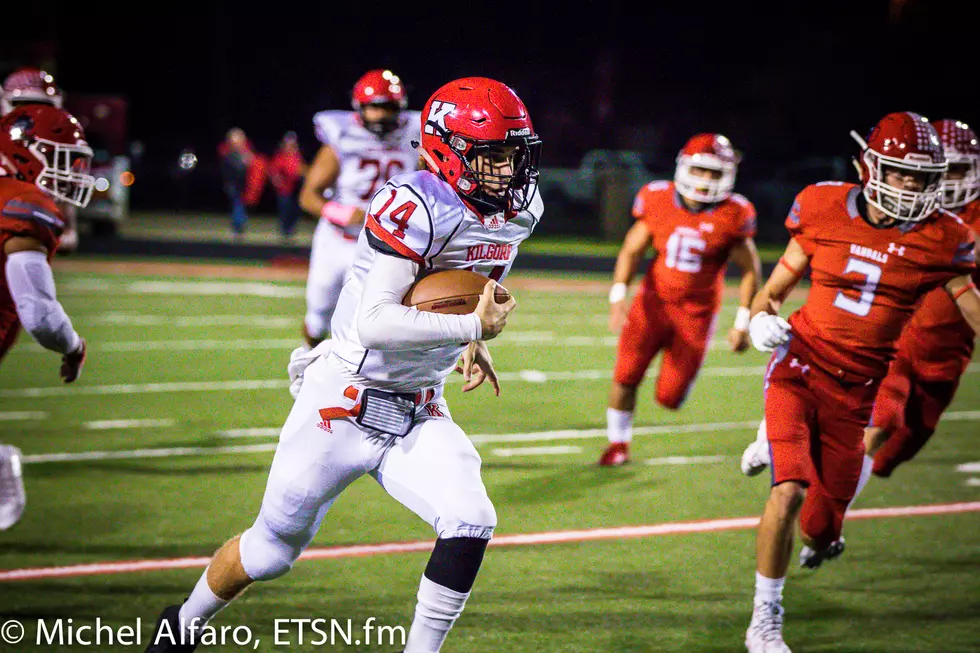 Kilgore Clinches Playoff Spot At Last Second Against Palestine
(© ETSN.fm)
KILGORE -- Deiontrae Wheat scooped up a blocked field goal.
The speedy Kilgore receiver and defensive back ended up with the ball after Jerrick Ervin blocked a Palestine field goal with four seconds left in regulation. Wheat broke Palestine's heart, returning the loose ball about 65 yards for the game-winning touchdown to give Kilgore the 33-26 victory Friday night.
The win also gives Kilgore the fourth and final playoff seed in the District 10-4A, Division I "District of Doom."
Kilgore (3-6) finishes the regular season at Carthage (9-0) next Friday night. Palestine (2-7) ends its season against Chapel Hill.
The Bulldogs already had a win over Chapel Hill, but losses to Henderson and Van and Carthage on the horizon put Kilgore in a must-win situation against Palestine to get into the playoffs.
Kilgore led 14-3 at the half, courtesy of an 11-yard touchdown run by Kenneth Lacy and a 5-yard score by Ervin. Tony Guzman had kicked a 21-yard field goal for Palestine's only first half points.
Things changed in the third quarter, when the scoring became almost bang-bang. Palestine running back Jeremiah Davis, who had a huge night, scored and Palestine added a two-point conversion to get within three of Kilgore, 14-11, in the third quarter.
Kilgore's Elivan Torres hit a 44-yard field goal to extend the Bulldogs' lead to 17-11, but Davis came through again, an 11-yard run set up by a big pass from Christian Hutchinson to Marquis Thompson. Davis's second score of the night gave the Wildcats a 18-17 lead.
The Wildcats got the ball back with a chance to go up two scores, but a fumble at the goal line was ruled a touchback -- Kilgore's ball -- and the Bulldogs would capitalize on it, finishing a 75-yard drive with a 5-yard touchdown by Lacy. Wheat had a 28-yard catch on the drive and Lacy had a 38-yard run to help his own cause. That gave the Bulldogs a 23-18 advantage; they missed a two-point conversion afterward.
Palestine had more heroics left, and so did Davis. The Wildcats put together a 70-yard drive of their own and Davis did the honors from 24 yards out. A conversion gave the Wildcats their second lead of the game, 26-23, with 2:10 left.
But Kilgore's offense, struggling for much of the season, came alive on the drive, with Witt completing two passes to Wheat, one to his brother Sam Witt, and one to Lacy to get the Bulldogs within field goal range. Torres didn't disappoint, of course, drilling the 40-yarder with 44 seconds left to tie the game at 26.
Hutchinson and the Wildcats' offense had one more chance to end it in regulation, and sent Guzman out to kick the potential game-winner from Kilgore's 40 with four seconds left. He missed the kick, but Kilgore was flagged for being offsides, and gave Guzman another shot.
This time, though, Ervin came around the edge and blocked the kick. It popped into the air and eventually landed in the hands of Wheat, who ran down his sideline as the crowd went crazy, and scored the game-winner.
Davis finished with over 300 total yards for Palestine, including 281 yards and the three touchdowns rushing. Hutchinson went 12-of-20 for 184 yards and a first-half interception by Kilgore's A.J. Smith. Thompson had three catches for 57 yards.
For the Bulldogs, Lacy had 65 rushing yards and two touchdowns. Tray Epps ran for 56 yards on 16 carries and Witt had 50 yards on 15 carries. He also completed 11-of-20 for 132 yards, including five to Wheat for 68 yards.
More From East Texas Sports Network