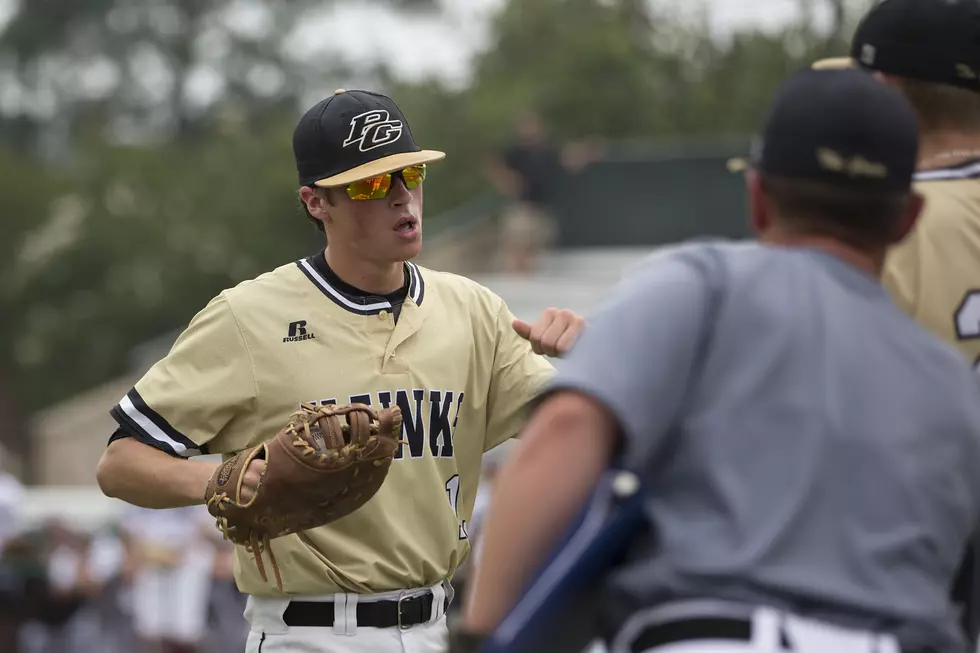 Pleasant Grove Bats Erupt Late in Game 2 to Sweep Argyle
Pleasant Grove first baseman Will Hlavinka is congratulated by teammates during the Hawks' 8-0 win over Argyle in Game 2 of their Class 4A Region II semifinal series Saturday in Tyler. (ETSN.fm)
TYLER — It took a while for Pleasant Grove's hitters to figure out Argyle starting pitcher Sean Bolin. But once they did, the Hawks brought on an avalanche of runs.
Pleasant Grove put together four-run innings in the sixth and seventh, pitcher Tyler Jeans pitched into the seventh inning, and the Hawks finished off a series sweep of No. 1 Argyle with an 8-0 win Saturday afternoon at Mike Carter Field.
Fourth-ranked Pleasant Grove (33-3) will face Decatur (26-10) next week back at Mike Carter Field for the Class 4A Region II championship. Game 1 is scheduled for 7:30 p.m. Wednesday. The second game will be noon Thursday and a third game, if necessary, would follow.
A Hawks series win would give Pleasant Grove its eighth UIL state tournament berth in 10 seasons.
Argyle, eliminated by Pleasant Grove for the second consecutive season, finished the year at 25-3-1. This was the fourth straight year Argyle and PG have met in the playoffs.
Pleasant Grove won the series opener, 6-1, on Thursday night.
"To say our guys are familiar with them and their guys are familiar with us would be an understatement," said Pleasant Grove coach Riley Fincher. "It definitely did help getting to see (their pitchers) last year. I thought our guys from the first inning on the other night offensively, they took up their aggressive approach. They were gonna swing and see what happened, and we were fortunate enough to come out on top both games."
Jeans, who authored a nine-inning, no-hitter in last week's series-clinching win over Canton, was almost as good Saturday. He allowed just three singles and struck out six before being pulled with one out in the seventh after reaching the 110-pitch threshold.
"My defense, they've backed me up in everything I do," Jeans said. "And our bats came around eventually."
Caleb Bolden singled and Heath Ferguson walked to begin the top of the sixth. Carson Cox followed with a slow chopper to Bolin, who threw wide of third base, allowing the Hawks to take a 1-0 lead.
"That's a double play ball on the bunt/slash back to our pitcher," Argyle coach Ricky Griffin said. "We throw that to third and we have an easy play back to first and it's 0-0. It's one little throw that got away from Sean and it turned the game. When a game is 0-0 and one little thing like that happens, all that tension ramps up on our end and goes away on theirs."
After an intentional walk to Jeans loaded the bases with one out, Connor Ouellette's sinking line drive to right-center got past Argyle's diving center fielder Watson Timmons and rolled all the way to the wall for a three-run double and 4-0 Hawks advantage.
"I think you have to go for that ball as good as their pitching was," Griffin said of Timmons' diving attempt. "You have to keep them down as much as you can because obviously we were struggling to score runs."
Bolden finished 2-for-4 and scored two runs, while Ouellette had two hits and drove in four on the day.
"We were fortunate there in the sixth inning to get a couple to fall in, kinda open it up a little bit," Fincher said. "And like I tell our kids, 'hitting is contagious.' And they kinda carried it throughout the entire lineup."
Prior to the sixth, Bolin, a sophomore who has already committed to Baylor, had allowed just two Pleasant Grove singles.
"We got some good swings on Bolin early in the game, and they made plays behind him," Fincher said. "You definitely have to tip your hat to him, being just a sophomore. But I think our guys did a good job with their approach of swinging hard and early."
Pleasant Grove played add-on in the seventh with four more runs, coming on Keaton Russo's bases-loaded walk, Jeans' two-run single, and Ouellette's run-scoring infield hit.
Tempers flared with two outs in the top of the fourth when Argyle catcher Austin King and Jeans, who was at bat for Pleasant Grove, had to be separated.
"It's just a game but I don't like to lose," Jeans said of the altercation.
Jeans was still agitated when he came back onto the mound in the bottom of the inning, shooting a glare into the Argyle dugout after a strikeout.
"These are two of the top five programs in the state who have played each other for the last nine, 10 years total," Fincher said. "I just think that's competitiveness on our side and their side. I don't think any of it was meant to be personal to anybody. I just think it was kids heated in the moment. But I told Tyler and I told the rest of our guys, 'control yourselves.'"
Decatur, which defeated Gilmer, 2-0, in a one-game playoff Wednesday night, split its two meetings with Argyle during District 9-4A action.
"A couple of our assistant coaches were able to go watch them last week, very solid team," Fincher said of Decatur. "Any time you're playing this deep in the playoffs, it's good competition. We'll celebrate this one, but I already told the guys, 'now our attention is on to the next opponent.'"
—
No. 4 Pleasant Grove 8, No. 1 Argyle 0
Class 4A Region II Semifinals — Game 2
At Mike Carter Field, Tyler
Pleasant Grove       000    004    4    —    8    7    0
Argyle                     000    000    0    —    0    3    2
Pitchers and catchers
Pleasant Grove: Tyler Jeans, Will Hlavinka (7) and Keaton Russo
Argyle: Sean Bolin, Hayden Clearman (7) and Austin King
Doubles
Pleasant Grove: Caleb Bolden
Triples
Pleasant Grove: Connor Ouellette
More From East Texas Sports Network