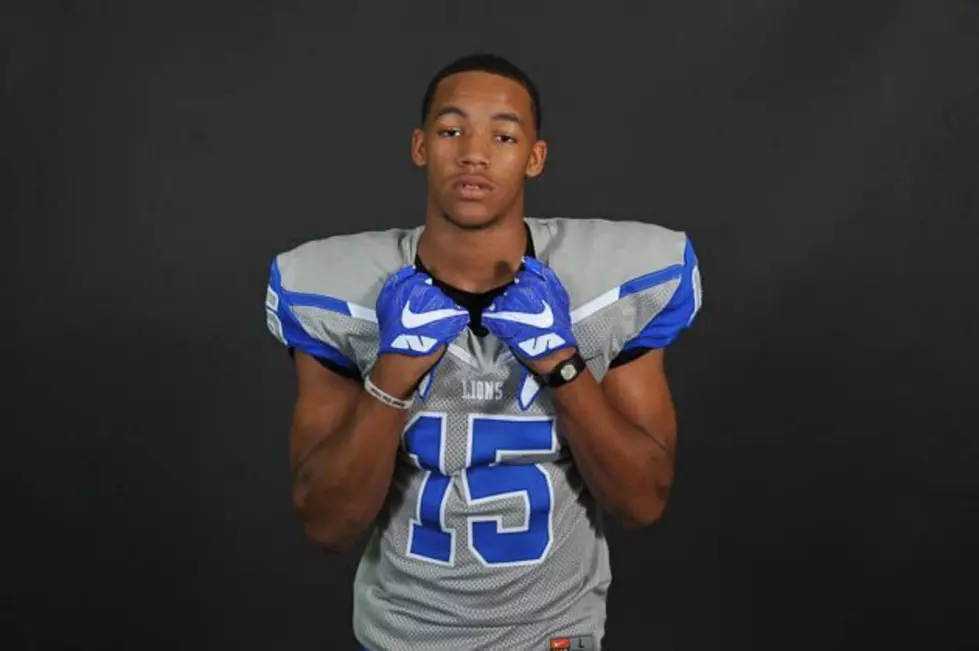 Tulane Offers John Tyler Defenders Tre Allison + Dekalen Goodson
John Tyler DE/OLB Dekalen Goodson picked up an offer from Tulane on Tuesday. (Rob Graham, ETSN.fm)
John Tyler linebacker Tre Allison and hybrid Dekalen Goodson now have a fifth opportunity to be teammates at the next level thanks to Tuesday morning offers from Tulane.
The Green Wave program's scholarship invitations, which were first announced by the John Tyler coaching staff, mark Allison's seventh opportunity from an NCAA Division I FBS member and Goodson's sixth FBS choice.
Allison (6-0, 200) and Goodson's (6-2, 215) common offer list is rounded out by Louisiana-Lafayette, Mississippi State, SMU and Texas State. As rising seniors, they will both become eligible to sign with any program that offers them in December.
John Tyler held six of 13 opponents last season to no more than two touchdowns and averaged 24.6 points against per game en route to a co-district championship, an appearance in the Class 6A regional semifinals and an overall record of 11-2.
Goodson recorded 70 tackles, 11 sacks, forced a fumble and recovered two fumbles through his junior season.
Allison, an SMU verbal commitment, led John Tyler last year with 118 tackles. He also carried the ball 17 times and scored three short-yardage touchdowns.
Tulane, located in New Orleans, posted a 4-8 record last season under first-year Willie Fritz. The season was a one-win improvement compared to the 2015 and 2014 campaigns.
The Green Wave has been to 12 bowl games in its 123-year history and owns a 4-8 record in those games. A charter member of the Southeastern Conference, Tulane left in 1966 and now participates in American Athletic Conference competition.
2018 East Texas Football Players With Division I FBS Offers
Tre Allison, John Tyler, OLB, 6-0, 200 — committed to SMU; additional offers from Arkansas State, Louisiana Tech, Mississippi State, Texas State, Tulane, ULL (7)
Chance Amie, Tyler Lee, QB, 6-3, 190 — offers from Arkansas State, Bowling Green, Central Florida, Colorado State, Georgia State, Houston, Iowa State, North Texas, Rutgers, Southern Miss, Syracuse, Tulane, ULL, Virginia (14)
Xavier Benson, Pleasant Grove, LB, 6-0, 200 — offers from Arkansas State, Army, North Texas, Southern Miss, Texas State, Texas Tech, Tulane, ULL, ULM (9)
Drake Centers, Tatum, OL, 6-4, 295 — offer from Texas State (1)
Kris Dike, Van, OL, 6-6, 283 — offers from Colorado, Houston, North Texas, Oklahoma State, SMU, TCU (6)
Dekalen Goodson, John Tyler, DE/OLB, 6-2, 215 — offers from Houston, Mississippi State, SMU, Texas State, Tulane, ULL (6)
Trae Hall, Henderson, QB/ATH, 6-3, 185 — offer from ULL (1)
Conner Henson, Harmony, OL, 6-4, 250 — offers from ULL, ULM (2)
Chasen Hines, Marshall, OL, 6-3, 340 — committed to LSU; additional offers from Arizona, Baylor, Louisiana Tech, Minnesota, North Texas, Oklahoma, Oklahoma State, Oregon, Rice, Southern Miss, TCU, Texas, Texas A&M, Texas State, Texas Tech (16)
Tevailance Hunt, Texas High, WR, 6-2, 180 — committed to Kansas; additional offers from Arkansas State, Bowling Green, Iowa State, Louisiana Tech, Marshall University, Nevada, North Texas, Southern Miss, Tulsa (10)
Keaontay Ingram, Carthage, RB, 6-0, 198 — offers from Arkansas, Baylor, Colorado, Florida State, Houston, Iowa State, Kansas, LSU, Memphis, Michigan, Minnesota, Missouri, Nebraska, Notre Dame, Ohio State, Oklahoma, Oklahoma State, Ole Miss, Oregon, Oregon State, TCU, Texas, Texas A&M, Texas Tech, UCLA, USC, UTSA (27)
Malik Jackson, Lufkin, WR, 5-8, 165 — offer from Arkansas State (1)
DeMarvion Overshown, Arp, ATH, 6-4, 196 — offers from Alabama, Arizona State, Arkansas, Auburn, Baylor, Clemson, Colorado, Florida, Florida State, Georgia, Houston, Kansas, Kansas State, LSU, Missouri, Nebraska, Ohio State, Oklahoma, Oklahoma State, Ole Miss, SMU, South Carolina, Southern Miss, Stanford, TCU, Texas, Texas A&M, UCLA, USC, UTSA (30)
Jonathan Shepherd, Kilgore, WR, 6-3, 196 — offers from Colorado State, Florida Atlantic, Kansas State, ULM, New Mexico, Oregon State, TCU (7)
Tyree Wilson, West Rusk, LB, 6-5, 225 — committed to Washington State; additional offers from Kansas, Southern Miss, Texas State, ULL, ULM (6)
More From East Texas Sports Network