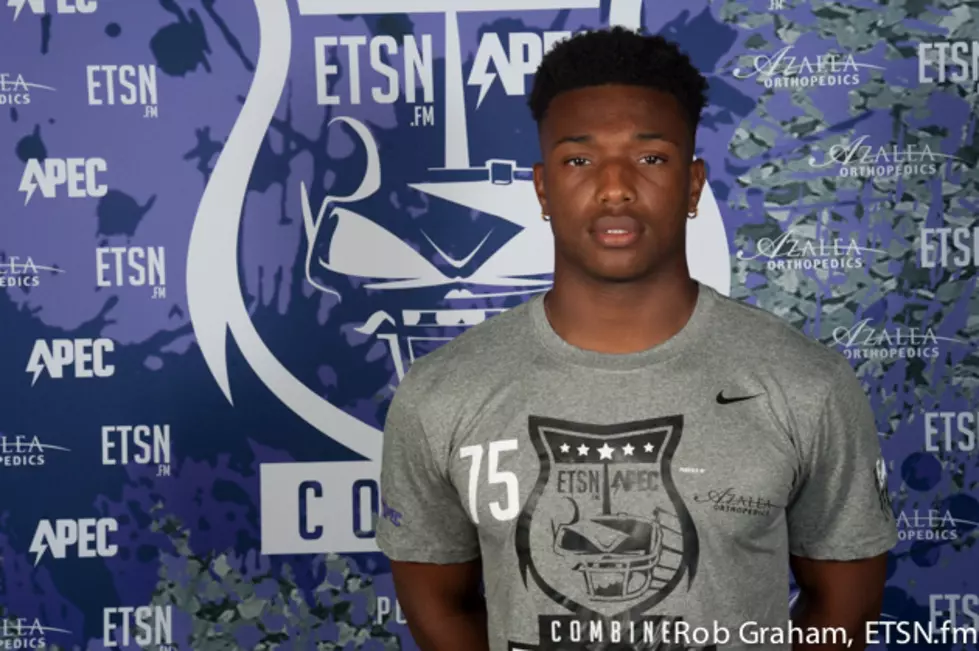 ULM Offers Nacogdoches' DaRyan Williams
Nacogdoches' DaRyan Williams added an offer from Louisiana-Monroe on Wednesday.
Nacogdoches 2018 defensive back DaRyan Williams received his first Division I FBS scholarship offer Tuesday, and a day later, he added No. 2.
Williams reported via Twitter on Wednesday that Louisiana-Monroe has offered.
The Dragons' physical safety (5-10, 199) earned an opportunity from Texas State on Tuesday.
ULM has now offered eight prospects in East Texas' 2018 recruiting class.
Williams played linebacker for Nacogdoches last season, but he shined at the ETSN + APEC Football Recruiting Combine last month as a safety. He won the event's overall Defensive MVP award.
The Warhawks' latest target ran a tied-for-the-fastest time of 4.47 seconds in the 40-yard dash, recorded 3,546 watts of power on the Keiser squat machine and put up 185 pounds on the bench press 17 times ahead of a strong on-field performance.
Williams could be the sixth Nacogdoches defensive back with a Division I offer in a four-year span if he gets moved to safety. Three of the preceding defensive backs ended up being the region's most recruited player regardless of position in a given recruiting cycle.
ULM went 4-8 last season under first-year coach Matt Viator, who took the role after leading McNeese State to a fifth FCS playoffs appearance in nine seasons. Two of the losses came on the road against Auburn and Oklahoma.
Like all 2018 graduates with football scholarship opportunities at the NCAA level, Williams will become eligible to sign with any program that offers him in December.
2018 East Texas Football Players With Division I FBS Offers
Tre Allison, John Tyler, OLB, 6-2, 211 — committed to SMU; additional offers from Arkansas State, Louisiana Tech, Mississippi State, Texas State, Tulane, ULL (7)
Chance Amie, Tyler Lee, QB, 6-3, 190 — offers from Arkansas State, Bowling Green, Central Florida, Cincinnati, Colorado State, Florida Atlantic, Georgia State, Houston, Iowa State, New Mexico, North Carolina, North Texas, Rutgers, Southern Miss, Syracuse, Tulane, ULL, Virginia (18)
Xavier Benson, Pleasant Grove, LB, 6-0, 200 — offers from Arkansas State, Army, Memphis, North Texas, Rice, SMU, Southern Miss, Texas State, Texas Tech, Tulane, ULL, ULM, Wyoming (13)
Drake Centers, Tatum, OL, 6-3, 296 — offers from SMU, Southern Miss, Texas State (3)
Kylar Cooks, Liberty-Eylau, OL, 6-5, 252 — offers from Arkansas State, North Texas, Texas State, ULL (4)
Jeremiah Davis, Lufkin, CB, 5-10, 194 — committed to ULL (1)
Kris Dike, Van, OL, 6-6, 283 — offers from Colorado, Houston, Memphis, North Texas, Oklahoma State, SMU, TCU, Tulane (8)
Dekalen Goodson, John Tyler, DE/OLB, 6-2, 209 — committed to Houston; additional offers from Mississippi State, SMU, Texas State, Tulane, ULL (6)
Trae Hall, Henderson, QB/ATH, 6-3, 185 — offers from Florida Atlantic, New Mexico State, Tulane, ULL, ULM (5)
Conner Henson, Harmony, OL, 6-3, 243 — offers from ULL, ULM (2)
Chasen Hines, Marshall, OL, 6-3, 353 — committed to LSU; additional offers from Arizona, Baylor, Louisiana Tech, Minnesota, North Texas, Oklahoma, Oklahoma State, Oregon, Rice, Southern Miss, TCU, Texas, Texas A&M, Texas State, Texas Tech (16)
Tevailance Hunt, Texas High, WR, 6-2, 180 — committed to Kansas; additional offers from Arkansas State, Bowling Green, Florida Atlantic, Houston, Iowa State, Louisiana Tech, Marshall, Memphis, Nevada, North Texas, Oklahoma State, Southern Miss, Tulsa (14)
Dewaylon Ingram, Carthage, WR, 6-0, 160 — offer from Arkansas State (1)
Keaontay Ingram, Carthage, RB, 6-0, 198 — committed to Texas; additional offers from Arkansas, Baylor, Colorado, Florida State, Houston, Iowa State, Kansas, LSU, Memphis, Michigan, Minnesota, Missouri, Nebraska, Notre Dame, Ohio State, Oklahoma, Oklahoma State, Ole Miss, Oregon, Oregon State, TCU, Texas A&M, Texas Tech, UCLA, USC, UTSA (27)
Malik Jackson, Lufkin, WR, 5-8, 163 — offers from Arkansas State, Houston, Texas State (3)
Kameron King, Marshall, OL, 6-2, 275 — offers from Memphis, North Texas, Tulane, ULM, Southern Miss (5)
Trevor Lawrence, Whitehouse, DE, 6-4, 245 — offer from ULM (1)
DeMarvion Overshown, Arp, S, 6-4, 196 — committed to Texas; additional offers from Alabama, Arizona State, Arkansas, Auburn, Baylor, Clemson, Colorado, Florida, Florida State, Georgia, Houston, Kansas, Kansas State, LSU, Missouri, Nebraska, Ohio State, Oklahoma, Oklahoma State, Ole Miss, SMU, South Carolina, Southern Miss, Stanford, TCU, Texas A&M, UCLA, USC, UTSA (30)
Leonard Parks, Texas High, DE, 6-5, 230 — offer from ULM (1)
Jonathan Shepherd, Kilgore, WR, 6-3, 196 — offers from Colorado State, Florida Atlantic, Houston, Kansas State, ULM, Missouri, New Mexico, Memphis, North Texas, Oklahoma State, Oregon State, Southern Miss, TCU, Texas State, Texas Tech (15)
DaRyan Williams, Nacogdoches, 5-10,199 — offers from Texas State, ULM (2)
Tyree Wilson, West Rusk, LB, 6-5, 225 — offers from Houston, Kansas, Memphis, Mississippi State, New Mexico, Oklahoma State, SMU, Southern Miss, TCU, Texas State, Tulane, ULL, ULM, Washington State, Wyoming (15)
More From East Texas Sports Network