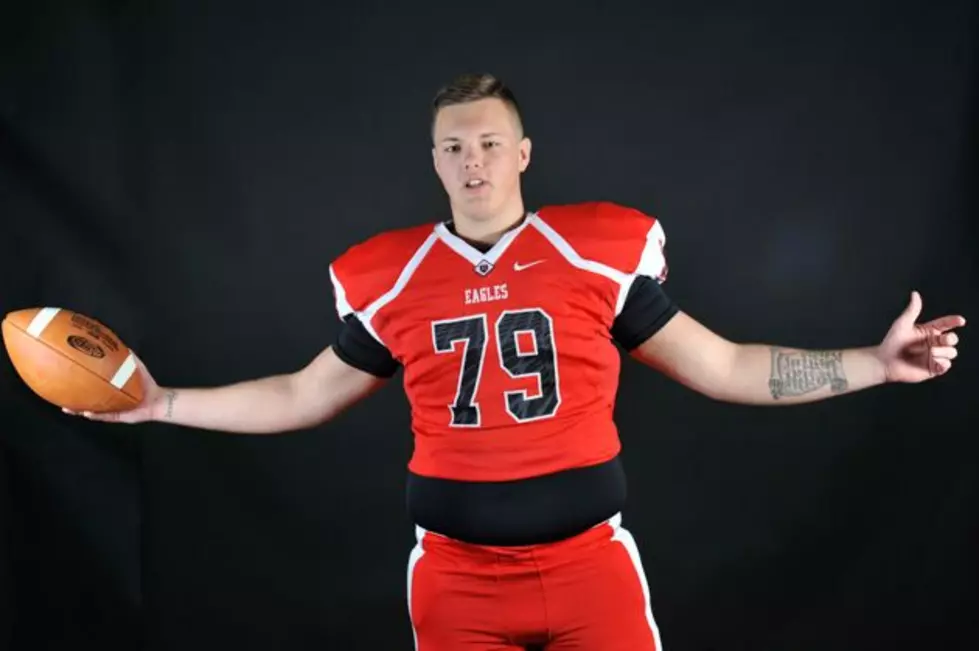 Harmony's Conner Henson Commits to ULM
Harmony senior offensive lineman Conner Henson announced his commitment to Louisiana-Monroe on Wednesday. (© Rob Graham, ETSN.fm)
It's been an eventful week thus far in the way of recruiting in East Texas, and that continued Wednesday with yet another college commitment.
Harmony senior offensive lineman Conner Henson announced on Twitter his decision to pledge to Louisiana-Monroe, becoming the second local recruit of the the day to offer up a commitment and the fourth since Monday.
Whitehouse defensive end Trevor Lawrence committed to Texas State earlier Wednesday, while Pleasant Grove LB Xavier Benson (Texas Tech) and Center WR JaTerious Evans (SFA) made their decisions Monday and Tuesday, respectively.
Henson (6-3, 243) chose ULM over other offers from Louisiana-Lafayette, Abilene Christian, Central Arkansas, Houston Baptist, and Stephen F. Austin.
He is the 19th recruit in East Texas' 2018 recruiting class to commit to an FBS program.
Henson was part of a unit that guided Harmony to a 9-3 final record and a trip to the area round of the Class 3A Division II state playoffs in 2016.
Harmony tied for first place in District 8-3A Division II.
ULM went 4-8 last season under first-year coach Matt Viator. It was a two-win improvement compared to the 2015 year.
The Warhawks gained signatures from Gladewater safety Austin Hawley and Longview safety Traveion Webster in the past recruiting cycle.
Henson, like all Division I prospects currently entering their senior year of high school, will first become eligible to sign with any program that offers him in December.
2018 East Texas Football Players With Division I FBS Offers
Tre Allison, John Tyler, OLB, 6-2, 211 — committed to SMU; additional offers from Arkansas State, Louisiana Tech, Mississippi State, Texas State, Tulane, ULL (7)
Chance Amie, Tyler Lee, QB, 6-3, 190 — committed to Houston; additional offers from Arkansas State, Bowling Green, Central Florida, Cincinnati, Colorado State, Florida Atlantic, Georgia State, Iowa State, New Mexico, North Carolina, North Texas, Rutgers, Southern Miss, Syracuse, Tulane, ULL, Virginia (18)
Xavier Benson, Pleasant Grove, LB, 6-3, 200 — committed to Texas Tech; additional offers from Arkansas State, Army, Memphis, North Texas, Rice, SMU, Southern Miss, Texas State, Tulane, ULL, ULM, Wyoming (13)
Hunter Brabham, Hughes Springs, DE, 6-3, 235 — committed to Army (1)
Drake Centers, Tatum, OL, 6-3, 296 — committed to Texas State; additional offers from SMU, Southern Miss, ULM (4)
Kylar Cooks, Liberty-Eylau, OL, 6-5, 252 — committed to Texas State; additional offers from Arkansas State, North Texas, ULL (4)
Jeremiah Davis, Lufkin, CB, 5-10, 194 — committed to ULL (1)
Kris Dike, Van, OL, 6-6, 283 — committed to TCU; additional offers from Colorado, Houston, Memphis, North Texas, Oklahoma State, SMU, Tulane (8)
Dekalen Goodson, John Tyler, DE/OLB, 6-2, 209 — committed to Houston; additional offers from Mississippi State, SMU, Texas State, Tulane, ULL (6)
Trae Hall, Henderson, QB/ATH, 6-3, 185 — offers from Florida Atlantic, New Mexico State, Tulane, ULL, ULM (5)
Conner Henson, Harmony, OL, 6-3, 243 — committed to ULM; additional offer from ULL (2)
Chasen Hines, Marshall, OL, 6-3, 353 — committed to LSU; additional offers from Arizona, Baylor, Louisiana Tech, Minnesota, North Texas, Oklahoma, Oklahoma State, Oregon, Rice, Southern Miss, TCU, Texas, Texas A&M, Texas State, Texas Tech (16)
Tevailance Hunt, Texas High, WR, 6-2, 180 — committed to Kansas; additional offers from Arkansas State, Bowling Green, Colorado State, Florida Atlantic, Houston, Indiana, Iowa State, Louisiana Tech, Marshall, Memphis, Nevada, North Texas, Oklahoma State, Southern Miss, TCU, Tulsa (17)
Dewaylon Ingram, Carthage, WR, 6-0, 160 — offer from Arkansas State (1)
Keaontay Ingram, Carthage, RB, 6-0, 198 — committed to Texas; additional offers from Arkansas, Baylor, Colorado, Florida State, Houston, Iowa State, Kansas, LSU, Memphis, Michigan, Minnesota, Missouri, Nebraska, Notre Dame, Ohio State, Oklahoma, Oklahoma State, Ole Miss, Oregon, Oregon State, TCU, Texas A&M, Texas Tech, UCLA, USC, UTSA (27)
Malik Jackson, Lufkin, WR, 5-8, 163 — committed to Houston; additional offers from Arkansas State, Texas State (3)
Chris Kessler, Longview, K, 5-9, 150 — offer from Army (1)
Kameron King, Marshall, OL, 6-2, 275 — offers from Memphis, North Texas, Tulane, ULM, Southern Miss (5)
Trevor Lawrence, Whitehouse, DE, 6-4, 245 — committed to Texas State; additional offer from ULM (2)
DeMarvion Overshown, Arp, S, 6-4, 196 — committed to Texas; additional offers from Alabama, Arizona State, Arkansas, Auburn, Baylor, Clemson, Colorado, Florida, Florida State, Georgia, Houston, Kansas, Kansas State, LSU, Missouri, Nebraska, Ohio State, Oklahoma, Oklahoma State, Ole Miss, SMU, South Carolina, Southern Miss, Stanford, TCU, Texas A&M, UCLA, USC, UTSA (30)
Leonard Parks, Texas High, DE, 6-5, 230 — offers from SMU, ULM (2)
Michael Sanchez, Gladewater, TE/OL, 6-5, 327 — offer from Houston (1)
Jonathan Shepherd, Kilgore, WR, 6-3, 196 — committed to Oklahoma State; additional offers from Colorado State, Florida Atlantic, Houston, Kansas State, ULM, Missouri, New Mexico, Memphis, North Texas, Oregon State, Southern Miss, TCU, Texas State, Texas Tech (15)
Marje Smith, Marshall, DE, 6-6, 210 — committed to Baylor (1)
DaRyan Williams, Nacogdoches, S, 5-10,199 — offer from Texas State (1)
Tyree Wilson, West Rusk, LB, 6-5, 225 — committed to Texas A&M; additional offers from Houston, Kansas, Memphis, Mississippi State, New Mexico, Oklahoma State, SMU, Southern Miss, TCU, Texas State, Tulane, ULL, ULM, Washington State, Wyoming (16)
More From East Texas Sports Network