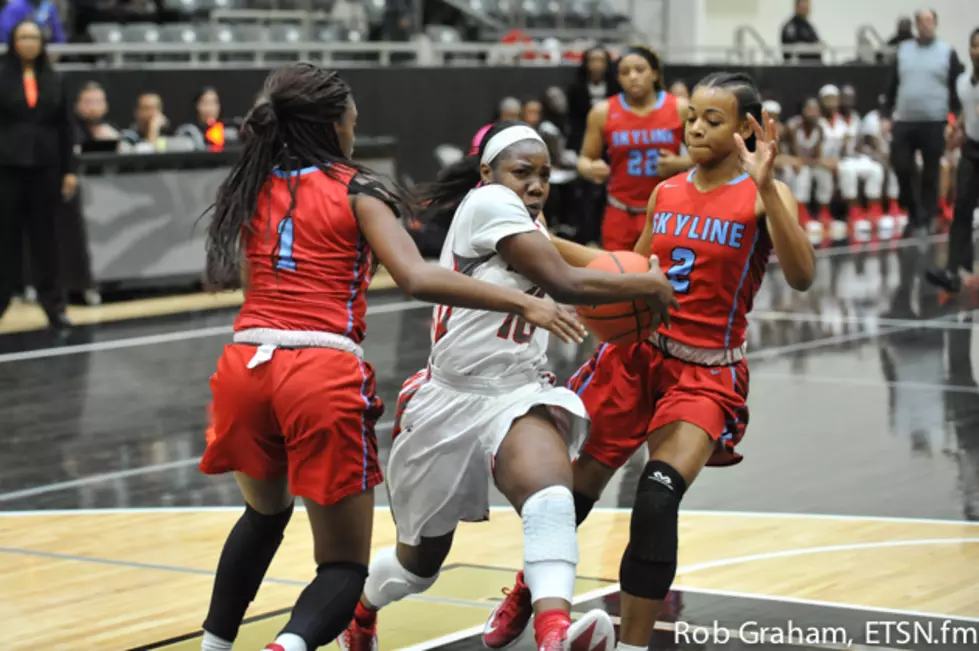 Dallas Skyline Wears Down Tyler Lee For Area Round Win
Lee guard Tyreesha Blaylock drives the lane against a Skyline double team by leading scorer Jaylan Gulley and Jade Bradley in Thursday's 52-26 area round loss in Kaufman.
KAUFMAN -- Tyler Lee's breakthrough season under first-year coach Ross Barber came to its end Thursday in a 52-36 loss against Dallas Skyline at Kaufman High School.
Although the Class 6A area round defeat was disappointing, there weren't a lot of tears in the game's aftermath. The Lady Raiders will return 12 of 15 players next season from the team that earned the school its first girls basketball playoff win since 2005 earlier in the week.
"These kids listened every day and were coachable," Barber said. "I think they achieved their potential this year. It raises the bar for next year. I want people to know it's not just regular old Lee basketball. We're going to turn this program around and be a known program the next several years."
Skyline (22-12), which went undefeated in District 9-6A, was the better known program of the two squaring off at Kaufman's Lions' Den. It played for the Class 6A state championship just two years ago and took another step toward a second appearance in three seasons at Lee's expense.
Lee (18-16) could not manage a lead beyond 2-0, but it was just a three-point game at the midway mark of the third quarter. The squad rallied back from an early 9-3 deficit to tie and pushed from a 23-16 deficit after the first possession of the third quarter to make it a 26-23 game.
A 16-2 Skyline run through the final four minutes of the third quarter and first two minutes of the fourth period put the writing on the wall.
Lee was a go-to-the-rim team that Skyline largely forced into fadeaways in the paint and from further distance.
The officials certainly let the girls play. They called four fouls apiece in the first half and nine total fouls in the second half before Lee went into foul mode right on the edge of falling into the bonus.
Consequently, the path of least resistance were shots from the perimeter. Barber's squad finished the game shooting 32.6 percent with three successful 3-point shots whereas Skyline shot 40 percent with six treys.
Jaylan Gulley recorded five of the Skyline 3-pointers -- including her team's first nine points -- en route to a game-best 19 points.
"You play the game by percentages," Barber said. "When you have a team that shoots 30 percent from the 3-point line, you hope that is how they shoot. They didn't shoot that way in the first half. Their first three shots of the game were all 3s that you weren't counting on them making all three of those. Credit them. They came out hot."
Junior guards Ja'Kayla Bowie's and Tyreesha Blaylock finished with 16 and seven points, respectively, to pace Lee.
The next three players on the team's scoresheet chipped in four points each. Only one of those, Miya Pettigrew, was a senior.
Pettigrew, Shelby Malone and and Tayanna Ross are the teammates graduating in May.
"I told the seniors that I just have to thank them for everything they've done," Barber said. "They come to work every day, work hard and have great attitudes. I just wish them the best. I know all three will be successful people because they are great people."
Dallas Skyline 52, Tyler Lee 36
Class 6A Area Round Playoff Game
At Kaufman High School
Skyline              9       12      13     18   --    52
Lee                   9         7        9      11    --  36
Skyline (22-12) -- Jaylan Gulley 19, Jade Bradley 9, Kyjai Miles 8, Mikayla Marshall 7, Jessica Cornelius 5, Heaven Hawkins 4.
Lee (18-16) -- Ja'Kayla Bowie 16, Tyreesha Blaylock 7, Aaliyah Morgan 4, Miya Pettigrew 4, Alyssia Thorn 4, Ke'Aja Lacy 1.
THREE-POINT GOALS -- Skyline: Gulley (5), Marshall. Lee: Bowie (2), Blaylock.
More From East Texas Sports Network