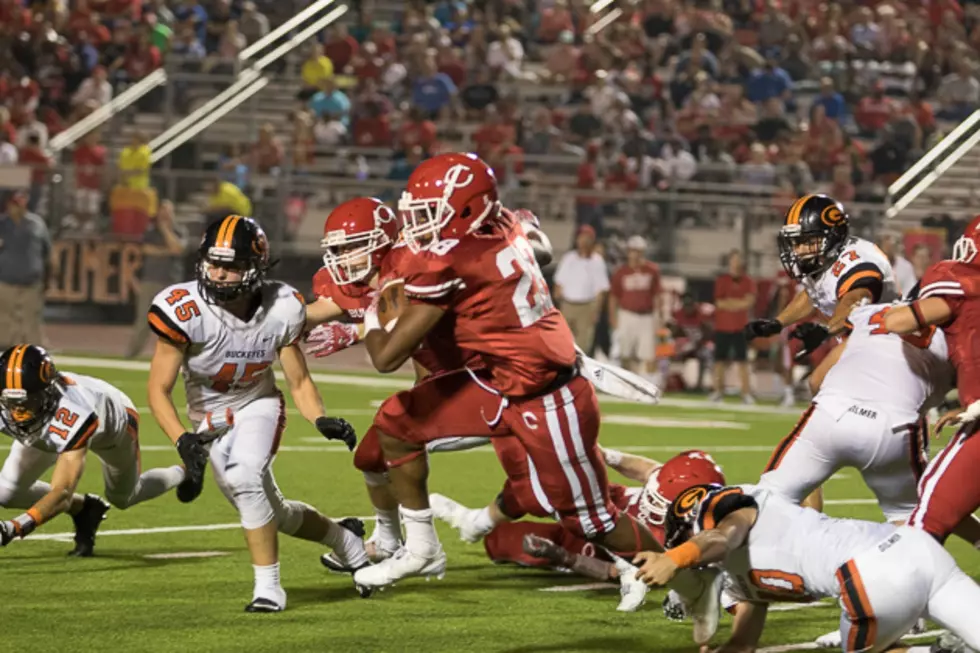 Fifth-Ranked Carthage Snaps Gilmer's Regular-Season Winning Streak + Topples No. 3 Buckeyes
Carthage running back Keaontay Ingram (28) heads upfield during the Bulldogs' 55-37 home win over Gilmer on Saturday night. (Ruel Felipe, ETSN.fm)
CARTHAGE -- During the middle of a season, it's hard to please football coaches. Carthage's Scott Surratt was irritated by his team's inability to run the ball in last week's win.
Carthage junior running back Keaontay Ingram rushed for a career-high 215 yards and three touchdowns, setting the tone for the fifth-ranked Bulldogs' 55-37 triumph over Gilmer on Saturday night, which snapped the Buckeyes' regular-season winning streak at 23 games.
Ingram (5-11, 198), who emerged with breakout playoff performances during Carthage's run to the Class 4A Division I semifinals a year ago, was limited to just 57 yards against Whitehouse on Sept. 9.
But in Saturday night's clash of East Texas titans, who have combined for seven state championships since 2004, it was Carthage's rushing attack that led the way.
"We were unbelievably disappointed in the way we ran the ball last week, and that was the emphasis: to get (Ingram) going in the running game, and still throw it around like we did," Surratt said. "We've got to stay balanced to be good on offense."
Ingram, who carried the ball a season-high 24 times, scored his second touchdown of the game on a 51-yard run that gave Carthage (3-0) a 21-3 lead late in the first quarter. And it was his powerful 16-yard burst to the end zone in the fourth that put the game out of reach.
"He's a good back," Surratt said of Ingram. "If we can get him to the linebackers you see what he can do. We've just got to get him going, and he's a great player for us. We've got to continue to keep him going in the run game."
Kason Davis passed for 231 yards and four touchdowns, three of which went to junior wideout Dee Bowens, who scored on three consecutive Carthage possessions to help the Bulldogs grab a commanding 49-17 lead midway through the third quarter.
Bowens finished the night with six catches for 150 yards.
"He's got great ball skills, and he's really a go-to guy," Davis said of Bowens. "Really I've got a lot of go-to guys this year, but I figure he's open just about every time."
Carthage's defense allowed 37 points, which was well below Gilmer's scoring average of 64 coming into Saturday. The Bulldogs forced three first-half turnovers -- converting them into 14 points -- and held the Buckeyes to 437 yards, nearly 200 less than their season average.
"We have really, really good defensive guys," Ingram said. "We've got a lot of trust in our defense. They average 64 points and our defense held them to 37? That's excellent."
Mekhi Colbert recorded an interception, while Nic Moore and Jose DeJulian recovered Gilmer (3-1) fumbles.
"We talked about controlling the screen game and we did," Surratt said. "If you can control that and don't give up a huge play over the top (we could be successful). We made them drive the length, and they still scored 37 points; they're really good."
Gilmer quarterback Aaron "Poppy" Brown passed for 296 yards and three touchdowns, completing 31 of 56 attempts. Dimitri Fort caught five passes for 93 yards and two scores, while Red Jones had six catches for 53 yards and a touchdown.
Buckeyes receiver and Oklahoma State commit LaMarcus Morton was limited to five catches for a season-low 55 yards, and kept out of the end zone for the first time this season.
Carthage and Gilmer took turns scoring in spurts. The Bulldogs went first, racing out to a big lead.
Following Moore's fumble recovery that ended Gilmer's second possession of the game, Davis connected with Roderic Calloway on third down for a 9-yard touchdown to give Carthage a 7-0 advantage.
Gilmer went three-and-out, and on the second play of the ensuing Carthage series, Ingram found daylight on a stretch play, racing 51 yards before being tripped up at the Gilmer 2-yard line.
"I got the handoff, then I bounced it," Ingram said. "I was being patient and letting the hole get wider, then I just shot through it. I thought I was gonna score but he tripped me up."
Ingram scored on the next play to push Carthage's lead to 14-0 with 4:01 to play in the opening quarter.
Adan Ibarra got Gilmer on the board three minutes later with a 29-yard field goal, but Carthage turned to Ingram again for the answer. The 51-yard scoring run widened the Bulldogs' lead to 21-3 with 44 seconds remaining in the first.
"There were a lot of high expectations, there were a lot of people out here tonight," Davis said. "Going into the game I think we were all just calm and composed, and we started off real hot."
Kelton Collier scored on a 15-yard run. to cap Gilmer's next drive, and after recovering an onside kick, Gilmer scored again to cut the lead to 21-17 on Brown's 20-yard touchdown pass to Jones.
Carthage responded by scoring on four of its next five possessions -- scoring 28 consecutive points -- to build a 49-17 lead.
Davis and Bowens hooked up for touchdowns of 27, 43, and 23 yards, which was followed by Calloway's 10-yard scoring run on an end-around play with 6:53 remaining in the third.
Gilmer proceeded to go a 20-0 run to trim the deficit to 49-37 early in the fourth.
Fort caught Brown touchdown tosses of 8 and 47 yards, and Desmond Jones ran one in from 7 yards out just 12 seconds into the final period.
Gilmer turned it over on downs on its next possession, and Ingram carried three times for 30 yards, finishing the Buckeyes off with a bruising 16-yard touchdown run with 8:31 remaining.
"It's a weight off our shoulders, and now we don't have to worry about (Gilmer) anymore," Ingram said. "We have a bye week, but now we're fixing to get ready to go against Henderson."
Carthage will host its arch-rival Henderson (4-0) on Sept. 30 in the Bulldogs' District 9-4A Division I opener.
Gilmer wraps up non-district play next Friday night at Nacogdoches (3-1).
---
No. 5 Carthage 55, No. 3 Gilmer 37
At Bulldog Stadium, Carthage
Gilmer              3    14    13      7    --    37
Carthage        21    14    14      6    --    55
First Quarter
CAR--Roderic Calloway 9 pass from Kason Davis (Brandon Medrano kick), 5:38.
CAR--Keaontay Ingram 2 run (Medrano kick), 4:01.
GIL--FG Adan Ibarra 29, 1:07.
CAR--Ingram 51 run (Medrano kick), :44.
Second Quarter
GIL--Kelton Collier 15 run (Ibarra kick), 9:58.
GIL--Red Jones 20 pass from Aaron "Poppy" Brown (Ibarra kick), 9:03.
CAR--Dee Bowens 27 pass from Davis (Medrano kick), 6:33.
CAR--Bowens 43 pass from Davis (Medrano kick), 2:11.
Third Quarter
CAR--Bowens 23 pass from Davis (Medrano kick), 10:57.
CAR--Calloway 10 run (Medrano kick), 6:53.
GIL--Dimitri Fort 8 pass from Brown (Ibarra kick), 4:37.
GIL--Fort 47 pass from Brown (run failed), 4:05.
Fourth Quarter
GIL--Desmond Jones 7 run (Ibarra kick), 11:48.
CAR--Ingram 16 run (pass failed), 8:31.
                                          GIL                 CAR
First Downs                          23                    19
Total Yards                          437                  511
Rushes-Yards                26-141            36-280
Passing Yards                     296                  231
Comp.-Att.-Int.             31-56-1           11-25-0
Punts-Avg.                      3-22.7             3-33.0
Fumbles-Lost                       4-2                  3-2
Penalties-Yards                  5-45                4-40
INDIVIDUAL STATISTICS
RUSHING--Gilmer, Desmond Jones 6-53, Rashaad Ward 4-24, Aaron "Poppy" Brown 4-21, Kelton Collier 5-17, Kameryn Cuevas 4-17, Red Jones 2-10, Trendon Brooks 1-(-1). Carthage, Keaontay Ingram 24-215, Brewster Griffith 5-57, Roderic Calloway 1-10, Kason Davis 6-(-2).
PASSING--Gilmer, Brown 31-56-1--296. Carthage, Davis 11-25-0--231.
RECEIVING--Gilmer, Red Jones 6-53, Dimitri Fort 5-93, LaMarcus Morton 5-55, Collier 5-41, Qua Heath 5-40, Cuevas 2-2, Ryen Lawhorn 1-9, Kollin Hurt 1-5, Desmond Jones 1-(-2). Carthage, Dee Bowens 6-150, Dewaylon Ingram 3-61, Keaontay Ingram 1-11, Calloway 1-9.