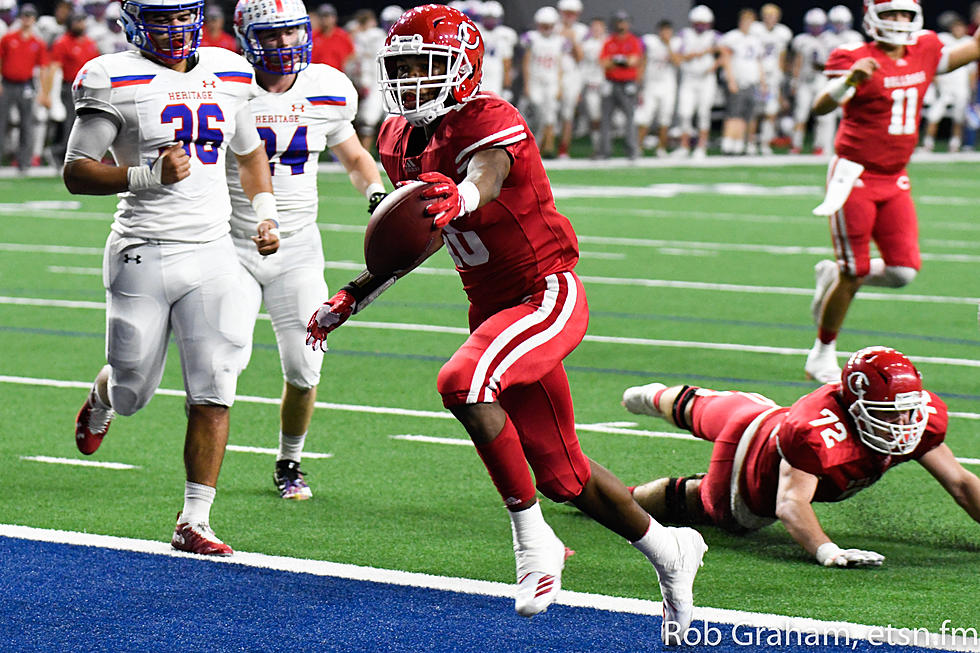 SMU Offers Carthage's Kelvontay Dixon + Ty'kieast Crawford
(© Rob Graham, ETSN.fm)
It was big day for Carthage recruits on Wednesday.
It started with Missouri State giving Bulldogs senior offensive lineman Kevion Booty his first Division I offer, and continued with SMU offering a pair Carthage standouts in the 2020 class.
Carthage ATH Kelvontay Dixon and OT Ty'kieast Crawford both reported via Twitter that SMU has offered.
Dixon (5-11, 160) has also been offered by Arkansas, Baylor, Colorado, Oklahoma State, TCU, and Texas. Crawford (6-6, 310), meanwhile, is committed to Baylor, and has additional offers from Arkansas and Missouri.
On the season, Dixon has been Carthage's top option in the passing game. He enters this week with 74 catches for 1,150 yards and nine touchdowns.
Dixon, the younger brother of Carthage native and University of Texas running back Keaontay Ingram, also has 199 yards and three touchdowns rushing.
Crawford anchors an offensive line that has allowed Carthage to average 43.5 points and 431.6 yards per game this season.
Carthage (13-0) faces district rival Henderson (9-4) in a Class 4A Division I state quarterfinal, scheduled for 7:30 p.m. Friday from Lobo Stadium in Longview.
SMU just wrapped up its first season under head coach Sonny Dykes. The Mustangs were 5-7 overall and 4-4 in the American Athletic Conference in 2018.
Dixon and Crawford, like all juniors, are first eligible to sign with any program that offers them in December of 2019.
2020 East Texas Football Players With Division I FBS Offers
Chris Carpenter, Jacksonville, WR/DB, 6-0, 170 -- offer from North Texas (1)
Ty'kieast Crawford, Carthage, OL, 6-6, 310 -- committed to Baylor; additional offers from Arkansas, Missouri, SMU (4)
Kelvontay Dixon, Carthage, ATH, 5-11, 160 — offers from Arkansas, Baylor, Colorado, Oklahoma State, SMU, TCU, Texas (7)
Sawyer Goram-Welch, Longview, DL, 6-4, 260 -- offer from Louisiana Tech (1)
JJ Green, Marshall, QB, 6-2, 165 -- offer from Nebraska, Ole Miss, Texas State (3)
Tyrese Grant, Daingerfield, WR, 6-0, 160 -- offers from Appalachian State, Colorado State, Hawaii, Utah (4)
Khalan Griffin, John Tyler, QB/ATH, 5-11, 180 — offer from Texas State (1)
Herbert Gums, Diboll, RB/LB, 6-1, 243 -- offers from Arkansas, Houston. Missouri (3)
Garrett Hayes, Athens, OL, 6-5, 275 -- offers from Arkansas, Baylor, Oklahoma, TCU, Tennessee (5)
Allen Horace, Crockett, DE, 6-5, 230 -- offers from Arkansas, Baylor, Houston, Nebraska, Oklahoma State (5)
Tren Jones, Arp, DB, 6-0, 170 — offer from Baylor (1)
Devon King, Gilmer, OL, 6-3, 320 -- offer from Texas State (1)
Haynes King, Longview, QB, 6-3, 180 -- offers from Arkansas, Auburn, Houston, Louisiana Tech, Louisiana-Monroe, Memphis, Minnesota, Missouri, North Texas, Southern Miss, TCU, Texas State, Tulsa (13)
Jamal Ligon, Tyler Lee, DE, 6-2, 240 -- offer from Texas State (1)
Ja'Lynn Polk, Lufkin, WR, 6-2, 170 — offers from Arkansas, Illinois, Southern Miss (3)
JJ Sparkman, Pine Tree, WR, 6-4, 185 -- offers from Arkansas, Arkansas State, Iowa State, Missouri, North Texas, Southern Miss, Texas State, UTSA (8)
James Sylvester, Newton, DE, 6-4, 215 — offers from Alabama, Arkansas, Baylor, Georgia, Minnesota, Missouri, Oklahoma, Oklahoma State, SMU, TCU, Texas A&M (11)
Jerrin Thompson, Lufkin, S, 6-0, 170 -- offers from Arkansas, Baylor, Missouri, Oklahoma, Penn State, SMU, South Florida, TCU, Vanderbilt, Virginia Tech (10)
Savion Williams, Marshall, WR, 6-5, 190 -- offers from Arkansas, Bowling Green, Indiana, Missouri, North Texas, Southern Miss, Texas State, Texas Tech (8)
More From East Texas Sports Network