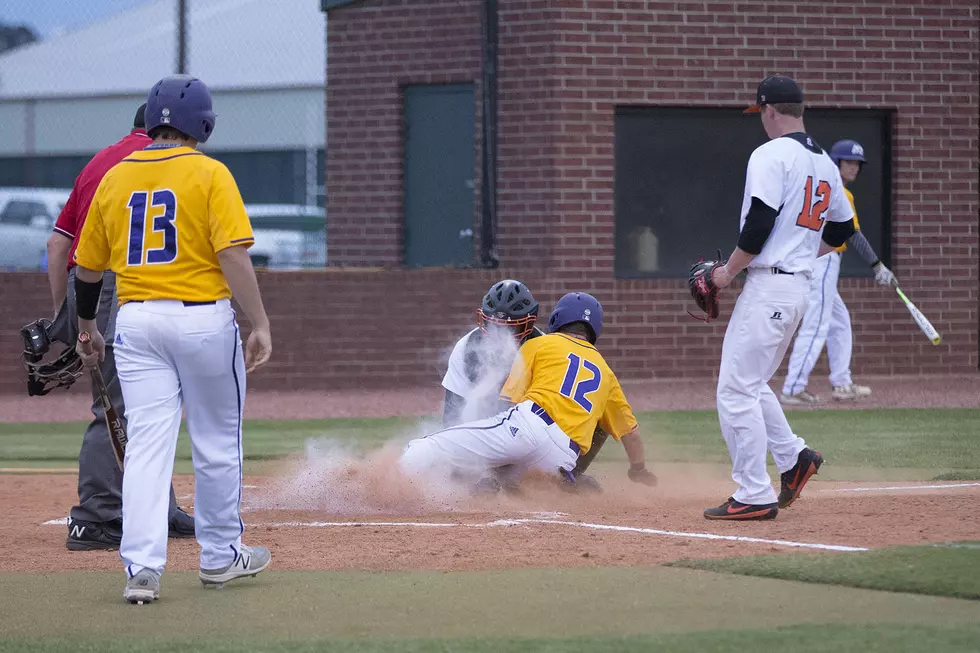 Hallsville Edges Texas High, But Tigers Clinch Playoff Spot
Texas High catcher Jordan Thomas makes the tag on Hallsville's Ty Meissner in the third inning of Tuesday evening's game in Texarkana. (ETSN.fm)
TEXARKANA -- Texas High's baseball team went into Tuesday's District 16-5A game with Hallsville needing a win, or a Marshall victory over Pine Tree to clinch a berth into the playoffs.
The Tigers (13-13, 5-6) failed on Part 1, losing a heart-breaker to Hallsville on the THS diamond, 2-1. They got the necessary help in Part 2 with Marshall beating Pine Tree, 3-1.
Hallsville (23-4, 9-2) scored runs in the first and fifth innings, while Blaine Parker dominated the Texas High lineup for six innings.
Parker allowed a run on four hits with eight strikeouts and one walk for the win, while Mason Higginbotham worked a scoreless seventh for the save.
Ty Meisnner scored Hallsville's first win after leading off the game with a single, moving to second on a bobble in the outfield, reaching third and ultimately scoring a consecutive groundouts.
Kyle Choate, who took the loss on the mound for Texas High, tied the game with an RBI triple with two outs in the second.
The Bobcats scored the game-winner in the fifth, benefitting from three walks, a wild pitch, and a hit batsman.
Each teams concludes the regular season Friday night. Hallsville plays host to Sulphur Springs in a game that could decide the district title, while Texas High travels to Pine Tree.