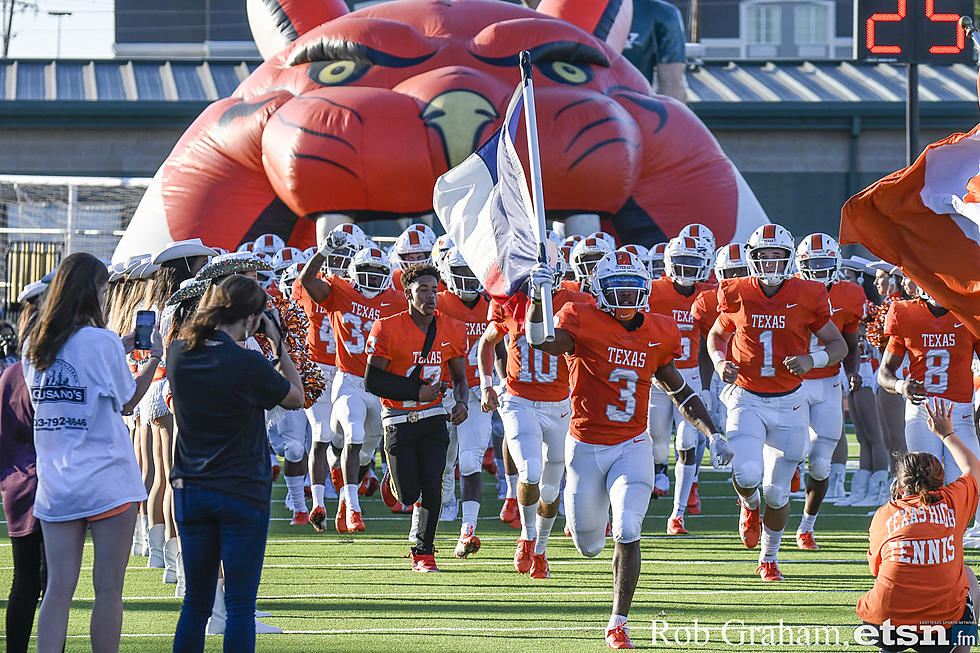 Texas High Falls in Season Finale, 49-21
(© Rob Graham, ETSN.fm)
MESQUITE -- In a game between teams eliminated from playoff contention, West Mesquite came up with a big second half to spoil Texas High's season finale.
The Wranglers (4-5, 3-3) scored 28 unanswered points in the second half to claim a 49-21 win over the Tigers (3-7, 1-5) on Friday at Memorial Stadium.
West Mesquite rolled up 400 yards on the ground and 549 total yards, led by quarterback Neal Johnson's 207 yards and two rushing TDs.
Johnson also threw for 149 yards and three scores--two to Dylan Wright, who had seven catches for 103 yards.
Ty Jordan rushed 20 times for 168 yards and had a pair of scores, one on a pass from Johnson.
Chris Sutton paced Texas High on the ground with 21 totes for 111 yards and a TD, and Kobe Webster had seven receptions for 126 yards and a score.
Rian Cellers added two catches for 68 yards with a 29-yard TD from Chris Lyles on a double pass in the final seconds of the first half, tying the game at 21-all at intermission.
THS quarterback Coltin Clack finished 15-of-34 passing for 248 yards a touchdown and three interceptions, two on passes tipped by receivers.
One of those picks was returned 55 yards to paydirt by West Mesquite defensive back Paul Christopher midway through the third quarter.
The Wranglers added on three more TDs in the fourth quarter, including a 99-yard jaunt by Johnson after the Tigers' only punt.
More From East Texas Sports Network