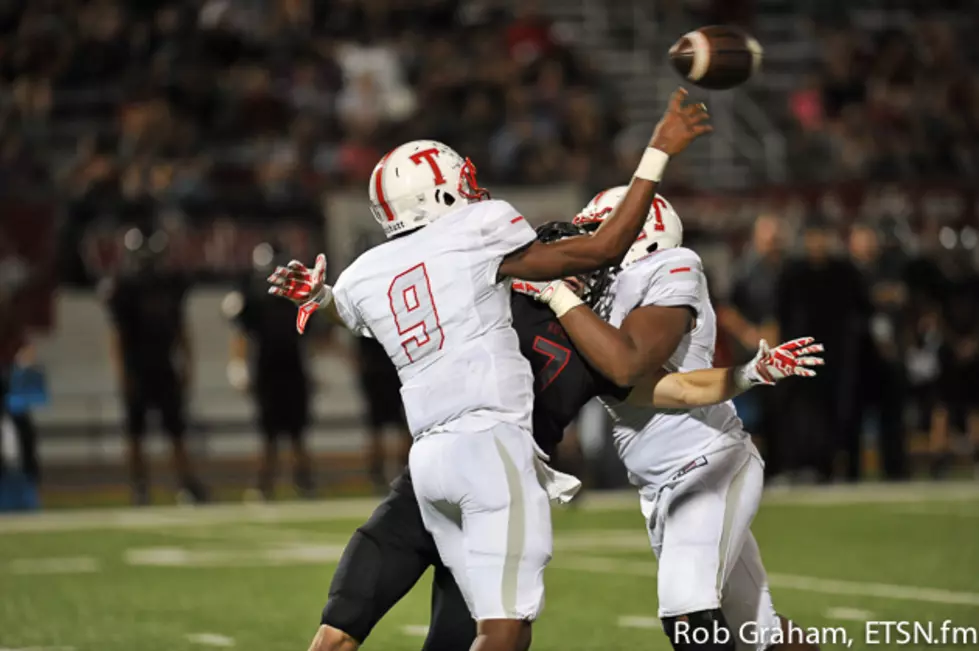 Iowa State Offers Tyler Lee's Chance Amie
Tyler Lee's Chance Amie (9) picked up an offer from Iowa State on Monday.
One of East Texas' top quarterback prospects in the 2018 class earned his second Division I FBS offer, and first from a school in a Power 5 conference on Monday.
Tyler Lee's Chance Amie announced via Twitter that he has received an offer from Iowa State.
Amie (6-3, 190) was previously offered by Bowling Green.
The Red Raiders' dual-threat signal-caller was thrust into action as a sophomore when starter Zach Hall was lost to injury for three games, and he is coming off his first full season as starting QB.
Amie led one of East Texas' most explosive offense by passing for 1,556 yards and 10 touchdowns and running for 1,260 yards and 17 scores. Lee finished 2-8 in 2016 -- Clayton George's first as head coach -- despite averaging 34.2 points per game.
Iowa State has also offered Carthage's Keaontay Ingram in East Texas' 2018 recruiting class.
The Cyclones program a lot of work to do to reach the upper tier of the Big 12, but the 2016 season was a step in the right direction.
First-year coach Matt Campbell guided the team to a 3-9 record and enjoyed Big 12 wins against Kansas and Texas Tech in back-to-back weeks toward the end of the year.
Four conference losses were decided by 10 points or less, including games against Oklahoma and Oklahoma State. The Sooners and Cowboys finished first and tied-for-second, respectively, in the league standings.
Iowa State has not offered any local players in the 2017 class and had zero East Texans on its roster last season, but at least 13 lettermen from Texas at large will be part of its roster this fall.
Amie, like all college football prospects currently in their junior year of high school, will become eligible to sign with any program that offers him in February of 2018.
2018 East Texas Football Players With Division I FBS Offers
Tre Allison, John Tyler, OLB, 6-0, 200 — committed to SMU; additional offer from Mississippi State (2)
Chance Amie, Tyler Lee, QB, 6-3, 190 — offers from Bowling Green, Iowa State (2)
Dekalen Goodson, John Tyler, DE/OLB, 6-0, 215 — offer from Mississippi State (1)
Chasen Hines, Marshall, C, 6-3, 340 — offers from Baylor, Louisiana Tech, Minnesota, North Texas, Oklahoma, Oklahoma State, TCU, Texas, Texas A&M, Texas Tech (10)
Keaontay Ingram, Carthage, RB, 6-0, 198 — offers from Arkansas, Baylor, Iowa State, Kansas, Missouri, Oklahoma, Oklahoma State, Texas Tech, TCU (9)
DeMarvion Overshown, Arp, ATH, 6-4, 196 —offers from Kansas, SMU, Southern Miss, Oklahoma State, TCU, Texas, UTSA (7)
More From East Texas Sports Network