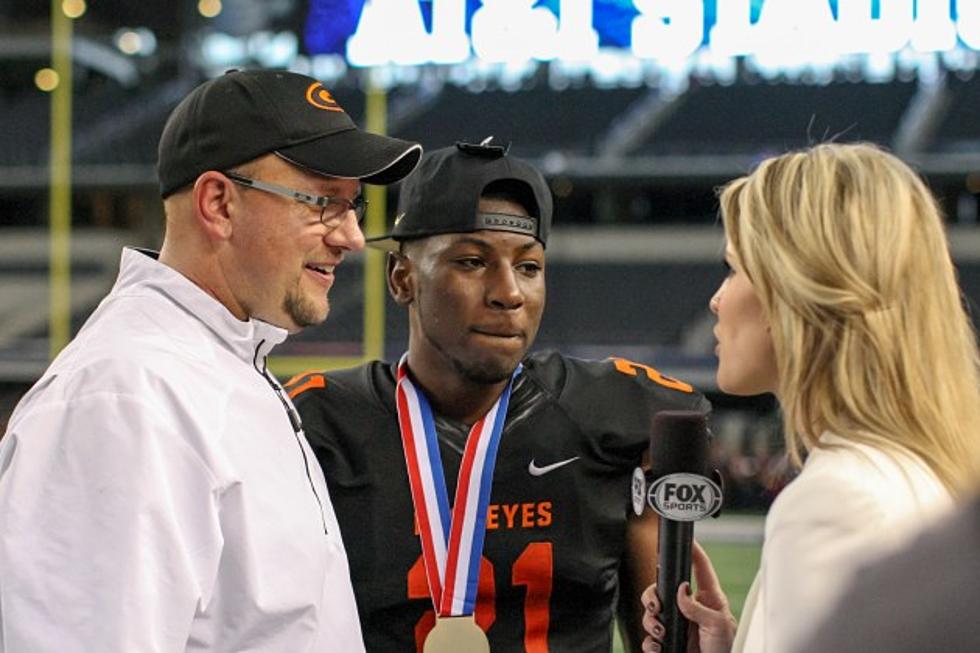 Is Jeff Traylor the Best East Texas High School Football Coach Ever?
Gilmer's Kris Boyd (middle) is interviewed by Fox Sports' Erin Hartigan (right) as Buckeyes head coach Jeff Traylor looks on following Gilmer's state championship win over West Orange-Stark on Dec. 19, 2014, at AT&T Stadium in Arlington. (Jeff Stapleton, ETSN.fm)
Dennis Alexander. Jim Norman. Scott Surratt. Jeff Traylor.
If you were to put together a Mount Rushmore of East Texas high school football coaches, you'd have your four right there. And Traylor might be the first one sculpted.
With the news surfacing that Gilmer coach Jeff Traylor will become the new special teams and tight ends coach at The University of Texas, you can't help but look back at his 15-year tenure with the Buckeyes and shake your head in amazement.
And then you have to ask, "Is Jeff Traylor the best high school football coach in East Texas history?"
Here are some numbers to take into account:
Of the 201 games Traylor coached at Gilmer, he won 175 of them. That's winning 87 percent of your games. That's a better percentage than Alexander, Norman and Surratt in their tenures at Dangerfield, Big Sandy and Carthage, respectively.
Taylor coached in five state championships, winning three (2004, 2009 and 2014). All three times Traylor's Buckeyes won state, they didn't lose a game all season.
33 school records have been broken under Traylor's helm.
Taylor went 6-4 in his first year at Gilmer, and never won fewer than eight games after that. He won at least 10 games every year after 2003 except one (9-4 in 2010).
Gilmer reached the postseason 14 straight years under Traylor's watch -- every season but his first.
The only East Texas coach to win more than three state championships is Carthage's Surratt, who has a career winning percentage of .817 to Traylor's .871. Traylor, Norman and Daingerfield's Barry Bowman are the other East Texas coaches with three state titles.
Traylor has coached multiple Buckeyes who went on to have some sort of role in the NFL, including GJ Kinne, David Snow, Curtis Brown and Manuel Johnson.
In 2014, Traylor's Buckeyes scored 950 points on their way to the Class 4A Division II state championship. The only team to score more points in a season was Aledo in 2013. The Buckeyes offense averaged more than 534 yards per game in 2014.
So, you have to at least ask the question: Is Traylor the best football coach in East Texas history?
More From East Texas Sports Network