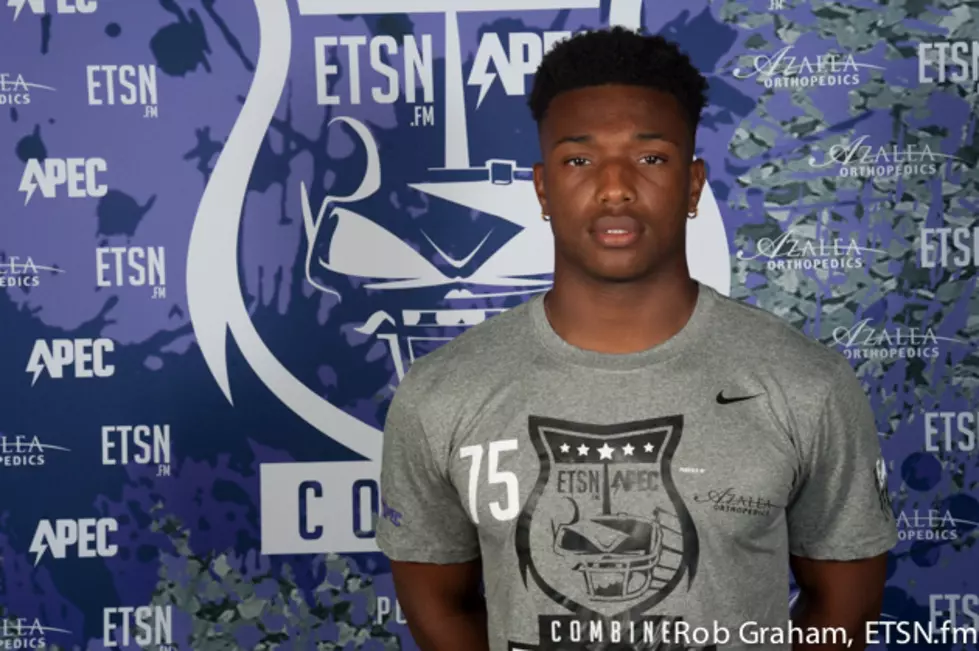 Nacogdoches' DaRyan Williams Wins ETSN.fm + APEC Football Recruiting Combine's Defensive MVP Award
Nacogdoches safety DaRyan Williams won Defensive MVP honors Sunday at the ETSN.fm + APEC Football Recruiting Combine in Tyler.
TYLER -- Lovers and haters of the Nacogdoches football program can spin the Dragons' long term and more recent history a hundred different ways.
But if there was any shred of doubt remaining that the school is East Texas' best defensive back producer year-over-year, the naysayers' argument flew out the window at the fifth annual ETSN.fm + APEC Football Recruiting Combine powered by Azalea Orthopedics in Tyler.
DaRyan Williams, a safety who started at linebacker as a junior, took home the prestigious Defensive Most Valuable Player Award at the Accelerated Performance Enhancement Center facility in Tyler and became the second Nacogdoches defensive back in as many years to earn the area's top honor.
Williams superseded Josh Thompson, who had a similar issue at the time he won the award.
No major school aside from Minnesota wanted Thompson as May of 2016 bled into June, but Thompson ultimately became East Texas' most recruited prospect regardless of offense or defense and signed with Texas.
Williams currently holds offers from Arkansas-Pine Bluff and Northeastern State.
"I remember Josh Thompson," Williams said. "He blew up after this camp. I really appreciate this camp. I came here last year and it was a good experience for me. I just really wanted to come back and show what I could do."
Somewhat unbeknownst to Williams, he was heavily in the running for the Defensive Backs Most Valuable Player award a year ago.
The combine's voters -- consisting of the ETSN.fm staff, the coaches at APEC and select writers from outlets that cover college football -- select positional award winners and then promote one position winner from both sides of the ball to most valuable player status.
With Thompson promoted to Defensive Most Valuable Player last year, Williams was discussed as Thompson's replacement at the defensive backs level before a majority found Gladewater's Austin Hawley as just barely a better fit. Williams, nevertheless, was regarded as the best underclassman defensive back and awarded an honorable mention.
Williams returned to the combine ready to take his place in its growing history book.
The back tied for the event's best 40-yard dash time alongside Jefferson receiver T.Q. Jackson. Both players logged laser times of 4.47 seconds on a slick track as a moderate rain shower passed through.
Williams also put up 17 reps of 185 pounds on the bench press, a laser-timed pro agiliy score of 4.41 seconds and a Keiser squat output of 3,546 watts ahead of a strong on-field performance. He checked in at 5-foot-10 and 198.8 pounds.
"A good defensive back is good in the last millisecond," APEC founder and director Bobby Stroupe said. "I saw him demonstrate that time and time again. Yeah, his backpedal is fine and the proverbial hips are fine. But what makes him special is he is able to manipulate his body at the final second.
"He tested very well, so I definitely think he's Division I material. I don't think I'm an authority on that, I played the position about 100 years ago, but I've seen several Division I defensive backs come through here. He's right there with them and deserves to be in that talk."
Obviously, Williams' dream is to enjoy an incline similar to Thompson's.
Nacogdoches' history goes beyond Thompson though. Thompson was the Dragons' third consecutive defensive back to become East Texas' football scholarship leader behind Brandon Jones in 2015 and Jaylon Lane in 2014.
Jones currently plays for Texas and Lane ended up enrolling at Texas Tech after two seasons at the junior college level following an off-the-field issue. Lane finished his high school career committed to Oklahoma State but had his offer rescinded.
Jones and Lane hit their stride following their junior football seasons and thus didn't accept invitations to the combine for fear of unnecessary risk. Both would have been likely candidates to win the event's Defensive Most Valuable Player award, which might have given Nacogdoches a streak of four straight wins with Thompson and Williams' subsequent selections.
"I'd like to thank (defensive coordinator David Gibbs)," Williams said. "He's a coach that came from Stephen F. Austin. He really cares about his players, and so does (head coach Bobby Reyes). They reward hard work every day and play you."
More From East Texas Sports Network