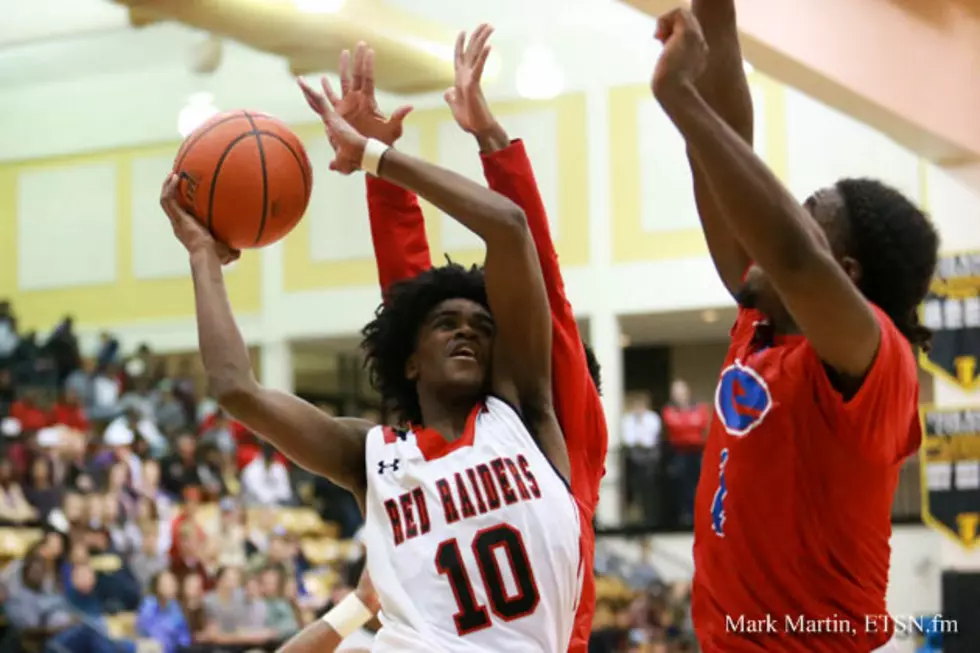 Strong Second Half Leads Shreveport Evangel Past Tyler Lee for Wagstaff Holiday Classic's Diamond Bracket Championship
Tyler Lee's Mike Donnell (10) runs into traffic during the Red Raiders' 38-35 loss to Shreveport Evangel, Friday at the Wagstaff Holiday Classic.
TYLER -- Playing in front of a hometown crowd in the final game of the three-day Wagstaff Holiday Classic at Tyler Junior College, the Tyler Lee Red Raiders were in position to claim the tournament's top prize.
Shreveport Evangel had other ideas.
Evangel clamped down on defense in the fourth quarter, allowing the Eagles to come from behind and earn a hard-fought 38-35 win over Lee in the Diamond Bracket championship Friday night.
Lee had two chances in the game's final seconds to send the game into overtime, but missed twice from 3-point range.
The Red Raiders connected on just two field goals in the fourth quarter after leading by eight points late in the third.
Malik Cooper, who led Evangel with 19 points, scored eight of his team's 13 points in the final period to aid the Eagles' comeback effort. He gave Evangel a two-point lead twice with baskets in the fourth.
Evangel overcame a strong performance from Lee senior post Kirby Mabry, who powered the Red Raiders with 20 points, 19 rebounds, and two blocks. He scored all 16 of Lee's points in the second half.
Mike Donnell added nine points, six rebounds, and two assists in the loss for Lee.
Evangel began the game on fire by opening up a 16-1 lead in the first quarter. Jalen Smith's 3-pointer with 39 seconds to play in the first quarter was Lee's first basket of the game, and it began an 18-2 Red Raiders run to finish the half.
Mabry knocked down a pair of 3-pointers in the third quarter, as Lee carried the positive momentum into the second half and built a 31-23 lead.
The Red Raiders (7-7) return to District 11-6A play Tuesday night at home against Mesquite.
Brewer Pulls Away From Whitehouse to Claim Third
The Fort Worth Brewer Bears turned a two-point deficit early in the fourth quarter into a commanding 11-point edge with a 13-0 run in their 54-49 win over Whitehouse in the third-place game of the Diamond Bracket.
Brewer led for most of the game, but Whitehouse tied the game at 40-40 with a Colby Duhon 3-pointer in the final minute of the third quarter, and went in front on McKade Marquis' jumper to begin the fourth.
Alex Hayes drained a 3-pointer and Pedro Castro executed a 3-point play to quickly give the Bears a 46-42 lead with 6:15 remaining. Buckets from Cortland Blake, David Woosley, and Castro, and a free throw from Blake pushed the Brewer lead to 53-42 with 2:26 to play.
A basket from Jackson Mahomes and a Marquis 3-pointer trimmed the Whitehouse deficit to 53-47 with 35 seconds remaining, but the Bears were able to withstand the Wildcats' final push.
Castro, a UT-Arlington signee, paced Brewer with 19 points, 13 rebounds, six blocks, and two assists.
Marquis drilled five 3-pointers and led Whitehouse with 21 points. Javier Neal added 10 points, four rebounds, three assists, and two steals in the loss.
Whitehouse's season resumes Tuesday at home against Lufkin.
---
Wagstaff Holiday Classic
Diamond Bracket Championship
At Tyler Junior College
Shreveport Evangel 38, Tyler Lee 35
Evangel              16      3      6    13    —    38
Lee                      4    15    12      4    —    35
EVANGEL — Malik Cooper, 19; Micah Baskerville, 6; Izavier West, 4; Davin Cotton, 3; Khameron Coleman, 3; Jai'Michael Randle, 2; Jacob Jennings, 1.
LEE — Kirby Mabry, 20; Mike Donnell, 9; Jalen Smith, 3; Isaiah Davison, 2; Keashun Davis, 1.
THREE-POINT GOALS — Evangel: Cooper (2). Lee: Mabry (2), Smith.
Diamond Bracket Third-Place Game
Fort Worth Brewer 54, Whitehouse 49
Brewer               10    19    11    14    —    54
Whitehouse          8    19    13      9    —    49
BREWER — Pedro Castro, 19; Cortland Blake, 9; Anthony Rodriguez, 8; Kenneth Harris, 7; David Woosley, 5; Jahrad Taylor, 3; Alex Hayes, 3.
WHITEHOUSE — McKade Marquis, 21; Javier Neal, 10; Colby Duhon, 9; Jackson Mahomes, 6; Kyevon Rider, 3.
THREE-POINT GOALS — Brewer: Rodriguez (2), Blake, Castro, Harris, Woosley. Whitehouse: Marquis (5), Duhon.
More From East Texas Sports Network