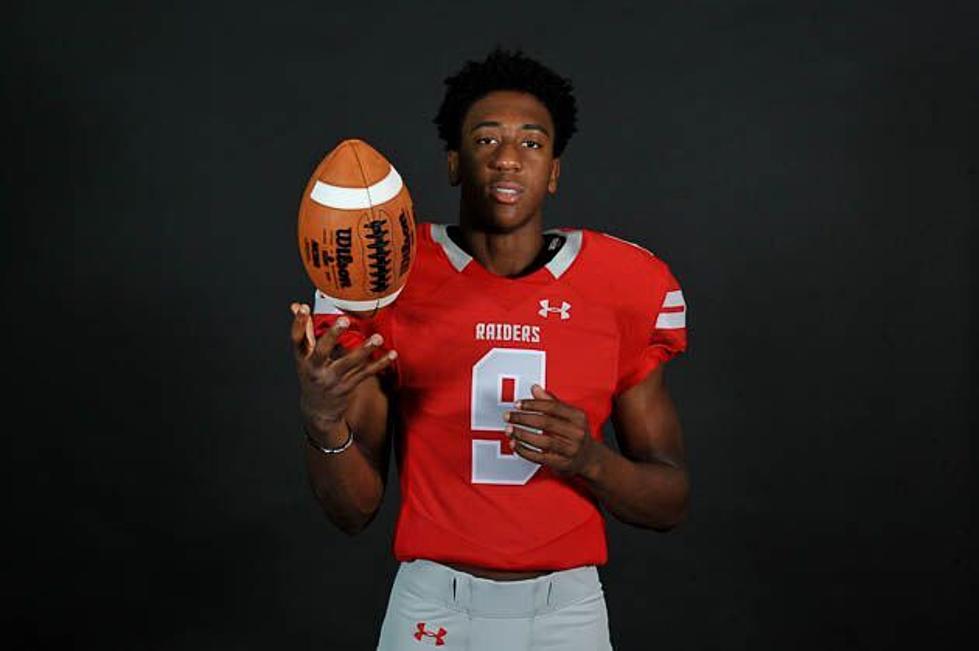 Tyler Lee's Chance Amie Offered By Louisiana-Lafayette
Tyler Lee quarterback Chance Amie was offered by Louisiana-Lafayette on Monday. (Rob Graham, ETSN.fm)
After fielding offers from programs from the midwest and northeast portions of the country, Tyler Lee junior quarterback Chance Amie finally has a school closer to home interested in obtaining his services.
Amie (6-3, 190) announced via Twitter on Monday that he has received an offer from Louisiana-Lafayette. The Ragin' Cajuns are the fifth Division I FBS program to offer.
He also holds offers from Bowling Green, Iowa State, Syracuse, and Virginia.
Amie is one of two quarterbacks in East Texas' 2018 recruiting class offered by ULL on Monday, joining Henderson's Trae Hall.
Amie completed 97 of 180 passes for 1,556 yards and 10 touchdowns to seven interceptions in his first full season as a starter. He carried the ball 183 times for a net of 1,265 yards and scored 17 touchdowns.
Lee was plagued for a second consecutive season with an underperforming defense. While Amie turned in decent numbers and sophomore running back Ladarius Wickware had a breakthrough season, Lee lost five games in which the team scored 35 or more points toward a 2-8 overall record.
Two of those losses occurred in spite of the offense scoring more than 50 points. Four losses were decided by one possession.
There are expectations Amie — and Lee as a whole — will have a stronger 2017 campaign with George in place for a second season.
George had a good history of producing college quarterbacks in two stints as Southlake Carroll's offensive coordinator prior to being hired by Lee. His alumni include current NFLer Chase Daniel and starting TCU quarterback Kenny Hill.
Between those two headliners, the coach worked with former NFLer Greg McElroy and legendary high school quarterback Riley Dodge at the sub-varsity level. He didn't finish the job with those two because he left Carroll for two successful stints as a high school head coach and then was hired by Todd Dodge as a positional coach at North Texas before returning to Carroll.
ULL is members of the Sun Belt Conference, and is coached by Mark Hudspeth. The Ragin' Cajuns were 6-7 last year, falling to Southern Miss, 28-21, in the New Orleans Bowl.
Amie, like all college football prospects currently in their junior year of high school, will become eligible to sign with any school that offers him in February of 2018.
2018 East Texas Football Players With Division I FBS Offers
Tre Allison, John Tyler, OLB, 6-0, 200 — committed to SMU; additional offer from Mississippi State (2)
Chance Amie, Tyler Lee, QB, 6-3, 190 — offers from Bowling Green, Iowa State, Syracuse, ULL, Virginia (5)
Xavier Benson, Pleasant Grove, LB, 6-0, 200 — offer from ULL (1)
Dekalen Goodson, John Tyler, DE/OLB, 6-0, 215 — offer from Mississippi State (1)
Trae Hall, Henderson, QB/ATH, 6-3, 185 — offer from ULL (1)
Chasen Hines, Marshall, C, 6-3, 340 — offers from Baylor, Louisiana Tech, LSU, Minnesota, North Texas, Oklahoma, Oklahoma State, TCU, Texas, Texas A&M, Texas Tech (11)
Tevailance Hunt, Texas High, WR, 6-2, 180 — offer from Louisiana Tech (1)
Keaontay Ingram, Carthage, RB, 6-0, 198 — offers from Arkansas, Baylor, Colorado, Iowa State, Kansas, Michigan, Minnesota, Missouri, Nebraska, Notre Dame, Ohio State, Oklahoma, Oklahoma State, Ole Miss, Oregon, TCU, Texas, Texas A&M, Texas Tech, UCLA, UTSA (21)
Malik Jackson, Lufkin, WR, 5-8, 165 — offer from Arkansas State (1)
DeMarvion Overshown, Arp, S, 6-4, 196 — offers from Alabama, Arkansas, Auburn, Baylor, Clemson, Colorado, Florida State, Georgia, Kansas, LSU, Missouri, Ohio State, Oklahoma, Oklahoma State, Ole Miss, SMU, South Carolina, Southern Miss, TCU, Texas, Texas A&M, UCLA, USC, UTSA (24)
Tyree Wilson, West Rusk, LB, 6-5, 225 — offer from ULL (1)
More From East Texas Sports Network