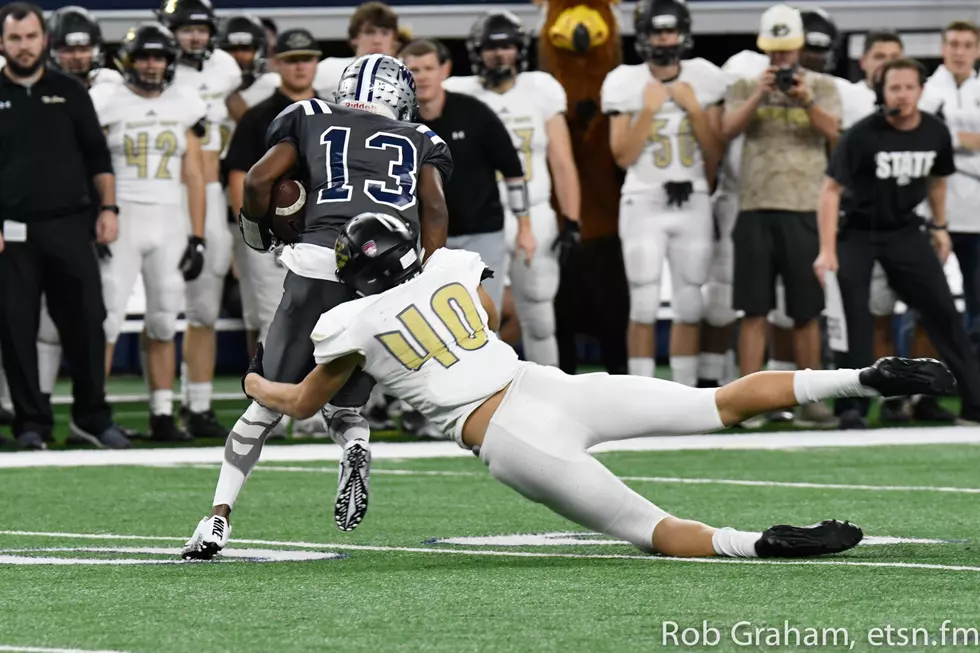 2017 ETSN.fm East Texas Football Super Team Defensive Newcomer of the Year: Pleasant Grove's Landon Jackson
(© ETSN.fm)
Landon Jackson wants more.
It sounds crazy. It is crazy. Jackson set the single-season sack record at Pleasant Grove as a freshman. He recorded 11.5 sacks in the Hawks' state championship season, one of many cogs to a defense that was perhaps a bit underrated given the production of the offense.
What does he think of his record-setting season?
"It was a great feeling when it happened, but now, I honestly feel like I could have done a little bit better," he said.
Jackson already has his sights set on 2018, where his goal is 15 sacks. As a freshman, he already holds an offer from Texas A&M. He is the ETSN.fm Defensive Newcomer of the Year.
Coach Josh Gibson confirmed the future is nothing but good for Jackson.
"I think you'll see his name blow up in the spring," Gibson said. "Just with his frame and his athleticism. To be a freshman and break the record for sacks in a season and lead the district in sacks, he's a very, very special talent. He's a freaky athlete. He's gonna be one of those that Alabama and all those guys come calling on at some point."
Jackson also finished with 98 total tackles and 16 for loss. Jackson said it took some time to adjust to playing high school. But with a 6-foot-5, 212 pound frame, he eventually found his footing. Still, he said he valued the help of his older teammates and credits them with helping ease his transition.
"They made me work during practice," he said. "In the beginning, I wasn't using my speed and thinking about how much I was capable of. Then, it just kicked in and I started doing better."
Jackson remembers being anxious to play his first high school game. He was shocked, but said he didn't struggle as much as he anticipated.
"It's a whole lot faster," he said. "They're a lot stronger."
It won't stay that way for long. Jackson said he has been in the weight room often this offseason, working to add to an already bulky frame.
He may have just set the record, but he wants to break it again.
More From East Texas Sports Network