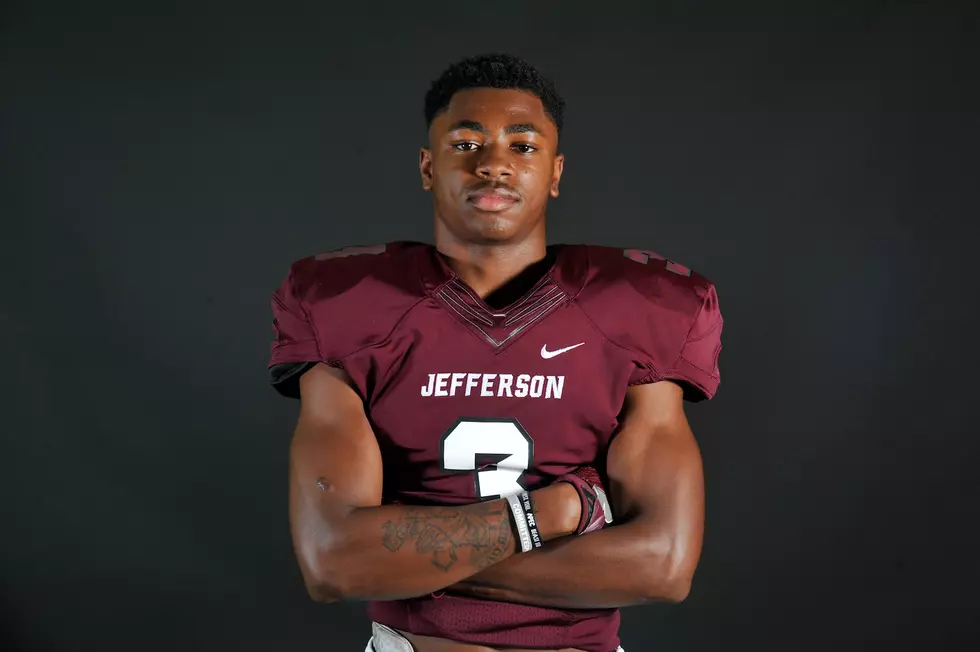 Arizona Offers Jefferson's T.Q. Jackson
Jefferson WR T.Q. Jackson. (© Rob Graham, ETSN.fm)
The stock continues to rise for Jefferson 2019 wide receiver T.Q. Jackson, who picked up his 14th Division I FBS scholarship offer on Monday night.
Jackson (6-3, 181) announced via Twitter that Arizona has offered.
The Bulldogs' playmaker also holds major Division I offers from Arizona State, Arkansas, Baylor, Houston, Missouri, and Texas Tech.
Last season, Jackson caught 40 passes for 938 yards and 11 touchdowns for Jefferson. The Bulldogs finished 10-2 and advanced to the area round of the Class 3A Division I playoffs.
He burst onto scene as a sophomore with 41 catches for 1,099 yards and 11 touchdowns.
Arizona just hired former Texas A&M head coach Kevin Sumlin as its next head coach. The Wildcats, who compete in the Pac-12 Conference, were 7-6 overall and 5-4 in league play last season.
Jackson, like all juniors, can first sign with any team that offers him in December.
2019 East Texas Football Players With Division I FBS Offers
Jade Ashalintubbi, Elysian Fields, OL, 6-6, 331 —offers from Louisiana-Monroe, Tulsa (2)
Darwin Barlow, Newton, RB, 6-0, 200 -- offers from Arkansas, Arkansas State, Baylor, Houston, Louisiana Tech, Louisiana-Lafayette, Louisville, LSU, Minnesota, Missouri, Nebraska, Oklahoma State, Ole Miss, SMU, Southern Miss, TCU, Texas State, Texas Tech, Utah, UTSA (20)
DeKendrick Bender, Marshall, WR, 6-2, 185 -- offers from Air Force (1)
Chance Billington, John Tyler, OL, 6-3, 301 — offers from Iowa State, New Mexico State, SMU, Texas State (4)
Tamauzia Brown, Newton, ATH, 6-1, 170 -- offers from Arkansas, Arkansas State, Baylor, Houston, Louisiana Tech, Louisiana-Lafayette, Minnesota, Missouri, Nebraska, New Mexico, Oklahoma State, Oregon, San Diego State, Southern Miss, SMU, TCU, Texas Tech, UTEP, UTSA (19)
Javasia Brunson, Lufkin, DE, 6-4, 235 -- offers from Nevada, Oklahoma State, SMU, South Florida, Southern Miss, UTEP (6)
Keontae Burns, Pittsburg, ATH, 6-3, 182 — offers from Alabama, Arkansas, Arkansas State, Baylor, Houston, Iowa State, Kansas, Louisiana-Monroe, Minnesota, Missouri, North Texas, SMU, Southern Miss, Texas State, Texas Tech, UTSA (16)
Cameron Cantrell, Whitehouse, WR, 6-1, 180 -- committed to Texas Tech (1)
Coltin Clack, Texas High, QB, 6-3, 202 — offers from Arkansas State, Florida Atlantic, New Mexico State, SMU, Southern Miss (5)
Josh Foster, Newton, ATH, 6-0, 165 -- offers from Arkansas, Arkansas State, Baylor, Houston, Louisiana-Monroe, Louisiana Tech, SMU, TCU, ULL, ULM, Utah, Vanderbilt (12)
Christian Hood, Marshall, OL, 6-2, 290 — offer from Southern Miss (1)
T.Q. Jackson, Jefferson, WR, 6-3, 181 — offers from Arizona, Arizona State, Arkansas, Arkansas State, Baylor, Houston, Minnesota, Missouri, Purdue, SMU, Southern Miss, Texas Tech, Tulsa, UTSA (14)
Beaux Limmer, Tyler Lee, OL, 6-5, 260 -- committed to Arkansas; additional offers from Arkansas State, Baylor, Houston, Louisiana Monroe, Louisiana Tech, North Texas, Northwestern, Oklahoma State, SMU, Southern Miss, Texas State, Tulsa, UTSA, Vanderbilt (15)
Darius Richardson, West Rusk, DL, 6-3, 288 -- committed to Texas State (1)
Braelyn Riden, Jacksonville, DB, 6-1, 170 -- offer from ULL (1)
Keivie Rose, Henderson, DE, 6-4, 220 — offers from Arkansas State, Florida Atlantic, Kansas, Louisiana Tech, Memphis, North Texas, Oklahoma State, SMU, Southern Miss, Tulane (10)
Ke'Andre Street, John Tyler, WR, 6-4, 190 -- offers from Boston College, Bowling Green, Houston, North Texas, Southern Miss, Syracuse, Tulane (7)
Blake Trainor, Hallsville, OT, 6-7, 280 — offers from Houston, North Texas, Texas A&M, Tulsa, Texas State (5)
Caiden Walker, Newton, OL, 6-4, 276 — offers from Louisiana Tech, ULM, UTEP (3)
Tahj Washington, Marshall, ATH, 5-11, 160 -- offer from Air Force (1)
Carl Williams, Lufkin, DT, 6-4, 310 — offers from Arkansas, Houston, Kansas, Minnesota, Oklahoma, Oklahoma State, Ole Miss, SMU, Southern Miss, TCU, Tulsa, UTSA (12)
Keshon Williams, Pine Tree, ATH, 6-4, 230 -- offer from Louisiana Monroe, New Mexico State, Rice, Texas State (4)
Marcus Williams, Longview, OL, 6-6, 285 — committed to TCU; additional offers from Baylor, Houston, SMU, Southern Miss, Texas State (6)
More From East Texas Sports Network