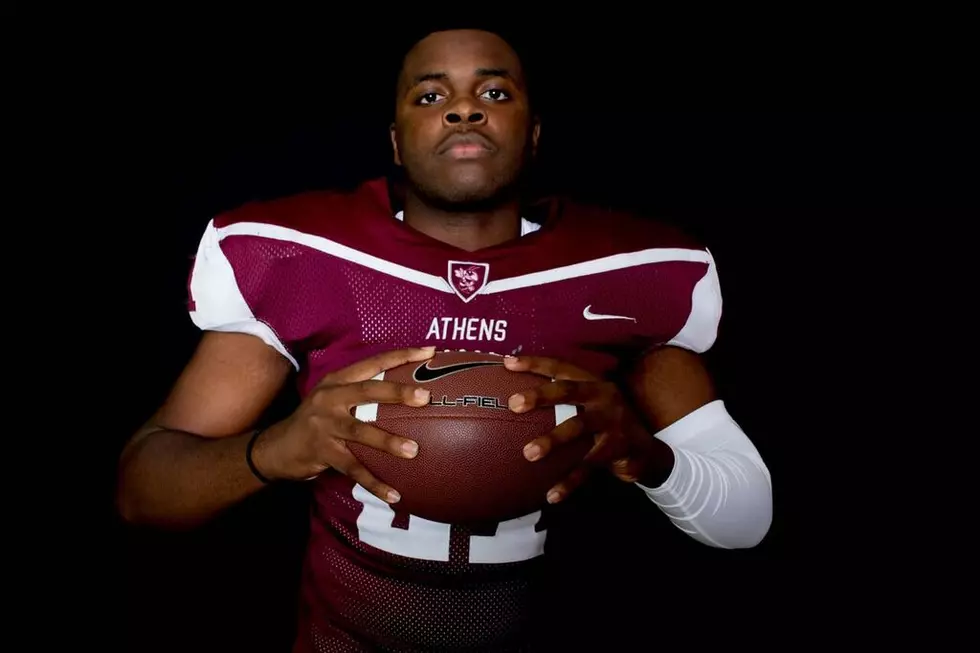 Athens Falls to Fairfield, 53-28
Athens DL Quintavian Gardner. (© Clint Buckley, ETSN.fm)
[By Joe Ellerson, special to ETSN.fm]
ATHENS -- The Fairfield Eagles jumped out to an early lead on the Athens Hornets, and never looked back Friday at Bruce Field.
When the final horn sounded, the Eagles improved to 3-0 overall with a 53-28 victory on Civil Service Night.
"Fairfield is a pretty good football team. I told you before they are good," Athens coach Paul Essary said. "They are fast and well polished. That is a good football team, and they are going to beat a lot of people. They don't make a lot of mistakes, and they play extremely hard.
"We are still making progress, and I have not given up on this team. We have a chance to be a good football team, and we will continue to work and get better next week."
The Hornets (1-2) are set to begin a two-game road trip as they head to Ferris Friday. They wrap up non-district play the following week at Bullard.
"It doesn't matter where you play as long as you get better every week," Essary said. "We love Bruce Field and the fact that the community does not have to travel and can watch us play. It doesn't matter where you play, but you have to get better."
Fairfield opened up the scoring with a 17-yard run by quarterback Blake Posey with 10:34 left in the first quarter.
Posey then found DaQuann McWilliams on a 56-yard touchdown with 6:19 remaining. The Eagles went for two as Posey converted for the 15-0 lead.
Kadarrius Walker then scored his first of three touchdowns on a 21-yard run with 7:58 remaining in the first half. The try for two was unsuccessful as Fairfield held a 21-0 lead. Walker finished with nine carries for 88 yards.
The Eagles were playing without senior athlete Kameron Ransom. Essary said the game plan did not change once they noticed he was not suited out.
"It was the same thing and they did not change anything," Essary said. "No. 2 (Walker) was a player that I watched film of last week. I did not even know that No. 1 was out for two series because No. 2 looked just like him. No. 2 is a good running back so their depth is deep."
The Hornets first touchdown came with 6:58 remaining in the half as Nathan Sims rumbled for 54 yards. The extra point was missed for the 21-6 deficit.
Walker returned the favor with a 16-yard run to extend the lead to 29-6 with 6:27 remaining.
Athens junior Jerquindon Taylor got the Hornets to within 35-14 with a 63-yard run with 6:17 remaining. Taylor finished with 16 carries for 182 yards and two touchdowns.
After a 9-yard run by Walker and a 3-yard touchdown by Posey, Taylor scored his second touchdown of 63 yards with 27 seconds left in the first half. Joahan Mendez booted the PAT good for the 41-21 deficit at the half.
Sims had over 100 yards rushing in the first half, and finished with 26 carries for 152 yards and two touchdowns.
"It is what they were giving us and that is what we were taking," Essary said. "The offensive line started coming on and blocking well with the tight ends and receivers. It is a team thing, and they started opening up some holes to use their running ability."
In the second half, Athens opened the scoring with a five minute drive that was capped off by a 4-yard touchdown run by Sims to cut the deficit to 41-28.
Fairfield capped off the scoring with a 1-yard run by Posey and a 7-yard run by Jar-Mychael Hudson for the 53-28 victory.
"I am proud of our guys continuing to fight until the end," Essary said. "We are going to work hard, and we had some bright spots. We couldn't stop them tonight, but they could stop us most of the night. We both have pretty good offenses on the field, but they were just better tonight."
More From East Texas Sports Network