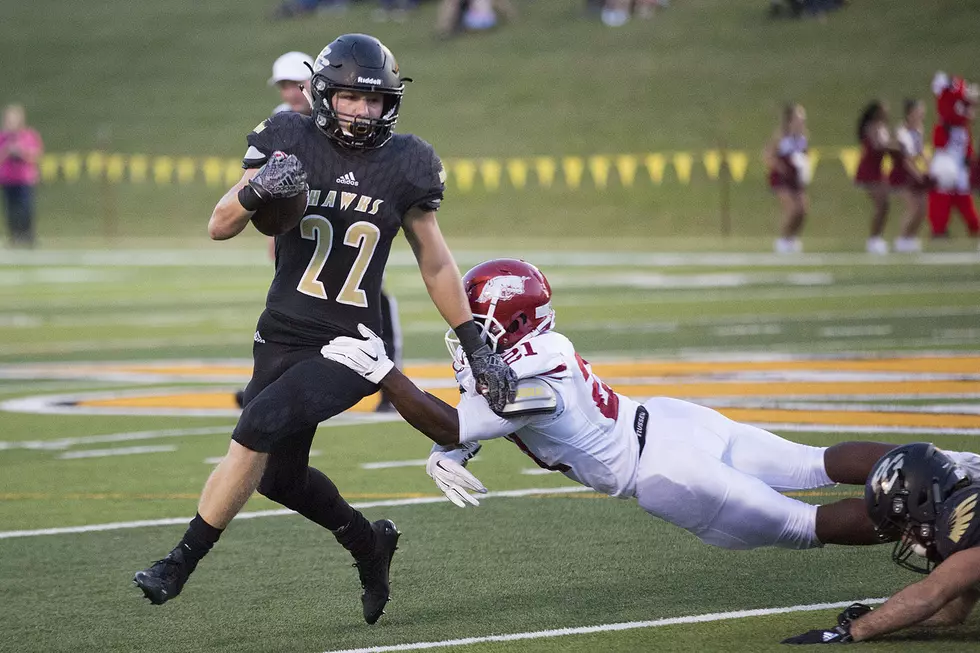 Ben Harmon + Pleasant Grove Hold Off Arkansas High in Wild 27-20 Win
(© ETSN.fm)
TEXARKANA -- Pleasant Grove managed to pull out a 27-20 win against rival Arkansas High after a wild fourth quarter on Friday night.
After the Hawks took a 13-0 lead into halftime, the two teams combined for 34 points in less than a 10-minute span in the final period -- including 14 points from Arkansas High in 45 seconds to make things interesting.
Ben Harmon's second touchdown pass to Carson Cox in the fourth quarter gave Pleasant Grove a 27-7 lead, but Arkansas High wasn't finished just yet.
Drake Browning hit Dejordan Mask for a 24-yard touchdown with 1:55 left in the game, and after recovering an onside kick, Arkansas High scored again with 1:10 left on a 37-yard touchdown pass from Sean Foreback to Irijah Price.
Pleasant Grove was able to recover the second onside attempt and hold on to the win.
The Hawks were able to limit Arkansas High to 180 total yards of offense and just over three yards per carry on the ground. Brown rushed for 60 yards on 10 attempts, while Price caught four passes for 70 yards.
TJ Cole led Pleasant Grove on the ground with 17 carries for 55 yards, while Josh Roberts added 51 yards on 10 attempts. Cox finished the game with three catches for 73 yards.
More From East Texas Sports Network