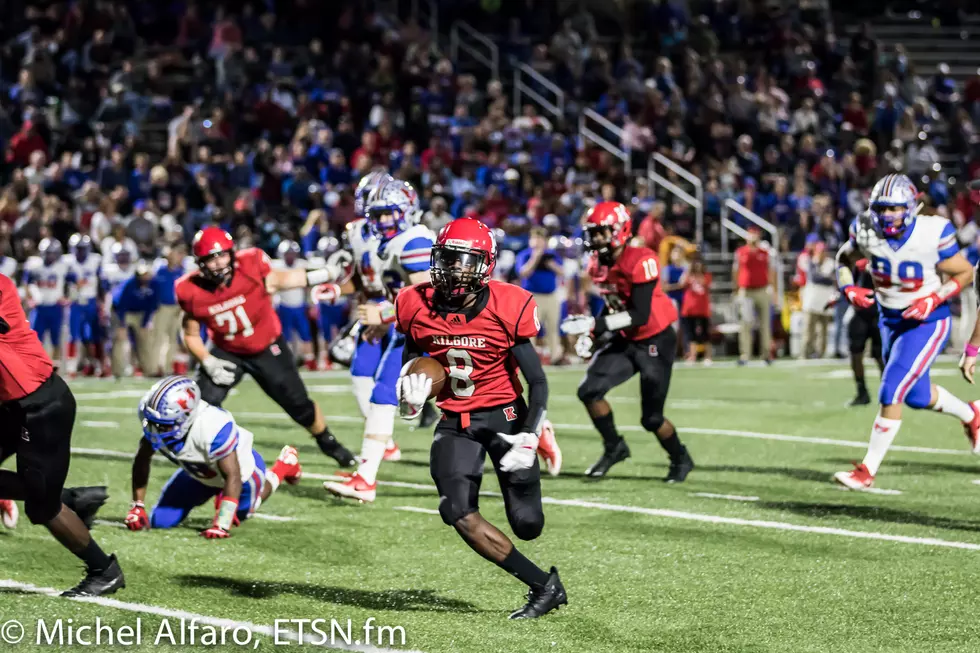 Briant Mumphrey + Kilgore Take Down Henderson, 45-35
(© ETSN.fm)
KILGORE -- Briant Mumphrey scored five touchdowns, Deiontrae Wheat had a touchdown catch and an interception, and the Kilgore Bulldogs bounced back from a loss to one district rival to beat another Friday night, edging Henderson, 45-35.
Henderson quarterback Trae Hall ran for more than 200 yards and four touchdowns, and threw for another, but was injured with a little more three minutes left in the fourth quarter and didn't return.
Kilgore led 38-35 when Hall was injured trying to fight for yardage, and the Bulldogs (6-2, 3-1 in District 9-4A Division I) added another score, Mumphrey's fifth touchdown of the night, to put them in front 45-35.
Caleb Medford took over for Hall, but threw a desperation pass with just over a minute left that was intercepted by Wheat. Kilgore took a knee and ran out the clock.
The Bulldogs have an open date next week and are back in action at Center Nov. 3.
Henderson dropped to 6-2 on the season as well and 1-2 in district. The Lions host Center next Friday.
Kilgore scored early, a 26-yard run by Mumphrey, after a Henderson turnover. One of Hall's passes on the Lions' first drive was tipped by Demorrea Richardson, a Kilgore defensive end, and then intercepted by Tyreik Mumphrey off the tip. Briant Mumphrey put Kilgore in front 7-0 two plays later. Hall connected with Treylun Blanton nine times in the game, and the biggest was on a 16-yard touchdown pass that tied the game at 7-all, still in the first quarter.
Kilgore went up 14-7 on a 23-yard pass from Patrick Jackson to Wheat, and then Henderson tied things once more, at 14, on a 1-yard run to cap a 13-play drive.
Hall hooked up with Medford on the Lions' next drive, a 41-yard pass, and then took it in himself for another score, this one from 2 yards out, as Henderson took a 21-14 lead early in the second quarter.
The Bulldogs added a score before the half, a 38-yard field goal by Elivan Torres. Both kickers were money in the game; Torres was 6-of-6 in extra points, and had that field goal. Axel Romero was 5-of-5 in extra points for Henderson, which led 21-17 at halftime.
Kilgore reclaimed the lead on the second play from scrimmage in the third quarter, a 50-yard run by Mumphrey.
Henderson's Hall-Blanton connection was good again on the Lions' next drive, for 16 yards, and Hall scored for the third time in the game on a 23-yard run. The Lions led again, 28-24, still in the third quarter.
A pass from Jackson to Jonathan Shepherd to Henderson's 2 set up Kilgore's next score, a 2-yard run by Mumphrey that once again gave Kilgore the lead (31-28), and then Henderson's next drive ended in points, as well, another 1-yard run by Hall that gave Henderson the 35-31 edge.
That's when Kilgore took the lead for good, 38-31, and Hall was injured on Henderson's subsequent drive.
Mumphrey finished with 193 yards and the five scores. Jackson was 7-of-9 for 81 yards and the touchdown to Wheat. Shepherd had four catches for 32 yards. Wheat had three for 49. Jaiden Zackery had five carries for 39 yards.
For Henderson, in addition to Hall, Blanton had nine catches for 83 yards and the touchdown. Medford had four catches for 95.
More From East Texas Sports Network