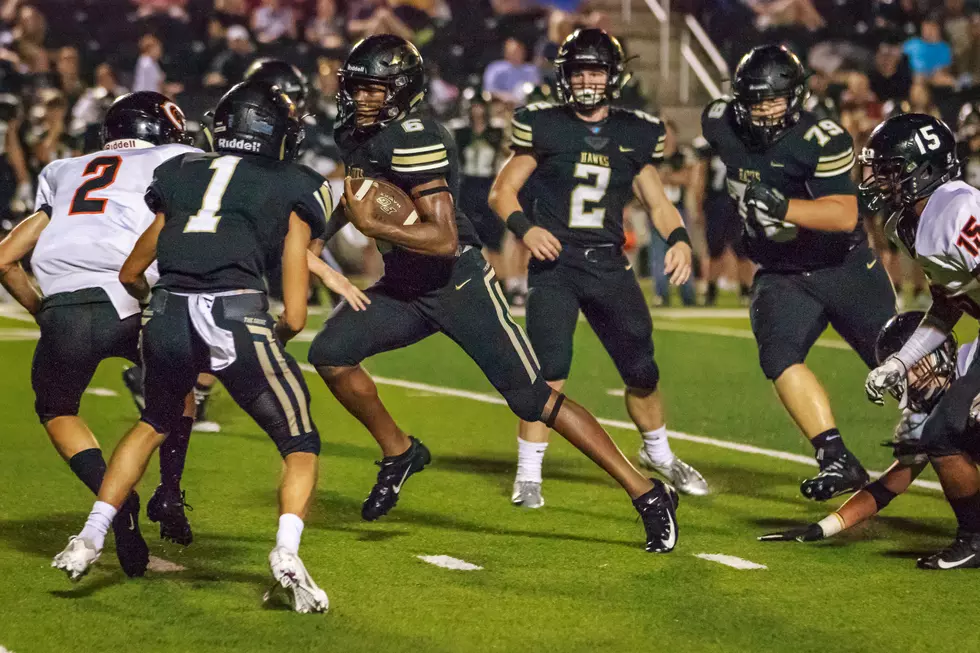 Bruce Garrett + Pleasant Grove Rallies Past Liberty-Eylau, 35-28
(© Danny Gutierrez, ETSN.fm)
TEXARKANA -- Bruce Garrett scored two of Pleasant Grove's two, fourth-quarter touchdowns in its 35-28 comeback win over Liberty-Eylau on Friday night.
Garrett, who ran for 100 yards on the night, scored the game-winner on a 5-yard run with 5:20 remaining, helping the Hawks (7-2, 3-0 in District 6-4A Division II) rally from 21-0 first-half deficit.
The Hawks running back returned a kickoff 80 yards for a touchdown to tie the game, 28-28, with 8:55 to play in the fourth.
Liberty-Eylau (2-6, 1-1) led 21-0 at halftime thanks to a pair of Isaiah Cross touchdown runs and one from Marzavin Riles, who also caught a 67-yard touchdown pass from Cross that gave the Leopards a 28-14 lead just before Garrett's kickoff return.
Cross was 11 of 19 passing for 141 yards, and added 100 yards on 14 rushing attempts in the loss.
Both teams are back in action next Friday night. Liberty-Eylau plays host to Pittsburg, while Pleasant Grove concludes its regular season at Spring Hill.
More From East Texas Sports Network