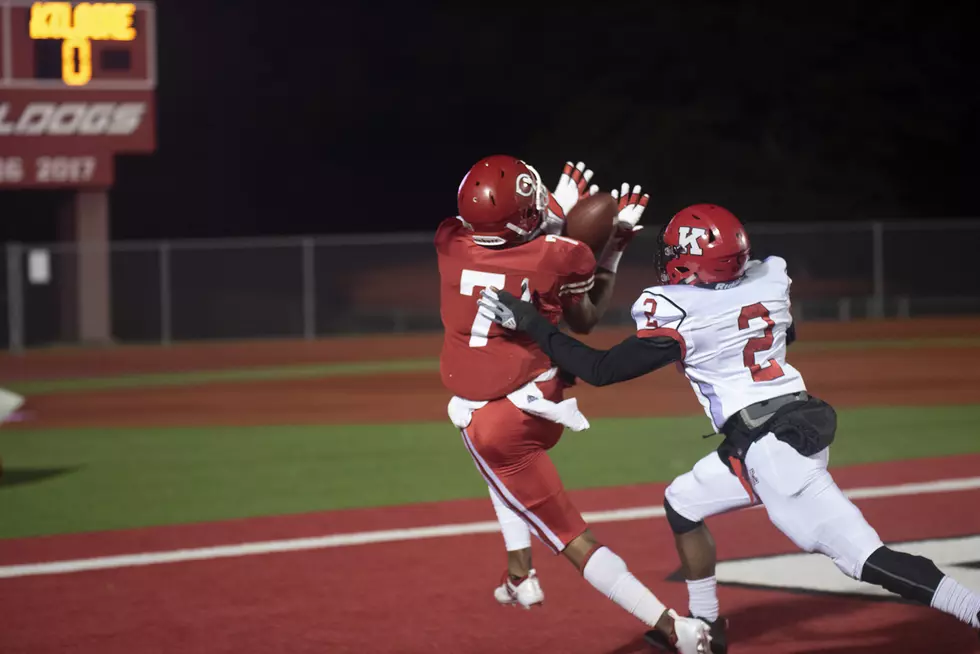 Carthage Defeats Kilgore for 36th Straight Victory
Kel Williams hauls in a touchdown pass from Gunner Capps. (© Bud Worley, ETSN.fm)
CARTHAGE -- Make the consecutive win total for the Carthage Bulldogs 36.
Carthage, winners of the last two 4A Division I state championships, finished up its regular season on a high note, handing visiting Kilgore a 48-23 loss Friday night.
Carthage goes into the postseason with a 10-0 record. 36 straight wins, its most recent loss coming in October 2016. Carthage is the District 10-4A Division I champion and will face Waxahachie Life in the first round of the playoffs.
Kilgore, the last team to beat Carthage, finished 3-7 and is also in the playoffs as the number four seed in the district. The Bulldogs will play Midlothian Heritage in Forney on Friday.
Carthage scored on its first two possessions: a 71-yard drive to open the game that ended on a 5-yard Tucker Smith run, and then after forcing a Kilgore punt, a 13-play, 94-yard drive capped by a 20-yard scoring pass from Gunner Capps to Kel Williams. Capps was on in the game, finishing 19-of-32 for 275 yards and three scores.
Carthage led 14-0 when Kilgore got a big play from senior quarterback Gus Witt, a 58-yard run down to Carthage's 8-yard-line. Witt scored a couple of plays later for a 4-yard touchdown, and Kilgore trailed, 14-7.
Cartahge made it 21-7 on a 2-yard touchdown run by Mason Courtney, who had a big first half and a huge total: 167 yards and two scores on the night.
Kilgore got back within a touchdown on Witt's second scoring run of the game, a 24-yarder, that brought his team within seven (21-14). The big play in the drive was a 52-yard run by A.J. Smith.
Carthage's offense was methodical under Capps, and the Bulldogs would get even more, this time a 3-yard scoring pass from Capps to Hunter Hill. On the extra point, though, Kilgore's Nesba Brown came off the edge for the block. Teammate Donovan Adkins scooped up the ball and raced 90 yards for a two-point play, giving Kilgore back the ball trailing 27-16.
But Kilgore fumbled the ball back to Carthage and another score, a 28-yard run by Ro Garrett.
An interception at midfield by Carthage's Jacorey Ware sent Carthage on another march. Capps looked to have fumbled on a hit by a Kilgore defender, but the play was ruled an incomplete pass. Just a couple of plays later, Courtney had Carthage down to the Kilgore 15, and a pass interference call gave the Bulldogs first-and-goal at the Kilgore 2, but with just two seconds left in the half, and no time outs.
Carthage elected to go for the touchdown and pretty much ice the game -- they got it, a 2-yard run by Courtney that sent the game to the half with Carthage in front, 41-16.
Each team had one second-half touchdown: a 60-yard pass play from Capps to Smith that gave Carthage a 48-16 edge, and then a 46-yard fumble return for a touchdown by Brown for Kilgore's final score.
More From East Texas Sports Network