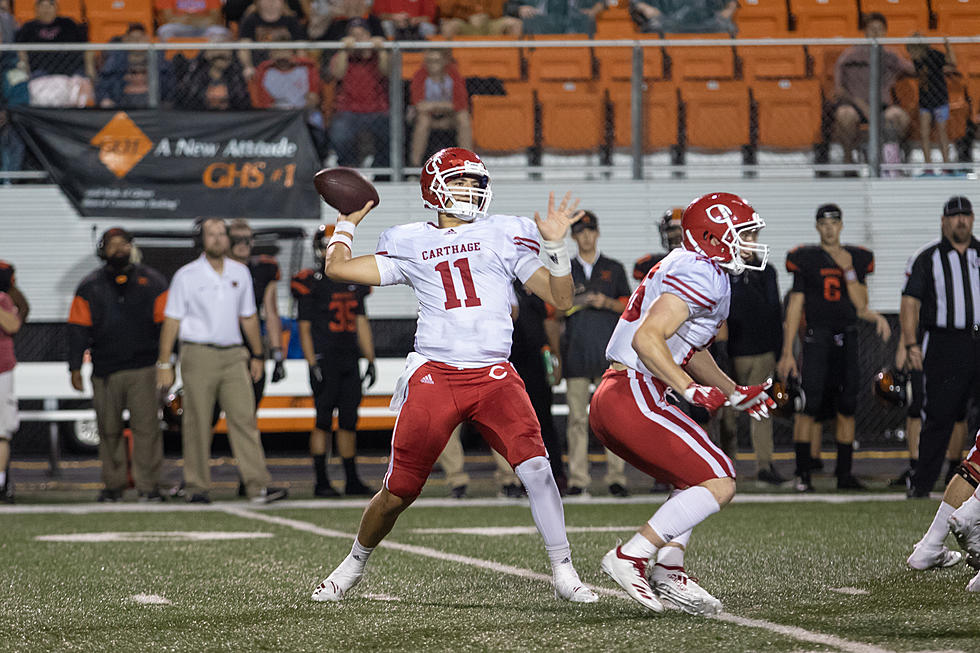 Carthage Makes Statement With Blowout of Gilmer, 66-14
Gunner Capps sets back to pass in Carthage's 66-14 victory against Gilmer on Friday. (Ruel Felipe)
GILMER -- Carthage needed only a few seconds to begin building its lead Friday.
Roshabrius Garrett received the opening kickoff and raced 85 yards for a touchdown to put Carthage ahead of Gilmer on the first play. The Bulldogs would stay in front the rest of the game, earning a 66-14 victory.
No. 1 Carthage (4-0) dominated the game in every facet, scoring 28 unanswered to start the game and 35 by the end of the first quarter. It would take a 52-7 advantage into halftime and play its second team for the entirety of the second half.
Garrett's touchdown set the tone for it all.
"It was electric," Garrett said. "It was a tough read. They were coming in on me and I had to break a couple of tackles. Then it was over with. That's all she wrote."
Garrett also caught a touchdown on fourth down to open the second quarter. It was a breakout game for the senior, who hadn't scored a touchdown this season prior to Friday's game.
"He's probably our fastest guy on the team," coach Scott Surratt said. "A lot of people don't know that. He was a powerlifting champion. I didn't think anybody would catch him. It definitely was a breakout game for him."
Garrett wasn't the only Bulldog to have a big impact on the game. Gunner Capps, who sat the entire second half, finished 17-of-23 for 309 yards and three touchdowns.
His first touchdown came on a swing pass to Kelvontay Dixon, who ran 12 yards to the end zone. He also had two in the second quarter, the 34-yard strike to Garret and then a 44-yard throw to Baylor Colle the ensuing drive.
There were four Carthage receivers who finished with 40 yards or more and eight who had a reception.
"We dominated up front," Surratt said. "When you dominate up front, you can run the ball whenever you choose. You stay balanced."
The large halftime lead allowed Carthage to play many younger players. Sophomore Mason Courtney ended up as the Bulldogs' leading rusher with 51 yards and backup quarterback Anthony Wilson tossed a 14-yard touchdown pass to junior Cartrell Fulton late in the third quarter.
"It's always huge to get your younger guys some playing time," Surratt said. "We got a lot of young guys playing tonight and I thought they played very well."
The Carthage defense was suffocating all night, holding Gilmer quarterback Mason Hurt to 9-of-28 for 141 yards, two touchdowns and three interceptions. Tra Fluellen was the lone bright spot, finishing with three receptions for 76 yards and a touchdown.
Gilmer (2-2) will try to bounce back when it faces Newton at 7:30 p.m. Friday in Newton. Carthage has a bye next week before facing Pleasant Grove at 7:30 p.m. on Oct. 5 in Carthage.
Carthage 66, Gilmer 14
At Jeff Traylor Stadium, Gilmer
Carthage         35    17    14    0    --    66
Gilmer          7      0   7   0        –    14
First Quarter
CAR – Roshabrius Garrett 85 yard kick return (Luis Piedra kick), 11:45
CAR – Tucker Smith 27 run (Piedra kick), 9:11
CAR – Kelvontay Dixon 12 yard pass from Gunner Capps (Piedra kick), 5:35
CAR – De'Aundrey Bowman recovers blocked punt (Piedra kick), 4:56.
GIL – Tra Fluellen 41 pass from Mason Hurt (Adan Ibarra kick), 4:00.
CAR – Smith 1 run (Piedra kick), 1:39.
Second Quarter
CAR – Garrett 34 pass from Capps (Piedra kick), 11:52.
CAR – Baylor Colle 44 pass from Capps (Piedra kick), 8:08.
CAR – Alberto Garcia 22 kick, 0:00.
Third Quarter
CAR—Cartrell Fulton 14 pass from Anthony Wilson (Piedra kick), 8:22.
CAR--Jaden Thomas 5 run (Piedra kick), 4:13.
GIL--Jaydon Griffin 28 pass from Hurt (Ibarra kick), 1:21.
                                           CAR                   GIL
First Downs                          14                      6
Total Yards                           433                   197
Rushes-Yards                  32-110             19-56
Passing Yards                       323                  141
Comp.-Att.-Int.                 20-28-0              9-28-3
Punts-Avg.                       2-38.0              3-36.7
Fumbles-Lost                         2-1                  2-0
Penalties-Yards                     4-37                4-35
INDIVIDUAL STATISTICS
RUSHING—Carthage, Mason Courtney 7-51, Tucker Smith 6-40, Jaden Thomas 9-37, Bobby Williams 4-3, Jackson Blissett 1-0, Team 3-(-3), Anthony Wilson 1-(-6), Gunner Capps 1-(-12). Gilmer, Darryl Bush 6-25, Davion Smith 7-17, Christian Fluellen 1-13, Mason Hurt 2-6, DJ Shead 2-2, Jaydon Griffin 1-(-7).
PASSING—Carthage, Capps 19-27-0--309, Anthony Wilson 1-1-0--14. Gilmer, Hurt 9-28-3—141.
RECEIVING—Carthage, Kelvontay Dixon 4-74, Kel Williams 4-69, Baylor Colle 2-52, Kaden Holcomb 3-40, Roshabrius Garrett 1-34, Tucker Smith 4-31, Cartrell Fulton 1-14, Mason Courtney 1-9. Gilmer, Tra Fluellen 3-76, Jaydon Griffin 2-49, DJ Shead 2-7, Parker Dodd 1-6, Darryl Bush 1-3.
More From East Texas Sports Network