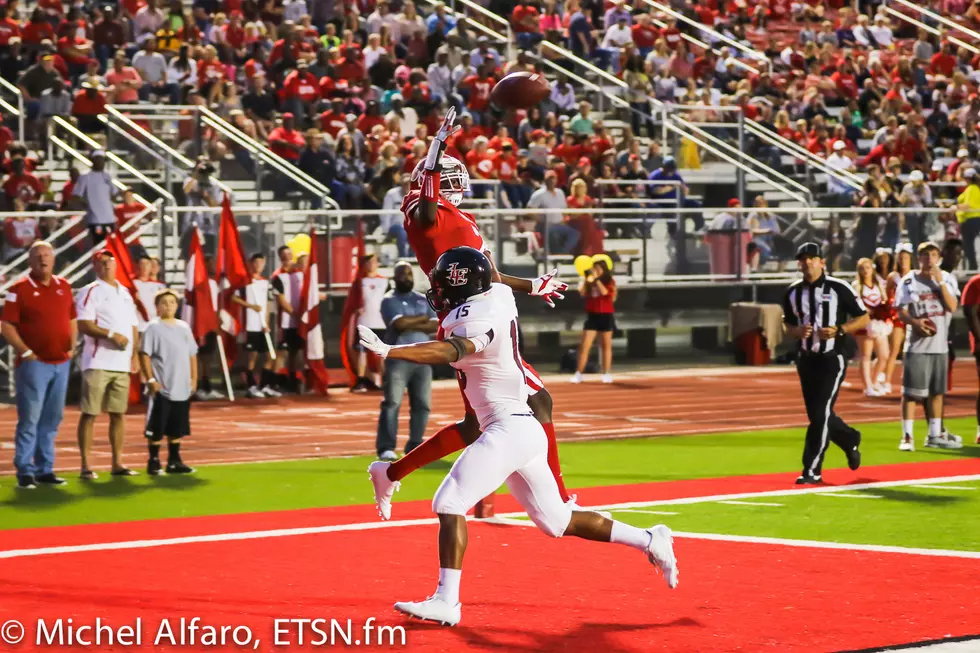 Carthage Wins Shootout With Liberty-Eylau
Dewaylon Ingram makes a one-handed grab against Libery-Eylau on Friday. Sunday, He added Sam Houston State to list of schools that have offered him.(© ETSN.fm)
CARTHAGE – When the fourth quarter began, it was anyone's game.
Carthage led by a field goal, but had no timeouts. All game it had traded blows with Liberty-Eylau, and it didn't seem like things were going to change. Then, the Bulldogs took over.
Tucker Smith scored a touchdown to increase the lead. Darrian Ingram came up with a sack and the defense got a stop.
The Bulldogs milked the clock, scored again and cemented themselves as the victor, winning 48-38.
Offense shined and defense took a backseat as the teams combined for 756 yards. Forcing turnovers was the only thing the defenses seemed to accomplish. There were six turnovers between the two teams.
Other than that, players such as Dewaylon Ingram, who finished with 100 yards receiving and two touchdown catches, stole the show.
Carthage coach Scott Surratt said his team knew this game had shootout potential.
"We knew how talented they were offensively," he said. "We played good defense a lot of snaps and then we got tired a little bit and you saw that. We needed to get them off the field on third down. I was pleased to win and come out with a victory, but we got a long way to go."
Things began with Ingram stretching to make a one-handed grab in the right corner of the end zone to put Carthage up 7-0.
"I work on that in practice a lot, actually," Ingram said. "I saw it coming and it just transferred over to the game."
In the second quarter, Marzavin Riles forced and recovered a fumble that would give Liberty-Eylau opportunity to seize momentum. The Leopards were in danger of failing to convert, but Decorian Phillips found Isaiah Cross on fourth down to keep the drive going.
After the fourth down conversion, Ralph Crabtree scored the first of his three touchdowns, this one from the 1 yard line. Liberty-Eylau held a 17-14 lead, its first of the game.
It would keep that lead until the final second of the quarter. In a moment that shaped the game, Carthage drove 52 yards in 52 seconds. Keaontay Ingram powered it in from the 1 to give the Bulldogs a 21-17 advantage heading into the half.
"It was huge," Surratt said. "I thought we did a good job there. It was a big play by Dee Bowens and then Keaontay finished it there at the end."
The Bulldogs opened the second half with a touchdown catch from Bowers and never trailed again.
Although Liberty-Eylau lost, it can take solace in the fact it has competed with the state's best in back-to-back weeks. Phillips threw for 230 yards and ran for 63 more. Isaiah Cross had 115 yards receiving. Crabtree ran for 100 yards to go with his three touchdowns. The Leopards will be fine.
As for Carthage, they remain the top team in the state. Surratt said the Bulldogs still have a long way to go, though. He called the play "sloppy," as evidence by the three turnovers. The Bulldogs will need to fix issues quickly, as they are slated to face Whitehouse at 7:30 p.m. Friday.
Carthage 48, Liberty-Eylau 38
At Bulldog Stadium, Carthage
Liberty-Eylau      10    7      14     7    --    38
Carthage         14      7      13      14    --    48
First Quarter
CAR--Dewaylon Ingram 13 pass from Gunner Capps (Alberto Sigala kick), 7:32.
LE--Kelston Joseph 1 run (Steven Goben kick), 5:24.
CAR--Mekhi Colbert 34 pass from Capps (Sigala kick), 4:57
LE--35 field goal from Goben, 0:55
Second Quarter
LE--Ralph Crabtree 1 run (Goben kick), 5:03.
CAR--Keaontay Ingram 1 run (Sigala kick), 0:00.
Third Quarter
CAR--Dee Bowen 10 pass from Capps (Sigala kick), 6:49.
LE--Crabtree 23 run (Goben kick), 4:57.
CAR--8 pass Dewaylon Ingram (kick failed), 2:34.
LE--Decorian Phillips 12 run (kick Goben), 0:28
Fourth Quarter
CAR--Tucker Smith 7 run (Sigala kick), 10:34.
CAR--Mykel Gates (Sigala kick), 3:20.
LE--Crabtree 5 run (Goben kick), 1:24.
                                    LE               CAR
First Downs                      19               21
Total Yards                      368            388
Rushes-Yards            31-138       40-148
Passing Yards                   230            240
Comp.-Att.-Int.           17-36-2       18-33-2
Punts-Avg.                  3-31.0       1-37.0
Fumbles-Lost                   1-1            2-1
Penalties-Yards             4-25           6-65
INDIVIDUAL STATISTICS
RUSHING--Liberty-Eylau, Ralph Crabtree 16-100, Decorian Phillips 10-63, Kelston Joseph 3-5, Isaiah Cross 1-(-2), Team 1-(-28). Carthage, Keaontay Ingram 19-82, Tucker Smith 12-44, Kelvontay Dixon 3-31, Mekhi Colbert 1-3, Mykel Gates 1-2, Team 4-(-14).
PASSING--Liberty-Eylau, Phillips 17-36-2--230. Carthage, Capps 18-33-2--240.
RECEIVING--Liberty-Eylau, Cross 7-115, Dazawion Cooper 4-64, Mahleik Darty 3-33, Crabtree 2-12, El-Amin Greer 2-11. Carthage, Dewaylon Ingram 8-100, Dee Bowens 5-101, Mekhi Colbert 2-45, Keaontay Ingram 2-2, Kelvontay Dixon 1-8.
More From East Texas Sports Network