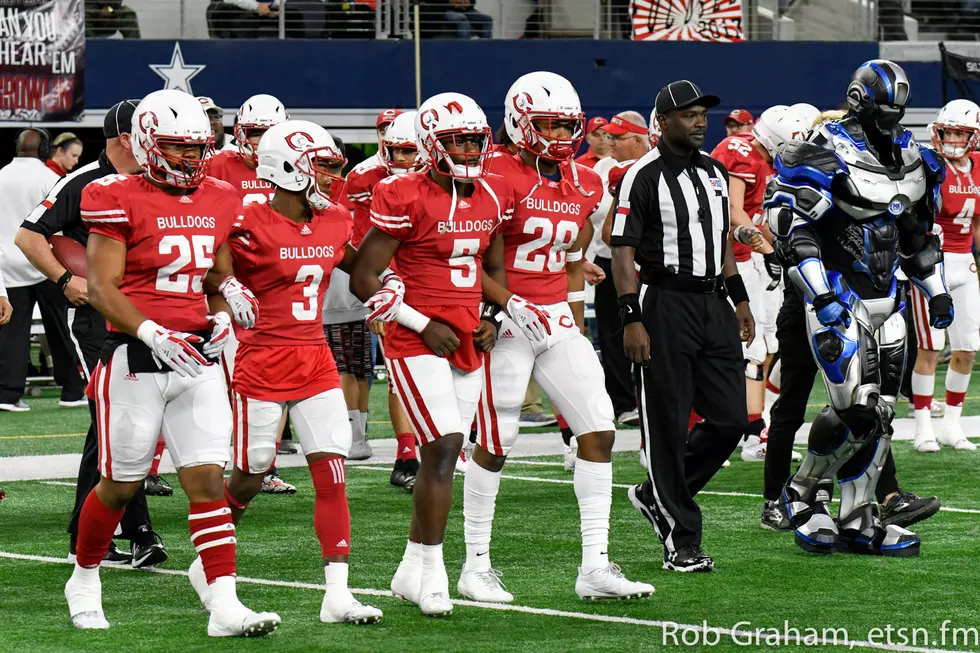 Carthage's Kelvontay Dixon Receives Arkansas Offer
(© ETSN.fm)
Carthage, Texas, is constantly turning out quality football players.
Kelvontay Dixon could be the next big name. Dixon, a 2020 RB/DB for the Bulldogs, posted via Twitter on Monday that Arkansas became the latest school to offer him.
Dixon, the younger brother of Bulldog RB and Texas commit Keaontay Ingram, spent most of 2017 sidelined. He injury his ankle in the second game of the season against Liberty-Eylau.
Still, Dixon has generated a lot of buzz, with offers already from Baylor, Colorado, Oklahoma State and TCU. A solid junior campaign could catapult him into the realm of high-profile recruits for his class.
Arkansas finished the 2017-18 season with a record 4-8. The Razorbacks compete in the SEC. They are entering their first season with Chad Morris as coach. Morris came from SMU, where he brought Jeff Traylor as associate head coach. Traylor, the former coach for Gilmer, is the primary East Texas recruiter for Arkansas.
Dixon, like all sophomores, is first eligible to sign with any team that offers him beginning in December 2019.
2020 East Texas Football Players With Division I FBS Offers
Kelvontay Dixon, Carthage, ATH, 5-11, 160 — offers from Arkansas, Baylor, Colorado, Oklahoma State, TCU, Texas (6)
Khalan Griffin, Chapel Hill, QB/ATH, 5-11, 180 — offer from Texas State (1)
Tren Jones, Arp, ATH, 6-0, 170 — offer from Baylor (1)
Haynes King, Longview, QB, 6-2, 170 -- offers from Houston, Louisiana Tech, ULM (3)
Ja'Lynn Polk, Lufkin, WR, 6-2, 170 — offer from Illinois (1)
James Sylvester, Newton, DE, 6-4, 215 — offers from Arkansas, Baylor (2)
Jerrin Thompson, Lufkin, S, 6-0, 170 -- offers from Arkansas, South Florida (2)
More From East Texas Sports Network