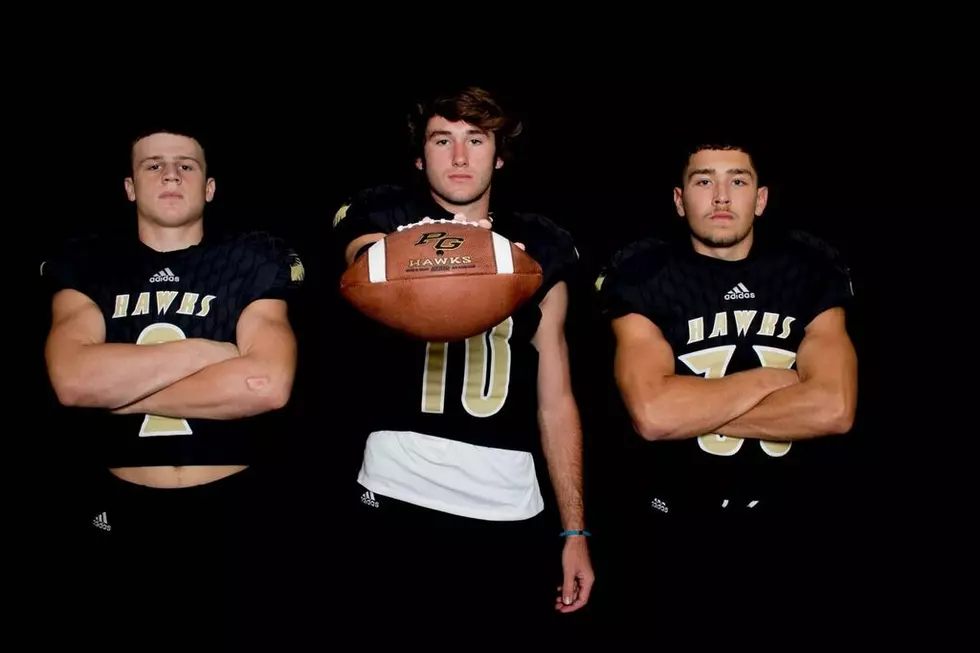 District 6-4A Division II Preview: Defending Champ Pleasant Grove + Gilmer At the Top
Pleasant Grove's (from left) Bruce Garrett, Ben Harmon, and James Wiggins. (© Clint Buckley, ETSN.fm)
The UIL biennial realignment and reclassification back in February caused addition by subtraction in terms of the new District 6-4A Division II.
The enrollment numbers for Atlanta and Gladewater pulled each of them down to 3A. Gilmer, Pleasant Grove, Pittsburg, and Spring Hill stayed put, but the foursome welcomed new member Liberty-Eylau, which dropped down from 4A Division I.
L-E has gone at least three rounds deep in the playoffs in three of the last four years, so a case can be made the new district has made an upgrade.
Pleasant Grove won its first-ever state football championship last season, Gilmer is an incredible 38-6 the last three years, and Pittsburg has most of its impact players coming back.
And don't discount Spring Hill, which got off to a 5-0 start in 2017. The Panthers lost all five district games, but four of those defeats came by a total of 13 points.
Five quality teams call this district home, and one of them will be on the outside looking in after the regular season.
District 6-4A Division II Preview
PLAYMAKERS
WR/DB Morgan Bradford, Sr., Spring Hill
LB Vaughan Bufkin, Sr., Spring Hill
WR/S Keontae Burns, Sr., Pittsburg
DT Marcus Burris, Soph., Pleasant Grove
WR/DB Dazawion Cooper, Sr., Liberty-Eylau
QB/WR Isaiah Cross, Sr., Liberty-Eylau
WR/DB Tra Fluellen, Sr., Gilmer
RB Bruce Garrett, Jr., Pleasant Grove
WR/DB El-Amin Greer, Sr., Liberty-Eylau
WR/CB Keithlen Griffin, Sr., Pittsburg
DE Landon Jackson, Soph., Pleasant Grove
QB/CB Jaylon Jimmerson, Sr., Pittsburg
OL Devon King, Jr., Gilmer
RB/DB Bran Webb, Sr., Gilmer
QB Gage White, Jr., Spring Hill
TOP GAMES
Jefferson at Pittsburg, Aug. 30
Gilmer at Newton, Sept. 28
Pleasant Grove at Carthage, Oct. 5
Spring Hill at Liberty-Eylau, Oct. 19
Pleasant Grove at Gilmer, Oct. 19
1. Pleasant Grove Hawks
Coach: Josh Gibson
2017 finish: 16-0 (4A Division II champion)
Returning starters: 3 offensive, 4 defensive
Players to watch
DE Landon Jackson, Soph., 6-5, 222
DT Marcus Burris, Soph., 6-4, 240
RB Bruce Garrett, Jr., 5-11, 187
QB Ben Harmon, Jr., 6-1, 185
CB Tyler Kelley, Sr., 5-6, 155
LB Caleb Hemphill, Sr., 6-0, 190
OL Connor Stanfill, Jr., 6-1, 250
OL/DL Cameron Weekley, Soph., 5-11, 300
Offense: Graduation took away eight offensive starters, so replicating last year's points-per-game average of 43.4 could be difficult. Most of the losses occurred along the offensive line, which was without a doubt the biggest strength of the Hawks' offense in 2017. Big things will be expected from junior Connor Stanfill and sophomore Cameron Weekley up front. PG also lost two 1,000-yard rushers and its leading receiver, so finding new playmakers will be a big priority for the Hawks in the early going. Quarterback Ben Harmon is back after passing for more than 2,000 yards and 28 touchdowns as a sophomore. Running back Bruce Garrett will be the featured back in 2018 after he went for 1,031 yards and 10 touchdowns last year as a sophomore.
Defense: The Hawks lost several impact players on the defense as well, most notably linebacker and Texas Tech signee Xavier Benson. PG also graduated big defensive linemen Drake Fowler, Austin Toler, and Nick Gavriel, linebacker Caleb Porchia, and defensive backs Chauncey Martin and Cameron Wells. Pleasant Grove does, however, bring back a couple of dynamic defensive linemen in sophomores Landon Jackson and Marcus Burris. Those two represent arguably the best pass-rushing duo at the 4A level in all of East Texas. The Hawks allowed a little more than 16 points per game in 2017, but it will be a challenge to do that again this fall with so many newcomers on the field.
2018 outlook: Pleasant Grove took the state by storm, rolling to a dominant 16-0 season and its first-ever state football championship in 2017. Many of the players responsible for the breakthrough season have graduated, so this year will be a test of the program's stability. Will the Hawks continue their newfound success or revert back to past years? Fortunately for head coach Josh Gibson, there are enough pieces in place from last season to make another run at a district championship. What will make the difference between a league title contender and a challenger for the state crown will be how quickly the new players step into their new roles. One thing is for sure: Pleasant Grove's non-district schedule should get the Hawks ready. Before play begins in 6-4A Division II, Pleasant Grove has games against Paris, Henderson, Atlanta, Gladewater, Chapel Hill, and defending 4A Division I state champion Carthage.
2. Gilmer Buckeyes
Coach: Matt Turner
2017 finish: 10-3 (4A Division II regional semifinalist)
Returning starters: 4 offensive, 5 defensive
Players to watch
RB/DB Bran Webb, Sr., 5-10, 175
WR/DB Tra Fluellen, Sr., 6-3, 185
OL Devon King, Jr., 6-3, 338
DL Abel Euceda, Sr., 6-0, 190
RB/DB Larry Montgomery, Sr., 5-10, 175
LB Brandon Legan, Sr., 6-2, 175
OL Blake Olivares, Jr., 5-10, 280
WR/DB Parker Dodd, Sr.
Offense: The Buckeyes lost seven offensive starters to graduation, including record-breaking quarterback Aaron "Poppy" Brown, who passed for more than 8,500 yards and 75 touchdowns the previous two years. The new quarterback job will go to either senior Cade Camp or sophomore Mason Hurt. Whoever wins the job will have a couple of exciting playmakers at their disposal. Senior running back Bran Webb, who transferred in from Aledo before last season, had a big 2017 with more than 1,700 yards from scrimmage and 29 touchdowns. Receiver Tra Fluellen has Division I potential, and should easily surpass last year's numbers of 26 catches, 301 yards, and one touchdown. Juniors Devon King and Blake Olivares will anchor the offensive line.
Defense: It was not a great year last season for the Gilmer defense, which allowed opponents an average of almost 34 points per game. Five defensive starters return, including lineman Abel Euceda, along with Webb and Fluellen, who double as standout defensive backs. But many more players will need to emerge in order for Gilmer's defense to take a step in the right direction.
2018 outlook: Since winning the 2014 state championship, Gilmer has been good, compiling an overall record of 38-6. However, some consider a three-year drought of reaching the state title game as a disappointment in Gilmer. Last season, the Buckeyes failed to win their district, dropping a decision to eventual state champion Pleasant Grove, Gilmer's first home loss in district since 2001. With more than half of last year's starters gone to graduation, the Buckeyes will need several newcomers to assume roles as impact players. Like always, a strong non-district schedule should set Gilmer up for another successful run in district. The Buckeyes begin the year with games against Atlanta, Van, Paris, Carthage, Newton, and Bullard.
3. Pittsburg Pirates
Coach: Brad Baca
2017 finish: 6-5 (4A Division II bi-district finalist)
Returning starters: 8 offensive, 7 defensive
Players to watch
WR/S Keontae Burns, Sr., 6-3, 185
QB/CB Jaylon Jimmerson, Sr., 6-1, 190
WR/CB Keithlen Griffin, Sr., 6-0, 160
LB Camryn Edney, Sr., 6-0, 208
LB/FB Mason Monts, Sr., 5-10, 175
OL/DL Trace Reynolds, Soph., 6-3, 250
OL/DL Keilyn McCain, Sr., 6-3, 330
RB Jordan Turner, Sr., 5-9, 195
Offense: Pittsburg should feel great about its offense coming into the 2018 season. The Pirates averaged a little more than 28 points per game last year, but with eight offensive starters coming back, expect that number to rise significantly. Senior quarterback Jaylon Jimmerson is one of the top dual-threat quarterbacks in East Texas. Last season, he accounted for more than 2,000 yards and 29 touchdowns. Receivers Keontae Burns and Keithlen Griffin represent a dynamic pass-catching duo after the two combined for 1,063 yards and 13 touchdowns in 2017. Running back Jordan Turner returns as well after he produced a 1,000-yard season and rushed for eight touchdowns. He'll be running behind a big offensive line led by Keilyn McCain and Trace Reynolds.
Defense: The Pirates must make big strides on the defensive side of the ball after they allowed an average of almost 33 points per game last season. With seven defensive starters returning, there's a good chance improvement is on the way. Pittsburg graduated sacks leader Cody Jones, but expect a big season on the defensive line from Camryn Edney, and strong linebacker play from Mason Monts and Antwon Robertson. The secondary will be a strength with Jimmerson and Griffin locking down the cornerback spots, and Burns patrolling the middle of the field at free safety.
2018 outlook: Pittsburg has more returning starting experience than any team in the district, so the Pirates could be primed for their best season in the four years under head coach Brad Baca. Last season, Pittsburg's two district losses came to Pleasant Grove and Gilmer by a combined 33 points. The Pirates are hopeful their experience advantage plays a big role in shrinking the gap between Pittsburg and the district's top two teams. Depth will be the biggest key for the Pirates, who will have multiple players start on both sides of the ball, including their best three offensive players -- Burns, Jimmerson, and Griffin. Pittsburg will need to come out of its non-district games against Jefferson, Pine Tree, Tatum, Van, Kilgore, and Rusk healthy.
4. Liberty-Eylau Leopards
Coach: Steve Wells
2017 finish: 7-6 (4A Division I regional semifinalist)
Returning starters: 4 offensive, 5 defensive
Players to watch
WR/DB Dazawion Cooper, Sr., 6-3, 180
WR/DB El-Amin Greer, Sr., 6-2, 184
QB/WR Isaiah Cross, Sr., 6-1, 166
RB/ATH Cedric Dickerson, Sr., 5-10, 178
OL/DL Connor Green, Sr., 6-0, 254
DB/ATH Dominique Williams, Sr., 5-7, 145
LB/RB Marzavin RIles, Sr., 5-9, 175
RB/DB Damian Henderson, Soph., 5-9, 180
Offense: It won't be easy to replace graduated quarterback Decorian Phillips, who accounted for 4,164 yards of offense and 45 touchdowns in 2017. Six other offensive starters are gone as well, so Liberty-Eylau has some re-tooling to do on offense. Isaiah Cross, who played receiver last year, split time two years ago at quarterback, will get a shot to fill the position. A couple of special playmakers at receiver will help the transition as Division I recruits El-Amin Greer and Dazawion Cooper give L-E the ability to stretch the field vertically. The running back position is deep and will be occupied by the likes of Cedric Dickerson, Damian Henderson, and Marzavin Riles. Most of the offensive line were seniors a year ago, so it will be up to Connor Green to lead the way up front.
Defense: Liberty-Eylau allowed almost 38 points per game in 2017, so improvement on the defensive side of the ball will be a big priority. The Leopards have five defensive starters returning, but the newcomers will have to come in and perform right away if L-E is to find the significant progress it desires.
2018 outlook: Liberty-Eylau has reached at least the third round of the playoffs in three of head coach Steve Wells' four seasons at the helm. Graduation did a number on the Leopards on both sides of the ball, so L-E will need the newcomers to contribute immediately if it is to go on another deep playoff run. Dropping down to 4A Division II should help Liberty-Eylau compete not only in its new district but in the postseason as well. The Leopards might have the toughest non-district schedule in all of East Texas with games against Arkansas High, Carthage, Texas High, Atlanta, Argyle, and Liberty-Eylau to begin the 2018 season.
5. Spring Hill Panthers
Coach: Kelly Mercer
2017 finish: 5-5
Returning starters: 5 offensive, 5 defensive
Players to watch
QB Gage White, Jr., 6-0, 180
LB Vaughan Bufkin, Sr., 5-7, 193
WR/DB Morgan Bradford, Sr., 5-10, 173
RB/DB Daryn Beck, Sr., 5-10, 165
DT/OL Malik Cooks, Jr., 6-0, 230
DE RIchey Matkin, Sr., 6-2, 200
WR/DB Sawyer Smith, Sr., 5-7, 150
OL Trenton Arrington, Sr., 6-4, 240
Offense: Spring Hill had one of the most explosive offenses in East Texas last season as it averaged a whopping 47 points per game. Most of the Panthers' rushing production from 2017 graduated as it did Spring Hill's top two receivers. Fortunately for the Panthers, quarterback Gage White returns following a successful sophomore campaign. He'll be surrounded by receivers Morgan Bradford and Sawyer Smith, and running back Daryn Beck. Size up front could be an issue, but senior Trenton Arrington and junior Malik Cooks will serve the offensive line well.
Defense: Last season, opponents averaged 33 points per game on the Spring Hill defense. Five starters on that side of the ball return, including standout linebacker Vaughan Bufkin, who is among the top players at his position in the district. Defensive end Richey Matkin and Cooks give Spring Hill some physicality up front. Depth and size could be a concern on defense, so maintaining health will be paramount to Spring Hill's hopes on the defensive end.
2018 outlook: Spring Hill got off to a hot start in 2017, winning its first five games by an average of 34.6 points. But the Panthers couldn't keep the magic going in district, ending the year on a five-game losing streak. It's not that Spring Hill was not competitive; it lost four of those contests by a total of 13 points, including one in overtime. There was a bright side, however, as Spring HIll's five wins in 2017 were its most in 10 years. The Panthers have their best offensive and defensive player returning, and the Kelly Mercer era is entering its fourth year. If Spring Hill is to end its 11-year playoff drought, this could be its best chance in a while.
More From East Texas Sports Network