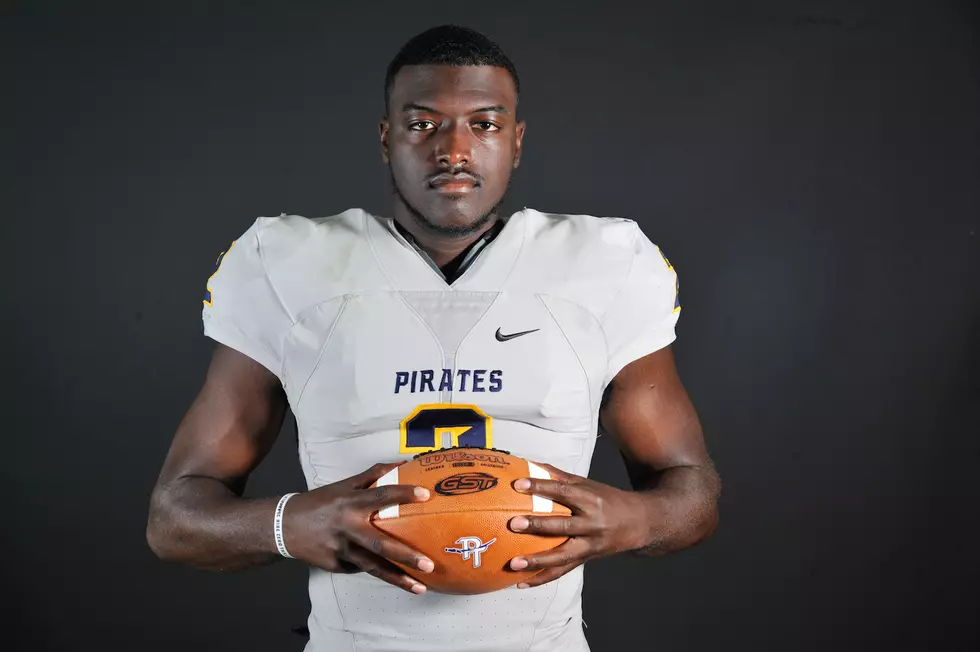 East Texas 25: No. 10 Keshon Williams, ATH, Pine Tree
Pine Tree's Keshon Williams. (© Rob Graham, ETSN.fm)
Kerry Lane didn't know what to expect when he took the Pine Tree job two years ago.
Lane came from Gilmer, where he was the passing coordinator and receivers coach, to become the new coach of the Pirates. He knew of Keshon Williams, a stocky kid he watched show flashes of brilliance against the Buckeyes as a freshman, but had never met him.
That summer, Williams was absent from workouts the first week or so, odd considering he was in the midst of a three-way battle for the starting quarterback position. Lane received a call from an unknown number one day and picked it up to hear Williams' voice on the other line.
"Look, I haven't been to summer workouts, but it's not because I'm lazy," Williams said. "I'm playing baseball and I've been out of state. I'll be back next week."
The call took Lane aback. Firstly, he was unsure of how Williams had got his number. More than that, he was impressed by the maturity of the sophomore.
Later that summer, Lane invited Williams and two seniors to his house to introduce himself and set expectations for the season. Williams walked into the house after having been fishing. He wore cowboy boots and jeans and had a knife strapped to his hip.
Lane remembers Williams being good with his two sons, playing with them and answering their questions about fishing and what the knife was used for. He saw himself.
"It was good for me being a small town country kid that one of my leaders is the same kind of kid," he said. "Both of my boys wear No. 2 because they wanna be Keshon."
Williams said when he isn't working on football or one of the other sports he plays, he's usually visiting his grandparents in Mount Pleasant. He likes to fish with his grandfather, who taught him how.
"My grandpa raised me up doing those kind of things," Williams said. "You have nothing else to do out in the country."
Williams became one of the leaders for Pine Tree in Lane's inaugural season. Because he bought in to Lane's system, so did the rest of the team. In his second season, the Pirates made the playoffs.
In Lane's eyes, Williams had plenty to do with that. It's hard to argue against that. As a junior, he set the school record for rushing touchdowns in a season with 18.
"You've got kids that have been through three head coaches, it's hard for them to trust and do the work," Lane said. "Keshon from day one was like, 'We want to win. You tell us what to do and we'll do it.' Ten years from now, I'm gonna be telling kids at Pine Tree about Keshon Williams buying in."
Colleges started taking notice of Williams (6-4, 230) this offseason. He is already up to 13 offers, including Iowa State, Louisiana Monroe and Southern Miss. In addition to his 18 rushing touchdowns, he ran for 339 yards and also had 194 receiving. He played H-back for the Pirates last season rather than quarterback after a knee injury slowed his running ability.
He said Iowa State, UTSA and Texas State have stuck out the most of the teams to offer him. The Cyclones had a breakout season in 2017, going 8-5 and defeating Memphis in the Liberty Bowl. Williams has gotten to know the coaches well and said the success ISU had only helps its case for him.
"That has a big part of it, but also just the way the coaches have come to me as a player," he said.
He will play the same position this season, but the Pirates won't shy away from using him at quarterback in short yardage situations, Lane said.
"He's a pretty physical kid," Lane said. "He likes to mix it up. 7-on-7 he gets a little frustrated because he's a pretty easy kid to touch, but he's not an easy kid to tackle. He could be a guy that's 250 or 260 and be a banger at tight end or he could be a guy that stays around 240 and be a really good flex guy."
Despite all the attention, Williams remains the same laid-back kid. He is anachronistic in many ways. He prefers to be outside. He doesn't post frequently on social media. This has earned him the nickname "Uncle Keshon" among coaches and teammates.
"He's kind of like the kids' uncle," Lane said. "He's an old soul. He's kind of a country kid. He drives a jacked up truck. He's a typical East Texas kid. It's refreshing that he doesn't crave all this attention."
Williams stays busy during the summer. He still plays baseball and has played summer league basketball in the past. Playing multiple sports gives him opportunities to be in more pressure situations, which ultimately makes him a better competitor.
"Me playing in the outfield and running around keeps me in shape for football," Williams said. "Running and catching the ball helps with hand-eye coordination."
That said, when August rolls around, football will be top priority. The Pirates are happy to have made the playoffs last season, but there is room for improvement in both Williams and the team.
"Breaking down and squaring up all my blocks instead of just running full speed and out of control," he said. "(I'm doing) a lot of a accelerating drills."
More From East Texas Sports Network