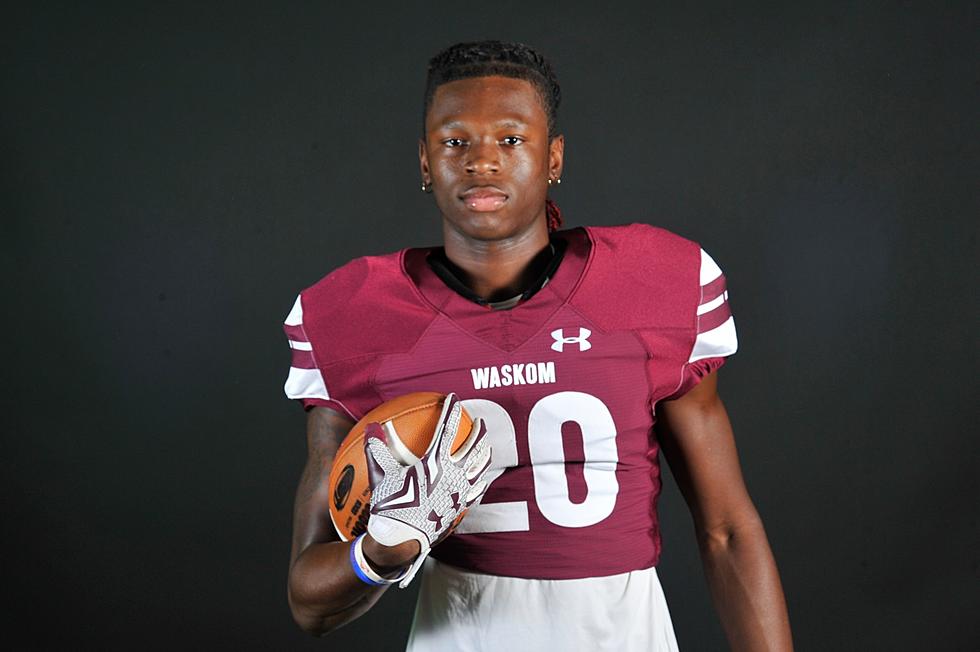 East Texas 25: No. 22 T.K. Hamilton, ATH, Waskom
Waskom ATH TK Hamilton. (© Rob Graham, ETSN.fm)
WASKOM -- T.K. Hamilton hasn't changed.
Hamilton's recruitment has taken off in the past few weeks, earning him offers from Louisiana Monroe, Texas State and UTSA, among other schools. But the Waskom ATH wanted to make clear the recent success hasn't gotten to his head.
"Someone asked me how I wanted to be treated now that I have offers and I didn't really like that question," Hamilton said. "I'm the same person. With or without them, I'd be the same guy. It's a blessing to have them, but it's not going to change who I am. I never feel like I'm better than anybody."
That guy is the one who plays basketball with his cousins. The one offering up advice to his 12-year-old brother, a linebacker already the same size as Hamilton. It's the guy who used to go hunting for raccoons and watch WWE with his grandfather, the man who molded Hamilton into who he is today.
Hamilton's grandfather passed when Hamilton was in fifth grade. The loss was understandably hard for Hamilton, who started acting out.
"I'll be the first to admit I had a terrible attitude," he said. "People tried to give me constructive criticism and I didn't take it well. I had to change my whole mindset about that and realize the people trying to help me were showing me tough love."
It's why now he tries to be a father figure for his younger brother. It's also why he tries to be a leader for his teammates.
Hamilton played defensive back and running back for Waskom this past season as the Wildcats advanced to the regional final. He was the heart of the offense, ranking eighth in East Texas with 1,815 yards rushing and 26 touchdowns.
"He's a very instinctive football player," coach Whitney Keeling said. "He's one of the most intelligent football players I've ever coached. Also just his knack for playing the game. A lot of teams are recruiting him offensively and a lot defensively."
Because Hamilton has offers at both defensive back and running back, it ultimately comes down to which he would like to play more. Keeling said Hamilton has told college recruiters that he "wants to score touchdowns," indicating a desire to play offense.
However, Hamilton said he's willing to play either, if he finds a school he likes.
"I love scoring, but I've always been the type where you can put me wherever you need me and I'll play it to the best of my ability," he said.
Hamilton's best attribute is his speed. He ran a 4.47 40 at the ETSN/APEC combine in May, the second fastest time at the combine. His highlight reel from last season reveals several clips of him sprinting past entire defenses for touchdowns.
"He's the most dynamic back we have," Keeling said. "Any time he has the ball in his hands, he has an opportunity to score."
Hamilton's only downfalls are his pass-catching ability and strength. Waskom operates an offense that doesn't pass much, if at all. So opportunities are few for Hamilton to catch passes out of the backfield. He has been working on that, as well as putting on more weight, this offseason. Hamilton is 5-10 and 166 pounds, but would like to be in the 170-180 range before the season starts, he said.
But he doesn't let his size deter him.
"I play bigger than what I am," Hamilton said. "It takes more than one person to bring me down. You can go look on film."
Opportunities should be aplenty for Hamilton this offseason. He attended a camp at TCU on Friday and will likely have many more this summer. The offers aren't likely to stop any time soon.
For now, he simply intends to soak in the reality of it all. The one he thought about all too often as that boy watching WWE with his grandfather, but wasn't ever certain would actually get here.
"I always dreamed about this," he said. "This has been one of those things when I was younger. When you're with your friends, you always say you're going to get this many offers. When it actually starts to happen, it feels like a dream come true."
More From East Texas Sports Network