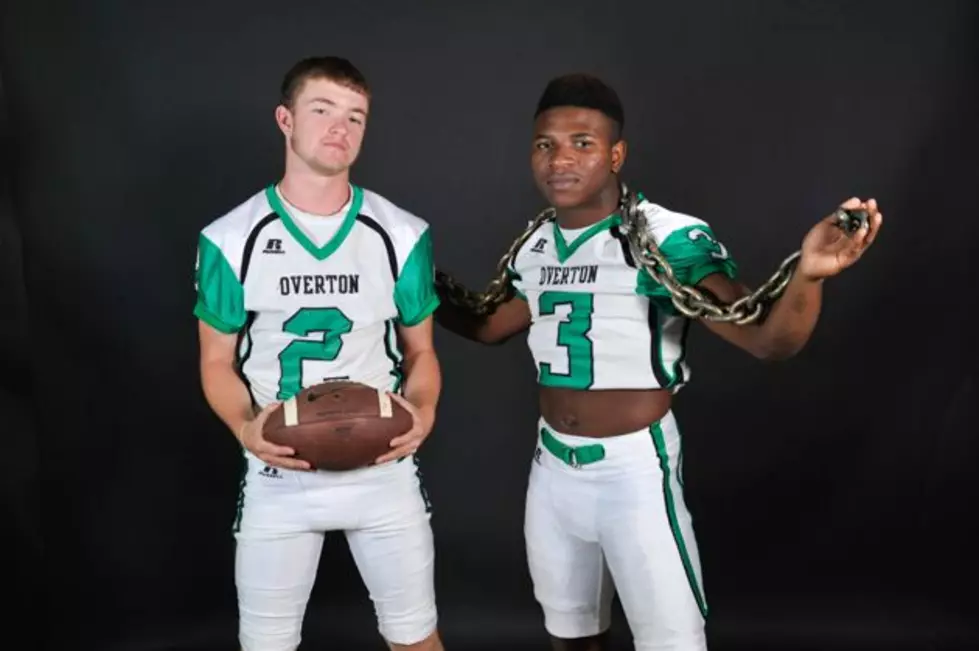 ETSN.fm Class 2A/Private Schools Preseason Poll: No. 10, Overton Mustangs
Overton's Luke Osburn (left) and Joe Clark. (© Rob Graham, ETSN.fm)
Richard Strickland gave Overton its first winning season since 2012 his first year on the job. What will he do for an encore?
We think the Mustangs have a real shot to become one of East Texas' premier Class 2A Division II programs as early as this season. They'll begin the campaign ranked 10th in our Class 2A/Private Schools Poll.
Strickland could do far worse than returning 16 starters from his 8-3, area-finalist team a year ago. Especially considering the squad will once again feature 1,500-yard rusher Joe Clark.
Overton's backfield, a more experienced backfield today, outscored opponents 395-267 a year ago despite the fact it had to compete against a very good Tenaha team in District 11-2A Division II play and then ran across eventual state champion Bremond in the area round.
Of course, defense played a role as well. Linebacker Hudson Rogers is back after a 100-tackle season as is defensive lineman Ashton King. Sixteen of King's 46 takedowns went for loss.
There's no doubt Tenaha on the road in Week 10 will serve as Overton's defining game.
The meeting last season, which Tenaha won by 18 points, was the district's de facto championship game. We don't expect much to be different this season, especially since Tenaha will begin the season as a state favorite for the 2A Division II crown.
Good non-district games against Union Grove and Carlisle should help get the Mustangs ready. Union Grove made the area round of the 2A Division I state playoffs a year ago and Carlisle went four rounds deep on the same circuit.
Overton will be feeling pretty good about itself heading into those games.
ETSN.fm Preseason Class 2A/Private Schools Poll
More From East Texas Sports Network