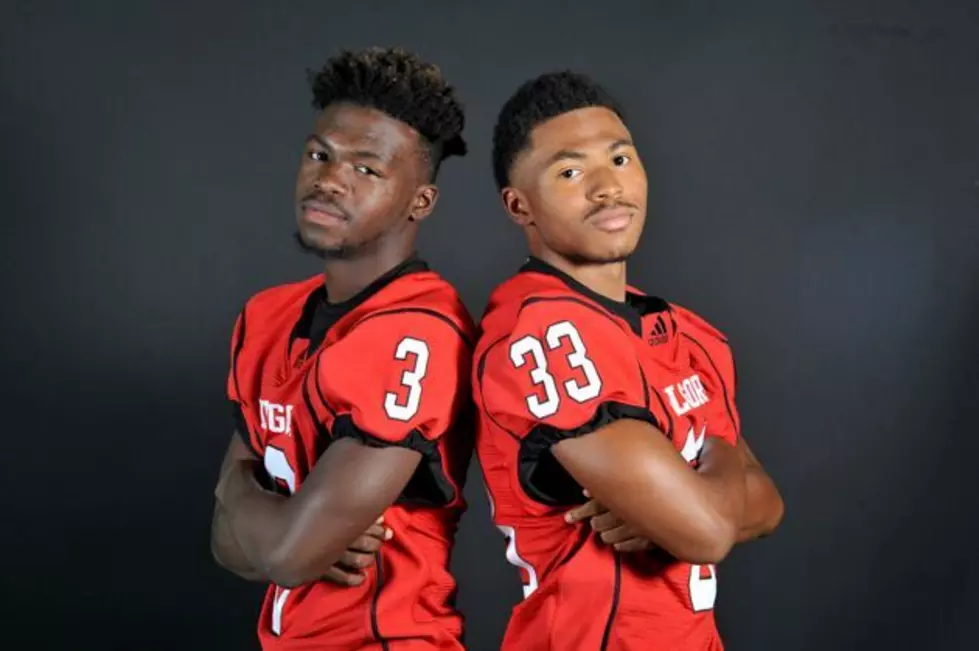 ETSN.fm Preseason Class 4A Poll: No. 3, Kilgore Bulldogs
Kilgore's Patrick "Buddy" Jackson (left) and Isaiah Smith. (© Rob Graham, ETSN.fm)
Here's a team that can spoil your season even during a down year. Here's a program with perhaps its best roster since the 2013 state championship game appearance.
Kilgore will begin the season as our third-ranked team in the Class 4A poll. There's a lot to like about this team beyond the fact 11 starters are returning from a squad that upended eventual state champion Carthage and also got the best of a very good Henderson team for a share of the District 9-4A Division I title.
You name a position group, there's someone noteworthy occupying a spot for the Bulldogs.
Oklahoma State receiver commitment Jonathon Shepherd doesn't get a whole lot of touches in Kilgore's run-oriented offense, but he certainly makes the most of them. The receiver averaged 15.3 yards per reception as a junior just when you thought you had the offense all figured out.
Dual-threat quarterback Patrick Jackson is another of five starters back on offense. He surpassed 2,000 total yards as a junior.
Six starters are back from District 9-4A Division I's third-best defense in terms of total points surrendered. Carthage and Henderson were marginally better and neither squad brings back as much experience.
The Bulldogs will be battle tested even before hopping into the District of Doom. Texas High, Pine Tree and Nacogdoches are on the schedule -- all Class 5A schools -- as is our poll's seventh-ranked Gladewater team.
All that being said, Kilgore has its work cut out for it in league play. Henderson is our fourth-ranked team and you can rest assured Carthage is one of our top two 4A teams.
It's going to be a fun season.
ETSN.fm Class 4A Preseason Poll
More From East Texas Sports Network