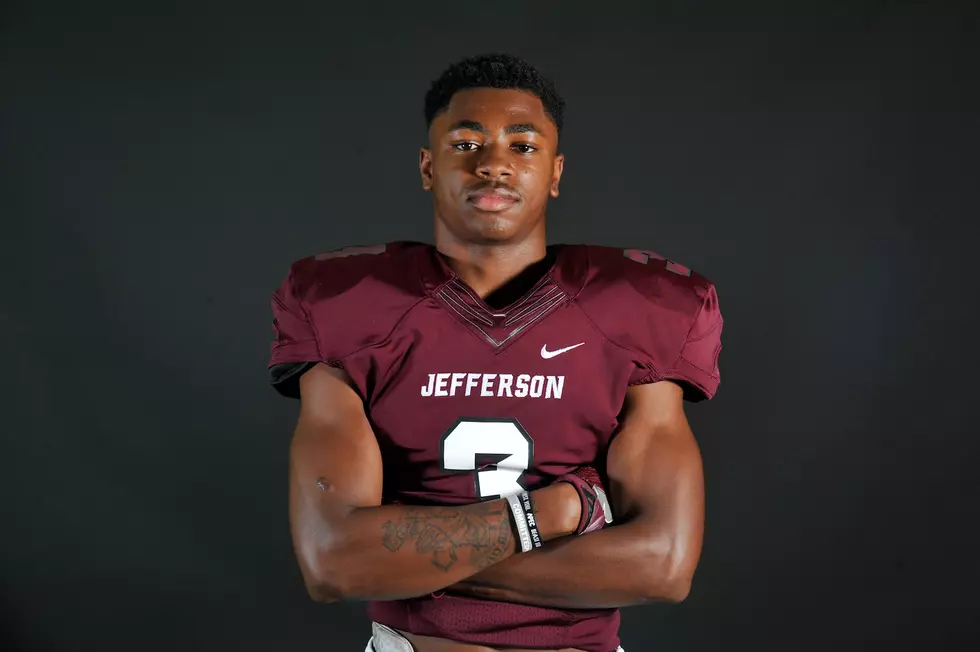 Houston Offers Jefferson's T.Q. Jackson
Jefferson WR T.Q. Jackson. (© Rob Graham, ETSN.fm)
One of the top playmakers in all of East Texas has added a new Division I FBS scholarship offer.
Jefferson 2019 wide receiver T.Q. Jackson reported an offer from Houston via Twitter on Wednesday morning.
In addition to the Cougars, Jackson (6-2, 175) also holds offers from Arkansas, SMU, Southern Miss, Texas Tech, and Tulsa.
Jackson is the fifth prospect in East Texas' 2019 recruiting class to be targeted by Houston, joining Newton RB Darwin Barlow, John Tyler WR Ke'Andre Street, Lufkin DT Carl Williams, and Longview OT Marcus Williams.
Last season, Jackson finished with 938 yards and 11 touchdowns. This came after a 1,099-yard effort his sophomore year. He helped the Bulldogs to a 10-2 record in 2017.
Houston just wrapped up its first season under head coach Major Applewhite. The Cougars were 7-5 overall and 5-3 in American Athletic Conference play.
Several players with East Texas roots have chosen Houston as their college destination in recent years. The Cougars signed John Tyler OLB Dekalen Goodson in December of 2017, and have inked six players from the region since 2013.
Jackson, like all juniors, will first be eligible to sign with any team that offers him in December 2018.
2019 East Texas Football Players With Division I FBS Offers
Jade Ashalintubbi, Elysian Fields, OL, 6-6, 331 —offers from Tulsa, ULM (2)
Darwin Barlow, Newton, RB, 6-0, 200 -- offers from Arkansas State, Baylor, Houston, Louisiana Tech, Oklahoma State, Southern Miss, TCU, UTSA (8))
Chance Billington, John Tyler, OL, 6-3, 301 — committed to SMU; additional offer from Texas State (2)
Tamauzia Brown, Newton, ATH, 6-1, 170 -- offers from Arkansas State, Baylor, Oklahoma State, Southern Miss, UTSA (5)
Keontae Burns, Pittsburg, ATH, 6-3, 182 — offers from Arkansas, Iowa State, North Texas, SMU, Southern Miss, Texas State (6)
Cameron Cantrell, Whitehouse, WR, 6-1, 180 -- committed to Texas Tech (1)
Coltin Clack, Texas High, QB, 6-3, 202 — offers from Florida Atlantic, SMU, Southern Miss (3)
Josh Foster, Newton, ATH, 6-0, 165 -- offer from Arkansas State (1)
Christian Hood, Marshall, OL, 6-2, 290 — offer from Southern Miss (1)
T.Q. Jackson, Jefferson, WR, 6-2, 175 — offers from Arkansas, Houston, SMU, Southern Miss, Texas Tech, Tulsa (6)
Beaux Limmer, Tyler Lee, OL, 6-5, 250 -- offers from North Texas, Texas State (2)
Darius Richardson, West Rusk, DL, 6-3, 288 -- offer from Texas State (1)
Keivie Rose, Henderson, DE, 6-4, 220 — offers from Arkansas State, Florida Atlantic, Louisiana Tech, Memphis, SMU, Southern Miss, Tulane (7)
Ke'Andre Street, John Tyler, WR, 6-4, 190 -- offers from Houston, Southern Miss, Syracuse, Tulane (4)
Carl Williams, Lufkin, DT, 6-4, 310 — offers from Arkansas, Houston, Kansas, Oklahoma, Oklahoma State, SMU, Southern Miss, TCU, Tulsa, UTSA (10)
Marcus Williams, Longview, OL, 6-6, 250 — offers from Baylor, Houston, SMU, Southern Miss, Texas State (5)
More From East Texas Sports Network