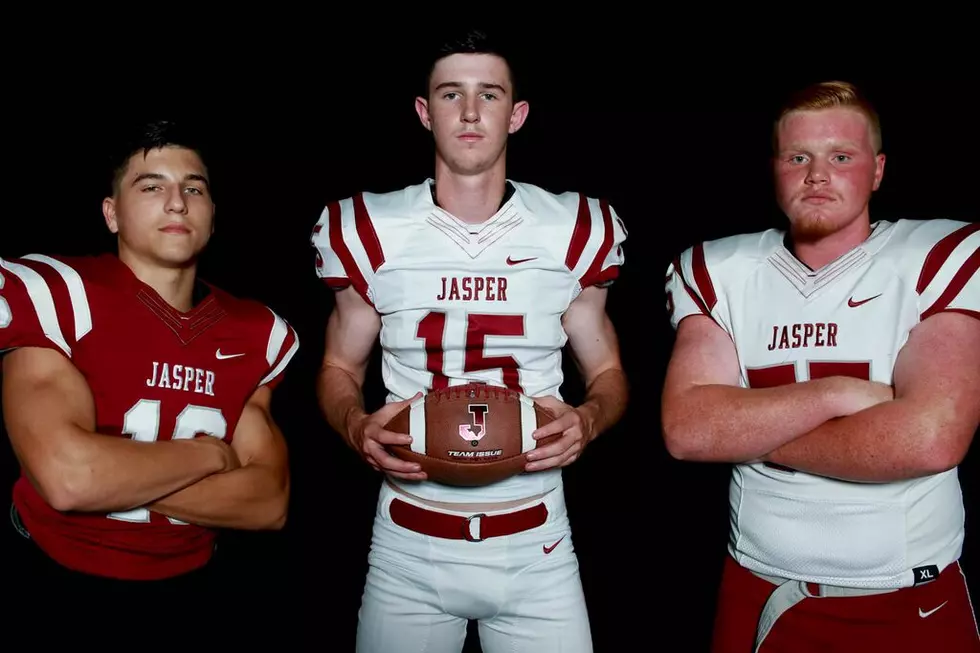 Jasper Heads into District on Heels of Dominating 6-0 Start
(© Clint Buckley, ETSN.fm)
[By Stephen Amason, Special to ETSN.fm]
Complete and utter domination. That's the best way to describe how the Jasper Bulldogs have played this year, and they show no signs of slowing down.
The Bulldogs have been perfect to start the year with a record of 6-0 in non-district play, and are the only unbeaten team in District 9-4A Division II.
"We thought we were gonna be pretty good this year," said Jasper coach Darrell Barbay. "We're playing pretty good defense right now and we got some kids that can score."
Jasper's offense is led by a talented group of underclassmen, one of them being junior running back Montavien Hunt. He's recorded 15 touchdowns on the year, is closing in on 1,200 yards rushing, and averages 196 yards per game.
"He's really a good kid, very humble, comes to work every day," Barbay said. "He practices hard, takes every rep, plays defense if you need him to. Last week (against West Orange-Stark), he really dominated last week."
Defensively, the Bulldogs have been stingy with letting their opponents put points on the board. Going into last week's game against West Orange-Stark, the opposing team only averaged eight points a game against them.
Jasper loves to apply pressure on the quarterback and create turnovers. The Bulldogs have forced 14 turnovers on the season – four interceptions and 10 fumbles.
"We're very athletic and our coaching staff does a good job of putting kids into position and we're able to play a lot of man coverage," Barbay said. "We caused a lot of turnovers just because we're athletic and we're getting to people before they get started downfield, we're getting to them in the backfield."
The real work begins for Jasper now, as it enters district play. This Friday, the Bulldogs host the Shepherd Pirates (4-2).
"They're a very athletic team, they got a good-looking quarterback that plays middle linebacker for them," Barbay said. "Their running back is their best football player, he also plays in the secondary for them, he's a ball player, always around the ball. They got some athletic kids, anything can happen on a Friday. The main thing we gotta do is tell our kids that we're not worried about anybody else but us, we gotta make sure we take care of business, and if we do that we'll be OK."
More From East Texas Sports Network