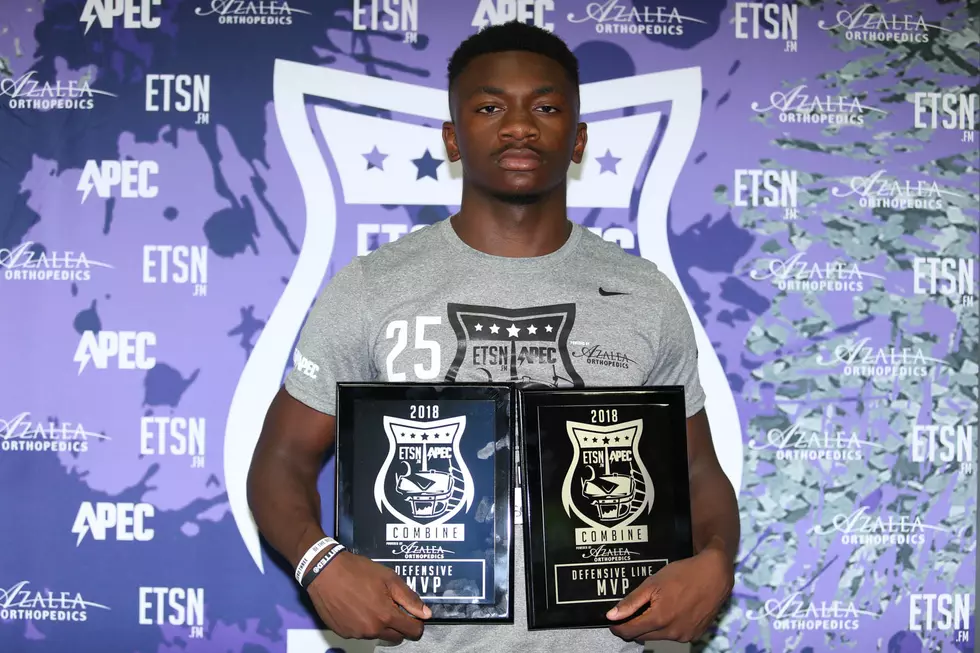 Jefferson's Eric Gipson Takes Defensive MVP at ETSN Combine
Mark Martin
Eric Gipson has only one scholarship offer.
After his performance Sunday at the ETSN/APEC Combine, that is likely to change.
Gipson, a 2019 DE from Jefferson, won both Defensive MVP and Defensive Line MVP at the combine. His 4.43 40-yard dash would impress even if he played a skill position, but to do so as a defensive lineman only adds to the fanfare.
"I came out pretty nervous because there were some pretty big guys out here," Gipson said. "Once I got going, it was pretty easy. It feels great to get an award like this the first time for me being out here."
Not only was this Gipson's first appearance at the combine, but also his first year playing defensive end. He tied for the team-high in tackles with 137 and led in tackles for loss with 25. He also led the Bulldogs in sacks with 10 in a 10-2 season.
Gipson also ran a 4.28 in the pro agility drill and posted a 33.5-inch vertical.
McNeese State became the first school to offer him on Thursday, but he said Lamar and Arkansas-Pine Bluff have also expressed interest. As far as what he's looking for in a school, Gipson listed a variety of things.
"It's gotta have a great education system," he said. "That's the biggest part. But also the football program, the weight room, great facilities. That's what I'm looking for."
T.Q. Jackson, Gipson's teammate at Jefferson, took the offensive MVP. He had high praise for Gipson afterward.
"It says a lot," Jackson said. "He's been getting slept on. A lot of (Jefferson players) have been getting slept on. It's good for them to come out here and show what they've got."
Although Gipson will take time to relish in his accomplishments, he's not going to dwell on it. He said he hopes to add strength this offseason. He is 6-foot-1 and weighed in at 189 pounds. He also got in four reps of 185 on the bench press.
"I plan on getting bigger and faster," he said. "That's the most important thing. Also getting  my mind right."
2018 ETSN Combine Defensive MVPs
Overall Defensive MVP — Eric Gipson, 2019, DL Jefferson
Bench press (185 lbs.): 4
DL — Eric Gipson, 2019, Jefferson
Bench press (185 lbs.): 4
LB — AJ Zarate, 2019, Van
Bench press (225 lbs.): 11
DB — Chase Crumpton, 2019, Lindale
Bench press (185 lbs.): 9
More From East Texas Sports Network